The Governess
Patrick Hamilton
Richmond Theatre
–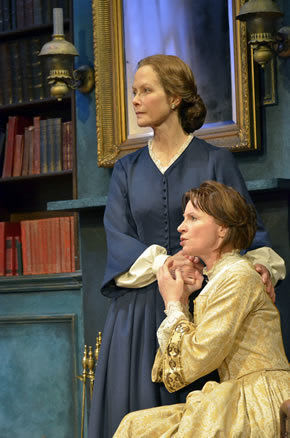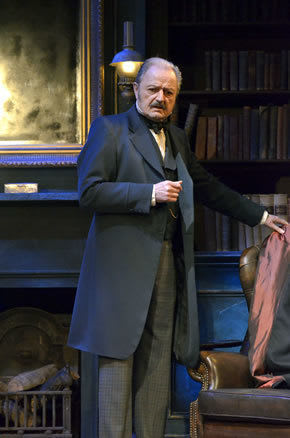 Roy Marsden's production of Patrick Hamilton's The Governess offers half an entertaining evening.
Hamilton's 1945 play—a pseudo-Victorian mystery-thriller-cum-psychological-study—starts out confidently, by sketching teasingly ambiguous relations among a middle-class family and those in their employ. In a strong, suggestive opening scene, an apparently prim Governess, Miss Fry, oscillates between bullying and affectionate playfulness in her treatment of her charge, a young girl who reports a disturbing dream involving the abduction of her baby brother.
The pair's lesson is interrupted by the other family members: a merry brother; a headache-prone, distracted mother; a bluff, cocky father whose involvement with the Governess clearly goes beyond the merely professional. And then comes the realisation: as per the daughter's dream, the baby has indeed gone missing, presumed stolen by gypsies. Six months on, the family has, to varying degrees, started to adjust to their loss. But the belated arrival on the scene of an eagle-eyed Inspector proves that the case is far from resolved.
Deemed "piffle" by The Listener's literary editor J R Ackerley, Hamilton's play proved a flop upon its debut, was never published, and hasn't been seen since. However, Marsden, a long-time fan of Hamilton's work, finds in the piece a drama to equal the writer's big stage successes Gaslight and Rope: a psychological study in the guise of a conventional whodunit that insightfully explores the Governess archetype and offers a sympathetic take on mental illness.
The director's decision to make a case for a forgotten work is admirable. But The Governess ultimately fails to make good on its early promise and intrigue. Based, like Rope, on real events, the play's premise is sound, and Marsden's plain, unfussy production, which doesn't risk outstaying its welcome at a brisk 1 hour 45 minutes, exerts a subtle, immersive grip for the first half as it shows the intricacies of the household's interaction.
But the second half—complete with sleep-walking and Ophelia-lite mad scene—becomes hokey and hackneyed, and makes the viewer feel like they've been had. Following the real-life case, there's a perfectly logical way for the piece to develop: a clear culprit that would make perfect dramatic sense. But, perhaps fearing to alienate his middle-class audience, Hamilton ducks out of this and falls back instead on a clichéd representation brought about by risible—and far too simple—revelations.
It's no surprise to find Jenny Seagrove in the lead of this Bill Kenwright-produced touring production, and the actress, though too mature for her role, delivers her usual cool, proficient performance, though not one that can make the final scenes work. (I'm not sure that even a more inventive actress could.) Richmond favourite Peter Bowles does a solid job as the witty, wily inspector but the role is all too predictable. Colin Buchanan offers a strong characterisation as the blustering, adulterous paterfamilias, and there are lively, engaging performances from Lydia Orange and Robert Rees as the kids of the household.
Still, the end results are anemic. The opening scenes suggest that there's a much more subversive, disturbing drama struggling to get out of The Governess; it's frustrating that Hamilton doesn't allow this to break through. 
Reviewer: Alex Ramon