The Government Inspector
Nikolai Gogol, adapted by David Harrower
Birmingham Repertory Theatre in association with Ramps On The Moon
Theatre Royal, Stratford East
–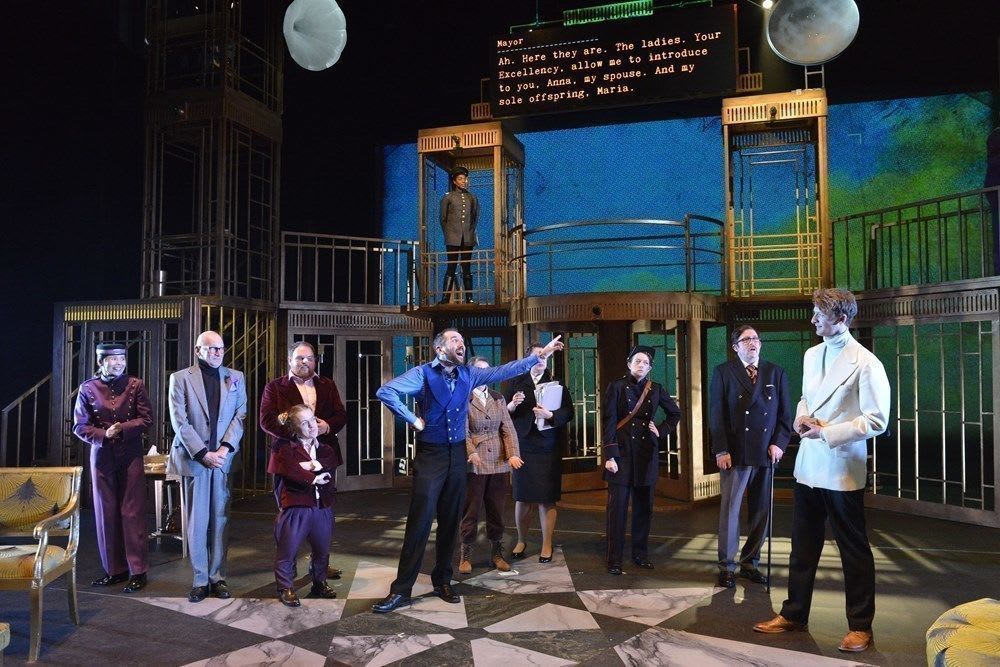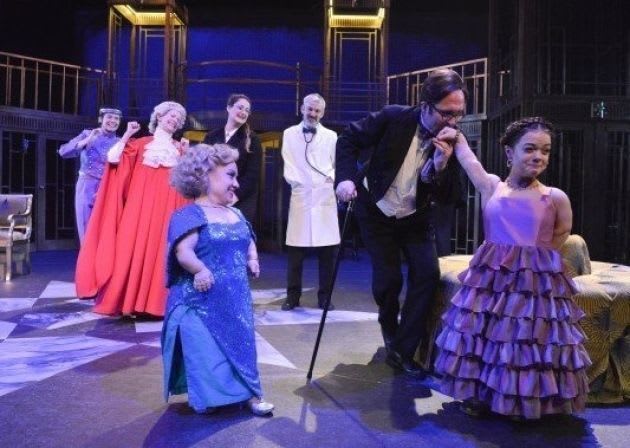 It may have been written 180 years ago but Gogol's savage satire on small town greed and corruption hasn't dated. Political chicanery and bribery are still with us.
The central idea of a hard-up poseur from St Petersburg being mistaken for an expected government inspector, treated with fawning respect and given generous back-handers was apparently suggested by his friend, poet and playwright Alexander Pushkin, who had himself been so mistaken.
At the first rumour of an inspector coming incognito, the Mayor starts issuing orders to improve his town's image and hide any evidence of the scams he's been running. When stylish Khlestakov, who's lost all his cash at cards, is thought to be the man, the Mayor is soon dancing attendance.
At first, bemused by all this generosity then cottoning on to what has happened, Kleshtakov ruthlessly exploits their eagerness to please him with escalating demands.
Although the play is really just one extended joke, it can be very, very funny. Not all productions manage to make it so but Roxana Silbert and her associate director get it right and it is hilarious, packed with richly comic characters.
David Carlyle as the Mayor is a major driving force, full of frenetic energy, often powered by panic, but he's surrounded by a talented team of players. Robin Morrissey is Khlestakov, the accidental impostor, first desperate than gaining confidence until he's almost flying, inventing a fantasy picture of his life in Petersburg to impress these provincials he so looks down on—though that great tirade goes on so long it risks monotony without help from the merest modulation.
There is a lively double act in Stephen Collins's self-important Bobchinsky and diminutive Rachel Denning's Donchinsky. Michael Keane is the 'inspector's' valet Osip (an underdog getting his share of the perks for once), Sophie Stone the postmaster who steams letters open, Jean St Clare a dog-fancier judge and a pairing of Kiruna Stamell and Francesca Mills as the Mayor's wife and daughter that is a comic highlight, huge impact in contrast to small stature.
This production isn't just very funny. It does something special: integrating provision for audience members who are deaf and blind with an audio describer, signers and surtitles, and not only casting actors who are differently abled but making that difference part of the performance without any preciousness about being PC: Dobchinsky, for instance, his voice affected by his deafness, accuses little Bobchinsky of having a speech impediment.
More importantly, the signers are part of the action. Jean St Clair's judge acts in sign, her clerk simultaneously translating it into speech; Becky Barry as a lively bellboy translates the Major into signing. There is always someone on stage ensuring sufficient signing—and back-up video titles (which have their own comic turn).
The active physicality of signing spreads to all the performers making bold gesticulation the production style matching the punishing pace at which it goes along. It all adds up to making this the liveliest, funniest version of this play I've seen in all my theatre-going.
This production is part of a six-year project by the group of theatres that have formed Ramps On The Moon to put deaf and disabled artists and audiences at the centre of their programming, thus helping the mainstreaming of disability arts and culture which has too long been treated as a separate area.
Reviewer: Howard Loxton