The Graduate
Terry Johnson, based on the novel by Charles Webb and the screenplay by Calder Willingham and Buck Henry
West Yorkshire Playhouse and Curve
West Yorkshire Playhouse, Leeds
–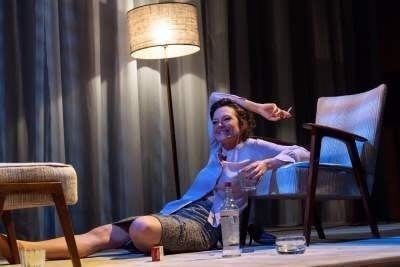 "Would you like me to seduce you? Is that what you're trying to tell me?"
Even if you haven't seen the film version of The Graduate, odds are you're familiar with its central premise: the seduction of a 21-year-old man (Dustin Hoffman, a youthful 29) by one of his parents' middle-aged friends (Anne Bancroft, a decrepit 35). However, this salacious description doesn't quite give the full measure of the 1967 film. Sex is certainly part of it, but The Graduate is primarily concerned with the main character's sense of existential ennui.
Playwright Terry Johnson's stage adaptation is largely faithful to Mike Nichols's iconic film, but also draws upon Charles Webb's overshadowed novel. Written in 1963 when the author was only 24, the source text provides the modern reader with an illuminating glimpse into the social mores of middle-class America in the early 1960s.
Recent graduate Benjamin Braddock (Jack Monaghan) returns from college with the world at his feet. As the recipient of a prestigious scholarship, a golden future seems to be mapped out for him. There's only one problem: he's not sure what he wants.
Repelled by his overbearing parents (Rebecca Charles and Tom Hodgkins) and the bourgeois values they represent, Benjamin is paralysed by indecision. Enter Mrs Robinson (Catherine McCormack), a frustrated alcoholic seeking to alleviate the boredom of her sexless marriage.
Mrs Robinson has become the archetypal 'older woman' in popular culture, and any actor who takes on the part has to compete with the memory of Anne Bancroft in this iconic role. Fortunately, Catherine McCormack gives a striking performance, skilfully capturing the character's booze-fuelled bitterness and delivering one-liners with devastating élan.
As Benjamin, Jack Monaghan has the trickiest role of all. We're expected to sympathise with the character because his youthful disillusionment will be familiar to most of us, but his self-obsessed melancholy can be exasperating at times. Thankfully, Monaghan brings enough naive charm and bravado to the part to make him sympathetic.
Surprisingly, the most interesting character in the play turns out to be Elaine, the Robinsons' goody two-shoes daughter. Her zest for life, which manifests itself in all sorts of surprising ways—including a passionate regard for taxi drivers (whom she refers to as "fallen angels")—offers a pleasing alternative to Benjamin's morose cynicism. Moreover, Emma Curtis is delightful in the part, deftly conveying the character's inner contradictions.
There is also top-notch work from the supporting cast. Rebecca Charles and Tom Hodgkins are the epitome of well-meaning parental concern as the Braddocks, and Richard Clothier is surprisingly moving as Mr Robinson, particularly in the scene where he confronts Benjamin over his infidelity. Elsewhere, Elsie Diamond and Daniel Crowder add lustre to a series of smaller characters, including an inquisitive hotel clerk and an uninhibited nightclub dancer.
Overall, I found The Graduate a slick and entertaining piece of work, with pacey and fluid direction from Lucy Bailey. Mike Britten's minimalist set design subtly evokes the 1960s and Ian Galloway's videos of palm trees and swimming pools provide a sense of place without overwhelming the drama on stage.
It would be impossible to fully recreate the magic of the film, which helped to kick off a new era in American filmmaking, but this production manages to capture some of the black comedy and dreamy soul-searching that made it so distinctive.
Reviewer: James Ballands