The Grand Gesture
Deborah McAndrew, adapted from Nikolai Erdman's The Suicide
Northern Broadsides in partnership with Harrogate Theatre
Harrogate Theatre
–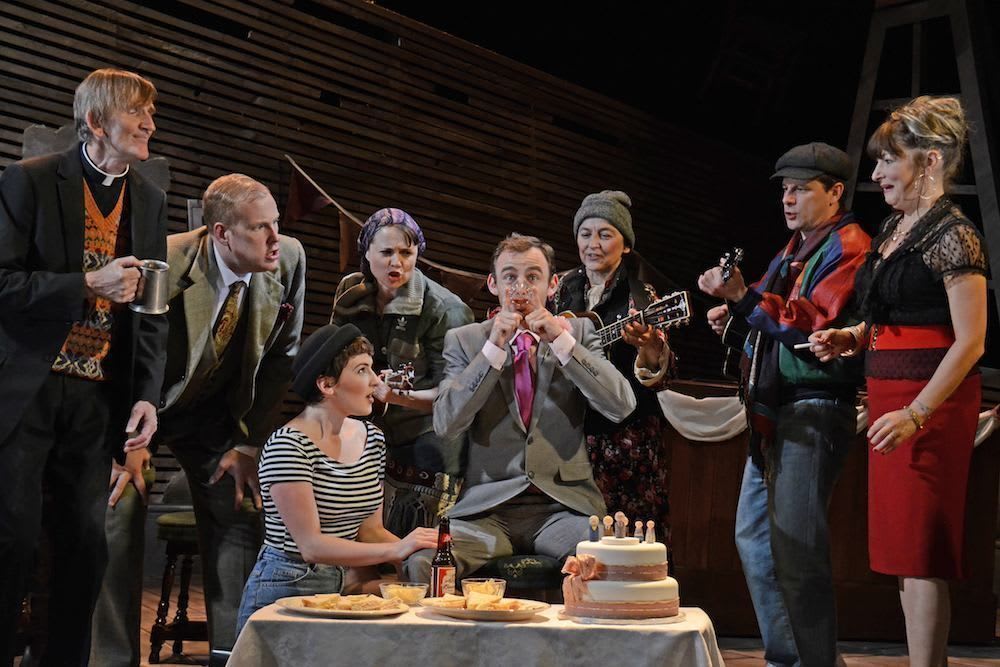 I expected something better. The Grand Gesture is 'freely adapted' from Nikolai Erdman's play The Suicide. Perhaps too freely.
'Simeon Duff (our hero)' it says in the programme, which gives the lie of the land, for here is stereotype, here is archness, here is faux twenties am-dram: 'anyone for tennis?'
So: Simeon Duff cannot find work, cannot come to terms with his self-perceived general failure, his reliance on his hard working wife, his failure to master the tuba in ten easy lessons. He decides to suicide. All and sundry leap on board, hoping that the death will aid one course or another.
It's a fine idea, scope for laughter and tears. Dawn Allsopp's lath and plaster set is lovely. And the opening scene has great promise. Here is laughter in the dark, tension, good gags. But the tension soon hisses out of it all.
The script screams out for a good editing; it is far too long and, worse, it will keep on revisiting jokes and thoughts. Far far too many bites of the cherry. Add to this Conrad Nelson's strange decision to give us unrelenting, stereotyped comedic acting and we have far far far too much of a good thing.
Which is a shame, because the production fairly bursts with skills and talent and has a liberal scattering of fine comic moments. Note also the Northern Broadsides fine tradition of good actors who also give us live music played with gusto. And all obliterated by a style which sobs 'laugh at me, go on, laugh at me.'
It's a style that leaves me cold or worse. What a shame! Doubtless some will enjoy it.
Reviewer: Ray Brown