The Grand Gesture
Nikolai Erdman, adapted by Deborah McAndrew
Northern Broadsides & Harrogate Theatre
The Dukes, Lancaster
–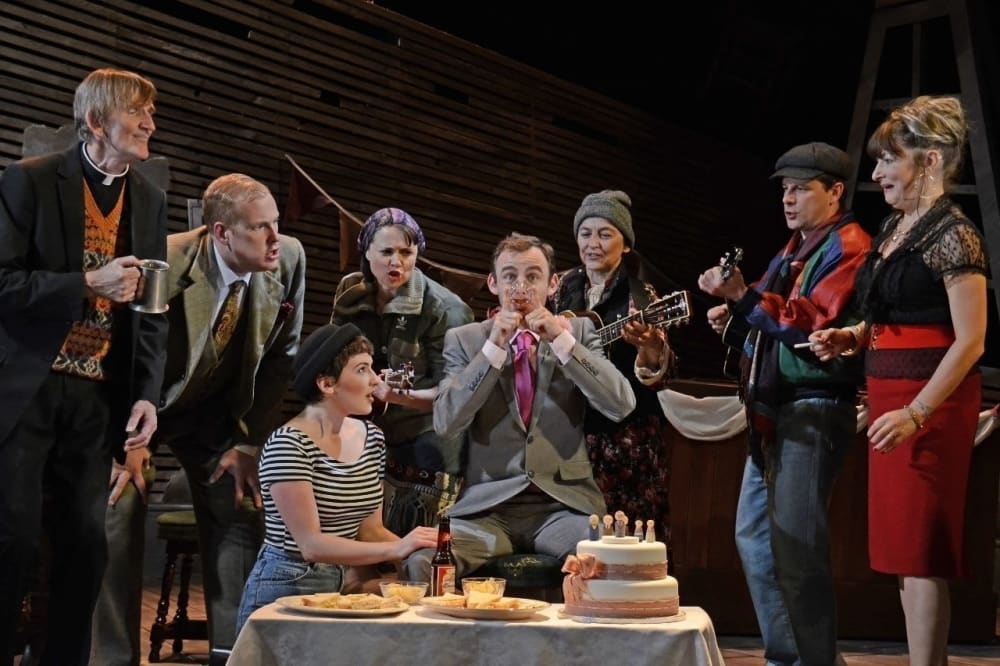 A jobless young man, driven to attempt suicide? Surely a tragedy for, and about, our times?
Actually it's a Russian satire from the 1920s—originally called The Suicide—given another of those regional working overs by Northern Broadsides theatre company, this time in conjunction with Harrogate Theatre.
The Grand Gesture is the latest in a troika of productions developed by writer Deborah McAndrew and director Conrad Nelson but will be much less familiar to theatre audiences than Accidental Death of an Anarchist, or The Government Inspector.
That's largely because its original author, Nikolai Erdman, found his work out of favour in Stalinist Russia and suffered for his art with three years in Siberia.
So this production bids to bring the play in from the cold, and to the more contemporary setting of Liverpool, in a piece of political theatre that quickly turns personal.
Simeon Duff (Michael Hugo) is unemployed and desperate. But when his thoughts turn terminal he finds himself pursued by a gang of characters keen to turn his death to their advantage, as love, politics, religion and business line up to 'sponsor' his suicide.
A large cast, playing a larger number of characters, serves it well, though generally shouted at a one-note volume that's near 10 on the control. The physical content, that delivers a lot of the fun, only comes in fits and starts as the production seems uncertain of whether to be a dark comic fable, or remain true to its political roots.
Old stagers like Robert Pickavance, Howard Chadwick, Alan McMahon and Paul Barnhill have no trouble delivering solid caricatures of their establishment figures.
There's a lot of contemporary vigour to all the performances and musical director Rebekah Hughes's choral and instrumental arrangements work a treat, even if the production still needs a little fine tuning.
Touring to Huddersfield, Newcastle-under-Lyme, Liverpool, Scarborough, Halifax.
Reviewer: David Upton