The Great Expedition

Gingerline
Secret location on the Victoria Line
–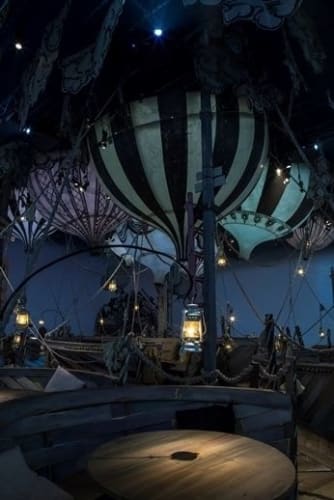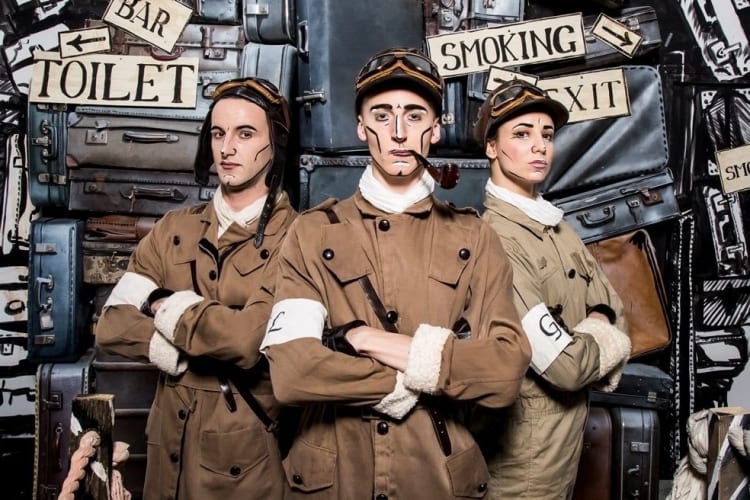 Immersive theatre has never been more popular with large events punctuating the mainstream consciousness and ardent fans tracking down the niche, experimental and often site-specific.
To concentrate on reviewing Gingerline's latest adventure as a piece of immersive theatre, however, is to potentially mislead and definitely do the culinary aspect a disservice. This is very much an immersive experience with food, music, dance and projections all part of the whole, intertwined almost seamlessly.
Created by Suzannah Montfort and Kerry Adamson, Gingerline describes itself as a "bunch of food and drink enthusiasts whose goal is simply to create the ultimate dining experience". Hosted in secret locations across London, their operation is a clandestine one. For this experience, all budding aeronauts received a text message with directions to the venue on the day of the event.
With so much mystery, what can be revealed in a review? Well, The Grand Expedition whisks eager explorers on a journey beyond the clouds. Billed as a "floating, feeding, falling dream", the general feeling is that you've entered a pop-up storybook—projections illustrated by hand, larger-than-life characters and an easy camaraderie with the equally intrigued diners sharing your table.
With the style of seating and gentle interactive moments, Gingerline creates a briefly genuine cohort of adventurers for the evening; if you're happy to surrender to the unknown, it's hugely enjoyable. If you want to enjoy your five-course feast uninterrupted, then immersive events in general are probably not for you.
The immaculately themed food appears at regular intervals served by a combination of performers and staff and, aside from the colourful flavours, part of the fun is sharing with your table, taking turns to ladle, pour and spread. It's a social experience as much as an immersive one and, after a few drinks, the prospect of dancing around a prop campfire seems perfectly natural.
The versatile performers work tirelessly to establish mood through a combination of choreographed dance, comedy and interactive routines. With make-up sketched upon their faces, they represent characters and without dialogue spend the performance communicating with the audience and each other in a secret language, hugely assisted by vibrant body language. Like Pixar's Minions they are an excitable and likeable force.
Entertaining and delicious, The Grand Expedition is a carefully curated evening. Whilst it doesn't push any theatrical boundaries in terms of script or staging (and at occasionally the performers do look like they are filling time between courses), for those seeking an intriguing experience, this fits the bill.
Reviewer: Amy Yorston