The Great Experiment
Devised by the performers
Border Crossings in association with Dugdale Centre and Exchange Theatre
Tara Theatre
–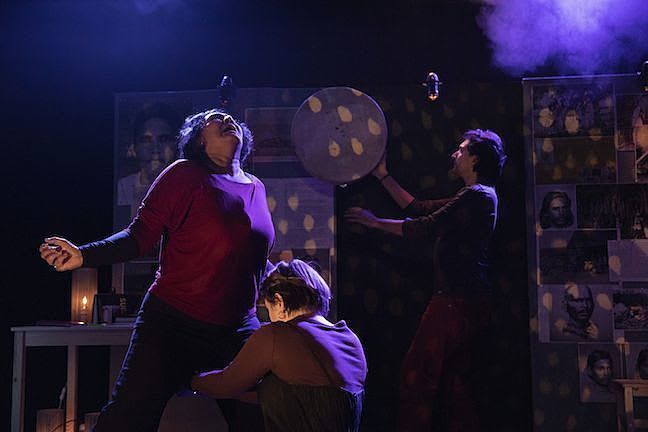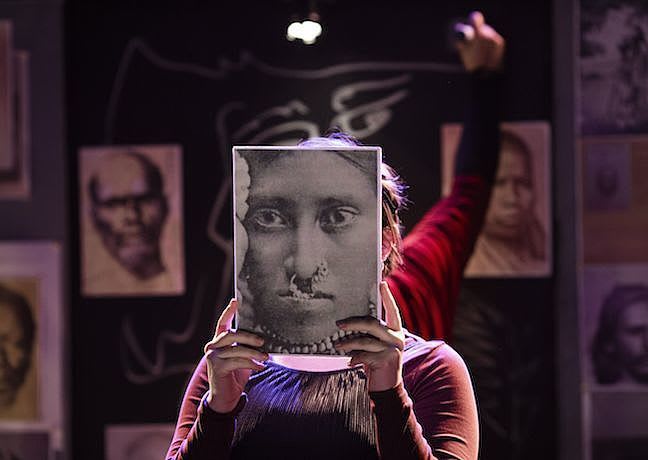 When Britain abolished slavery in the nineteenth century, plantation owners in the colonies were faced with a problem: how were they going to run their sugar plantations without slave labour? The solution they came up with was to import workers.
Since Mauritius was taken from the French in 1820 and became part of the British Empire, sugar production had developed there on a large scale. They brought in men from Asia but humanitarian concern in Britain and India temporarily halted this in 1838 until the government approved a system of indentured migration that lasted into the twentieth century and earned the name of "The Great Experiment": the introduction of immigrants needed for development from a poor nation. Since Mauritius already had an Indian community, it was thought this would not cause problems and the migrants would be better off, though indentured conditions were much like being slaves under another name.
That is what this play is partly about, the history and its parallel here, in our own times; but it also about the theatrical process, the way in which work like this is created, devised by the company (which includes two actors of Mauritian descent) under director Michael Walling.
Dominating the set is a wall covered in documents and images: research material the cast have assembled. Books are piled on tables. But there are also candles, utensils and other props that will be used to create scenes from past Mauritian life.
The Great Experiment begins with an actor played by Tony Guilfoyle on his mobile having a conversation that establishes both the delicacy with which its subject has to be handled and the idea that we are watching a theatre company in the throes of creation. Then the pace slows and with the stage nearly in darkness a mime scene puts us in the past as, huddled on the floor, a group seem to be indicating both hunger and sharing. It isn't clear what is going on and that is not helped by being set right downstage where many in the audience at this venue can only partially see them. Projections on panels each side of the action are equally ambiguous, though they provide colour and later carry clearer meaning.
The play then alternates between the company's discussions offering information and argument and after that slow start begins to hold the attention. A black actor (Tobi King Bakare) rings his agent trying to get out of the show: he's concerned that he'll be stereotypically cast in the slave roles. Another (played by Hannah Douglas) tells a friend this play about disadvantaged non-whites is being directed by an Oxford educated, middle-aged white man. We are being alerted to look out for present day relevance.
Nisha Dassyne and David Furlong draw on their own Mauritian traditions and folk memories, but this little-known Mauritian history finds its echo in much wider ways. Whilst on the one hand we are reminded of the plight of the immigrant worker in a moving succession of faces paraded before us, Guilfoyle's character points out that at the time the Great Experiment was happening, the Irish potato famine saw Irish immigration on a huge scale.
Then, most dramatically presented, comes the question of identity for the many of us who have pulled up our roots and moved elsewhere. Though at times The Great Experiment lacks clarity, it couldn't make this point more forcefully. In the microcosm of Mauritius, the play deals with worldwide issues.
The Great Experiment can also be seen at Playground Theatre 18–19 February, Cutty Sark 21–22 February and Museum of London Docklands 23 February.
Reviewer: Howard Loxton