The Great Gatsby
F Scott Fitzgerald
The Wardrobe Ensemble with The Wardrobe Theatre
Fringe Player
–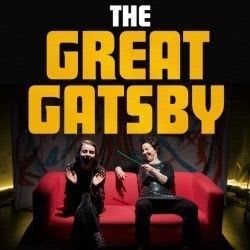 It's always good to see Bristol-based The Wardrobe Ensemble at the Fringe, albeit this year via video. Their previous hits have included Education, Education, Education and The Last of the Pelican Daughters.
In a co-production with The Wardrobe Theatre, they bring a refreshing vivacious staging of F Scott Fitzgerald's The Great Gatsby.
Performed by two versatile, talented actors. Tamsin Hurtado Clarke and Jesse Meadows play all the characters in the novel with pizzazz, skilfully changing roles at breathtaking speed.
Meadows convincingly plays Nick Carraway, the story's narrator, with Clarke as the mysterious Gatsby and the arrogant Tom Buchanan.
In one scene, Meadows cleverly simultaneously plays Nick talking to Daisy who is having an affair with the millionaire Gatsby.
It's a whirlwind, mesmerising story of intrigue, adultery, murder and deceit played against Katie Sykes's simple set consisting of two screens which the actors use to paint psychedelic pictures during the wild party scenes.
Director Tom Brennan creates many inventive touches, such as the use of toy cars to simulate the car crash that kills Tom's mistress, or each 'chapter' beginning with both actors proposing a toast as they drink from paper cups.
Deepraj Singh's choreography is breathtaking, with both actors constantly on the move, and special mention to Chris Collier's dramatic lighting and Tom Crossley-Thorne's atmospheric sound design.
This is a gripping production from a highly accomplished cast.
Reviewer: Robin Strapp