The Great Gatsby
F Scott Fitzgerald
Heartbreak Productions
Thatcham Discovery Centre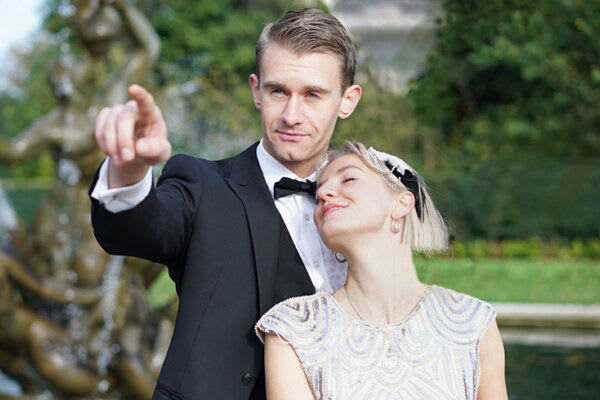 Summer outdoor productions are so reliant on the weather being kind and this production of The Great Gatsby, based on the story by F Scott Fitzgerald and adapted by Lowell Walker, who also directs, was in for a showery ride.
This didn't stop the audience enjoying picnics and creating a party atmosphere before the rain started. Even the piano was a victim and had to be abandoned.
However, the cast of Heartbreak Productions overcame the problems and quickly developed a super rapport with the audience and had us on our feet as they taught us how to dance the Charleston, creating much fun and enthusiasm from the willing crowd.
It's 1918 and the golden age of jazz in America where Prohibition is in force, though the mega-rich manage to circumvent the restrictions and speakeasies emerged.
The five-strong company retells the story of the enigma that is the millionaire Jay Gatsby, strikingly played by Matt Williams with panache. It's interspersed with jazz music of the era.
Nick Carraway, a splendid performance by Conor Hinds, is a veteran of WWI and narrates the story. Returning to New York, he develops a friendship with Gatsby as he becomes embroiled in his hedonistic lifestyle.
Eloise Hare is the feisty Daisy married to the arrogant Tom Buchanan (Rory Dulku), who also impressively plays a variety of other roles.
Nick develops a relationship with the sassy Jordan Baker (Rachel Dussek) who is best friends with Daisy. But tensions between all the characters deepen as a love triangle surfaces between Gatsby, Daisy and Tom.
Gatsby was renowned for his summer extravagant large parties and he hopes to rekindle the love he had with Daisy and impress Nick with his wealth.
But will Daisy finally leave Tom for her lover Gatsby? What unfolds are tragic twists in the story with a fatal car accident, a shooting and a suicide. It's certainly a white knuckle ride of emotions and a heady tale of deception and the futility of the American Dream.
This was a highly enjoyable production from a delightful versatile company. As Gatsby said, "absolutely old sport."
Reviewer: Robin Strapp