The Great Gatsby
F Scott Fitzgerald adapted by Alexander Wright
The Guild of Misrule in Association with Theatr Clwyd
The Dolphin Hotel, Mold
–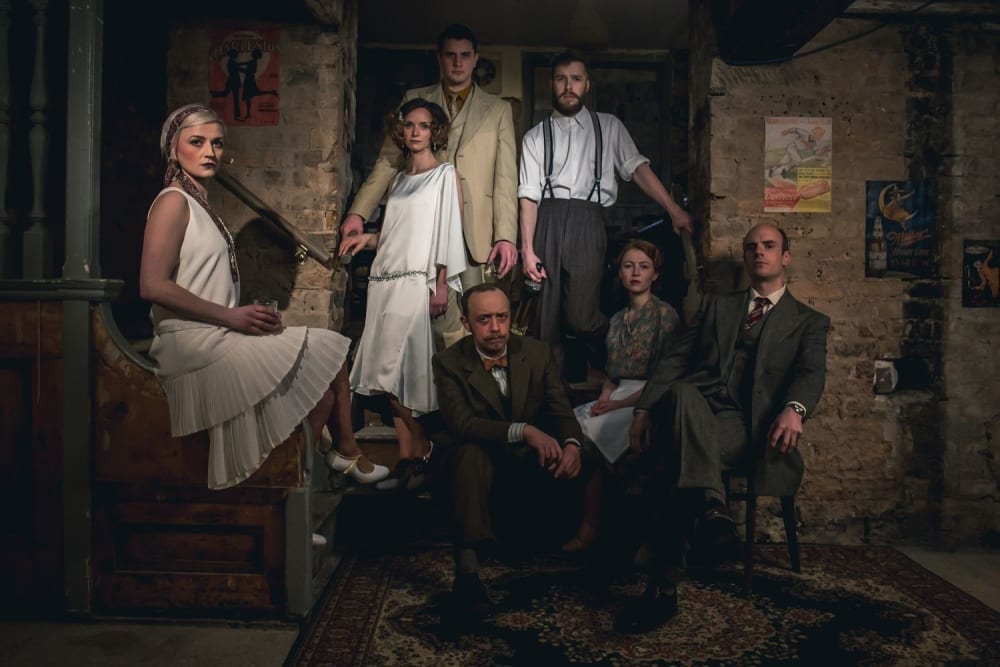 A bitterly cold and reputedly haunted North Wales pub awaiting renovation may not be the first place you would head to pick up the latest gossip from 1920's Long Island High Society. However, The Dolphin Hotel in Mold is exactly the place to go to enjoy, and be part of, the Guild of Misrule's scintillating production of The Great Gatsby.
This inspired joint production with Theatr Clwyd places the audience right at the heart of the action as the actors lead you round the warren-like hostelry, enabling you to observe, or even participate in, intimate scenes in a range of settings. F Scott Fitzgerald's masterpiece is an ideal story to bring to life in such a manner, based as it is on intrigue, innuendo and gossip amongst the elite of the "Roaring '20's".
It also perfectly captures the inherent anomaly of the plot: a group of socialites who are difficult to warm to and yet whose every action fascinates you. In this situation, it is hard to dislike Oliver Towse's superbly enigmatic Gatsby when you have just chosen his tie and handed him his salmon-pink blazer.
You will not see every scene as the outstanding cast, as well as delivering a pitch-perfect performance, are also shepherding the audience to different rooms throughout. Therefore, the narrative unfolds in different ways for different viewers but the set-piece scenes ensure the main plot unfolds with clarity. You are essentially a guest at one of Gatsby's parties and you need to listen and watch the other party-goers closely to piece together the narrative.
Michael Lambourne is engaging as Nick Carraway, the character who serves as narrator and it is his friendship with Tom Buchanan, chillingly portrayed by Jake Ferretti, from their days at Yale that is the key to further developments.
Gatsby has been obsessed by the former debutant Daisy Buchanan, now married to Tom, since he met her during the war and a chance meeting with her distant cousin Nick at one of his parties, thrown in the hope she will attend, that leads them to set up a meeting with Daisy. Sympathy for Tom, however, is in short supply, especially when you have witnessed at close quarters his unfaithful and brutish behaviour with Bethan Rose Young's touching, yet ill-fated Myrtle.
Amie Burns Walker turns in a great performance as the flighty socialite Daisy, seen by Tom as almost a possession but the object of Gatsby's desire. Her romantic intentions are one of the central themes of the play and Burns Walker is splendidly irresolute throughout.
However, the true joy is the intimate and interactive nature of this production. It is engrossing, innovative and utterly charming.
Reviewer: Dave Jennings