The Great Gatsby
Based on the novel by F Scott Fitzgerald
The Guild of Misrule
The Fleeting Arms, York
–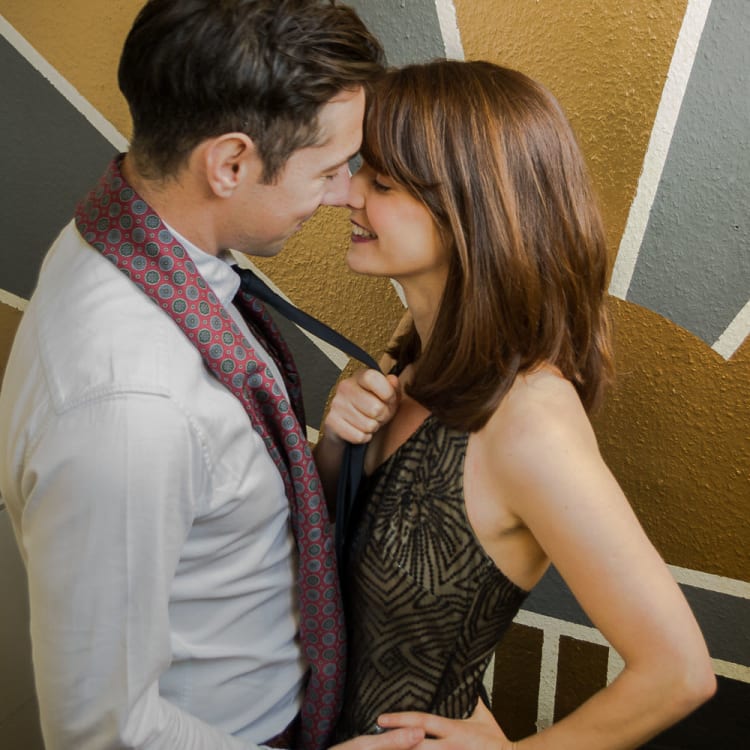 It's fitting that the Fleeting Arms should close its doors with a production which echoes the ethos of the pop-up venue itself. The Guild of Misrule's adaptation of The Great Gatsby involves its audience in the telling of the story, opens new spaces to performance, and puts an unashamedly romantic spin on F Scott Fitzgerald's tale of rivalry, suspicion, love and opportunism.
Here a talented, imaginative cast and crew throw open what seems to be more or less the whole building to an immersive, interactive, heart-filled version of the well-known novel.
We're guided into the venue via a back garden fire escape and back down a dingy staircase into the main bar, redecorated as a 'drugstore' with a surrounding of '20s memorabilia and advertisements for (alcoholic) 'remedies', many actually for sale. The atmosphere of a Long Island speakeasy is conjured from the outset by this unorthodox route into the building and by the general sense of disguised illicit activity.
Here, and throughout the evening, Jess Watson-Cainer's design and Neil Arden's lighting provide a classy, ramshackle and gorgeously evocative setting, along with a fabulous soundtrack which, like the design as a whole, seamlessly mixes modern and vintage influences.
Sensibly building around the likeable persona of Nick Carraway as played by Michael Lambourne, the evening segues from pre-show bar to storytelling sequence as ever-dapper Lambourne narrates us into a tale of romance, extravagance and loss, 'beating on, boats against the current, borne back ceaselessly into the past'.
As this might suggest, director Alexander Wright's adaptation (in collaboration with the cast) quotes astutely and sensitively from the novel, weaving memorable turns of phrase and vivid imagery into the more freely improvised sequences as the story develops and the audience members are guided around the building.
It is impossible to relate everything that happens on any given night, as there are several moments at which the audience is unfussily divided into smaller groups and treated to segments of performance in nooks and crannies, games rooms, bedrooms and boardrooms. I found myself gambling my property (and my companion for the evening) against one of Tom Buchanan's (Thomas Maller's) cars, entrusted with a message for Nick Carraway which I failed to deliver until several minutes too late, and handed slugs of (rather watery) whisky at various points.
It is all exciting, free-wheeling and energetic and, importantly, gives you the sense of a robust tale which will survive the whims of different audiences. At no point did I feel myself coerced into something with which I wasn't comfortable, and at all times the performers manoeuvre the observers confidently around the space and the story.
The result is a patchwork of fragmentary, scintillating moments, drawn together with numerous subtle shifts into set pieces. The variety of modes of audience engagement, from participants at the party to one-on-one chats with performers, to flies on the wall at some intimate and touching moments, is classily and confidently handled. These are subtle and effective transitions for the benefit of the atmosphere and storytelling, rather than the shock jolts or ill-thought-through fourth wall effects which persist in some supposedly immersive performances.
Some of the finest 'private' and more intimate theatrical images occur between Gatsby himself (Oliver Tilney) and Daisy Buchanan (Amie Burns Walker). They get some simple (but effective) and passionately performed movement sequences, and both are compelling, lively performers. Burns Walker goes from confident socialite to desperate housewife without a flicker of uncertainty, her eyes pleading for escape from her boorish husband Tom. Tilney is a captivating presence for the eponymous, and mysterious, Gatsby. These two give a strong emotional heart to the show.
But the whole cast—many of whom are long-standing collaborators of Wright's—sparkles with wit and charm. The aforementioned Tom Buchanan is played by Thomas Maller with a pitch-perfect, explosive blend of suavity, confidence and insecurity. Maller stays just the right side of pantomime villain to create something much more interesting and utterly magnetic.
Michael Lambourne is, as ever, confident and supremely watchable too. The intrigue which springs up between Nick Carraway and Jordan Baker (Holly Beasley-Garrigan) is another well-judged emotional strand. Beasley-Garrigan likewise gives a commanding performance with a strong line in repartee.
Hannah Davies and Phil Grainger as Myrtle and George Wilson I saw somewhat less of, but their story is just as well-woven into the set-piece moments, and Davies is a powerful presence: equally capable of strident sexuality and gentler, more vulnerable undertones of desperation.
Some might feel that these characters have been made too likeable in the transition from Fitzgerald's perhaps more cynical original. But what the company is offering here is really something different: an emotive, playful, chaotic and at times beautiful immersive performance. And, moreover, a back-stage tour and wistful send-off for a much-loved York venue.
It's utterly invigorating stuff. Take a group of friends, but be prepared to be guided your own ways round the performance—and to want to stay on late in this fleeting, dazzling world.
Reviewer: Mark Smith