The Great Tamer
Dimitris Papaioannou
Onassis Cultural Centre
Sadler's Wells Theatre
–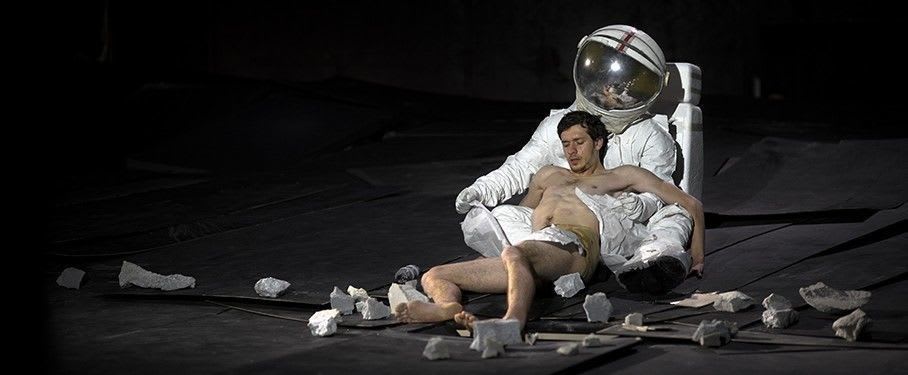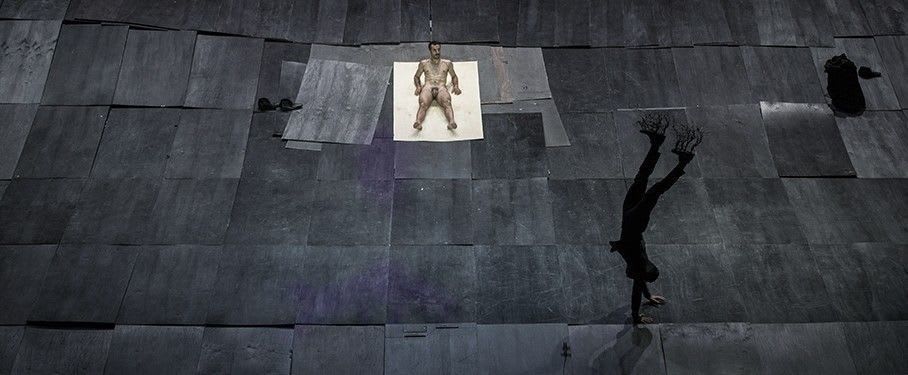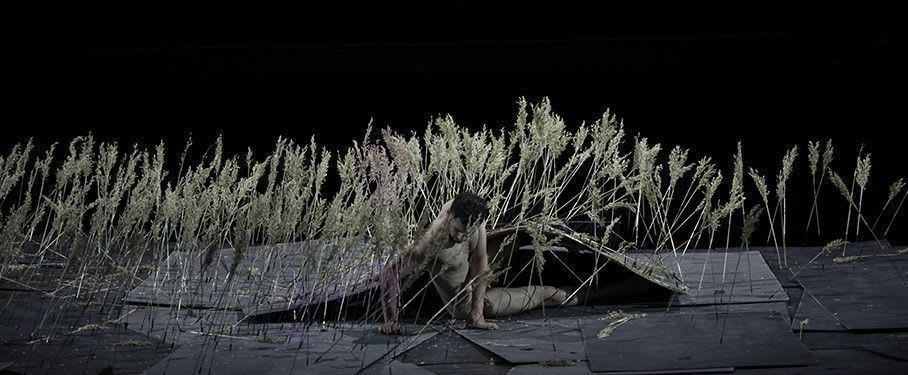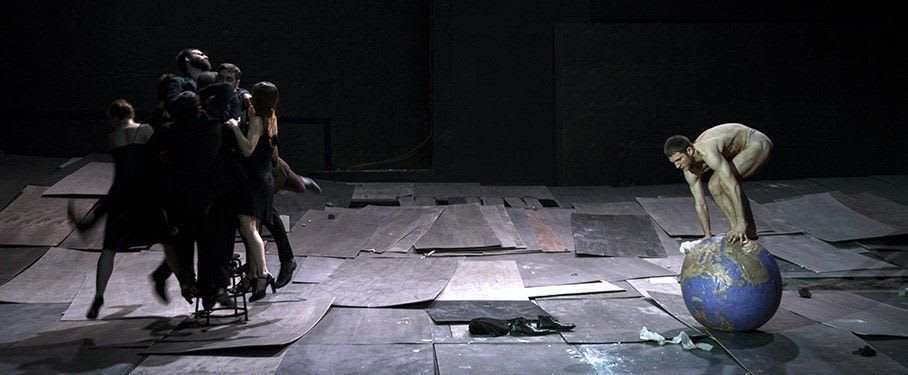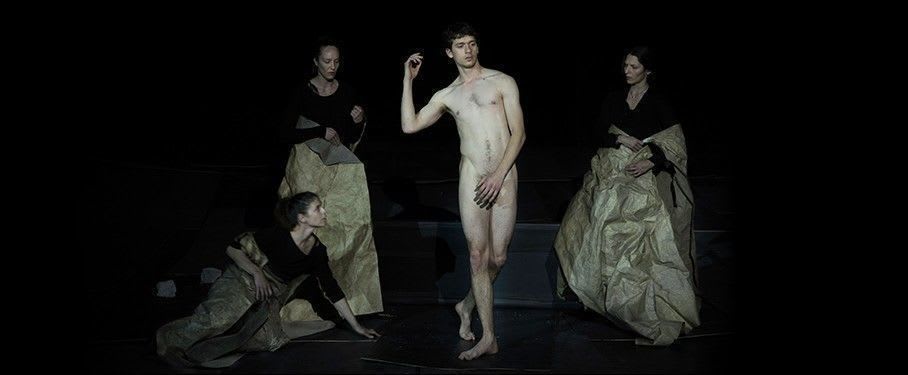 This compelling work by Dimitris Papaioannou seems to be all about bodies, mainly male ones and frequently naked.
In a Q & A session after the performance, its creator told the audience that "The Old Tamer" is one of the expression Greeks use to mean Death and that changing "Old" to "Great" was to give it more of a circus sound. (In fact in Greek I believe Ο Μεγάλος Δαμαστής could mean either.) But this isn't a gloomy work about dying: it is full of rebirth, of the continuity of life and a celebration of the body though, in spite of the persistent nudity, there is nothing erotic about it, apart from one moment that captures the prurient gaze of some women at maleness.
Papaioannou (best known internationally for his creation of the Opening and Closing Ceremonies for 2004 Athens Olympics) presents the audience with a grey landscape, an undulating slope covered with thin boards like a scatter of giant tiles that can be lifted or shattered and dug through. A man in a black suit stands downstage stands downstage enigmatically staring out at the audience as they stare at him. He removes his shoes, walks upstage to where there is another pair waiting but continues taking off his clothes.
Naked, he selects a central floor panel and turns it over to reveal a white underside then lies on it. It could be bed or mortuary slab. Another man enters with a white sheet and with a powerful flick that makes an audible click he lays it over the motionless body. A third man comes from another direction and raises another panel next to the naked body then lets it fall, creating a rush of air that blows the sheet off it. That pattern is repeated as a renewing image, introducing a succession of visual statements for the spectator to interpret according to their own experience and associations but growing directly from Greek culture and references in European art.
The Great Tamer is like an archaeological exploration, unearthing things from below ground. When you dig new foundations in Athens you may well uncover a temple, a marble a limb or a torso and they are found here, sometimes reassembling themselves in strange form. Skilful proximities and the techniques of "black" theatre put legs on the wrong way or cut off arms like the Venus de Milo while a live caryatid appears elsewhere.
There are images that recall the old myths: Demeter and Persephone with a man crawling back into the earth to be followed by a shower of arrows that become a cornfield ready for reaping. There is seen Cronus eating his children in a way that recalls Goya's painting, a male birth that seems based on Botticelli's Venus, a Mantegna Christ and, most striking of such old master images, black-clad figures suddenly producing broad white collars to become Rembrandt's Anatomy Lesson who then extract entrails before covering the body with a cloth to lay the table for a gruesome banquet.
It isn't all classicism and old masters; there are surrealist Dali-like images too. Poles brought in like weapons turn into stilt legs, coiled springs extend arms, an exhumed skeleton slowly disintegrates. Boots grow roots, torn out of the earth when their wearer moves; he is forced to walk on his hands, like an inverted tree. Is this a reference to the Greek diaspora, especially the uprooted exiles trying to escape Greece's current crisis?
Astronauts walk over the moonlike landscape and, as well as rock samples, dig out naked new life. Like Kubrick in 2001, Papaioannou uses Strauss's Blue Danube, and not just for the spacemen, but seems slowed down, a stretched out barcarolle to underscore everything.
Dance works usually show of leaps and swift movement; here things move with slow deliberation, the sleight-of-hand magic that creates unusual images cleverly hidden. Slow revelation doesn't mean less amazing, non more so perhaps than an image of birth in which a succession of (male) bodies emerging from a dark cave each produces new issue.
For an hour and forty minutes, Papaioannou and his talented company keep their audience spellbound. The whole work has a gentle melancholia as one image morphs into another or makes a new statement. There is humour but no one laughs out loud. There is a celebration of beauty, human physical beauty, of human resilience and continuity but images too that are a reminder of the dark days of the Greek past and a bleak present.
It is a shame that a work as impressive as this should be seen for only two performances in London. I hope it will be back and look forward to see more of the work of Papaioannou and his company.
Reviewer: Howard Loxton