The Greek Passion
Bohuslav Martinů, based on the novel Christ Recrucified by Nikos Kazantzakis
Opera North
Leeds Grand Theatre
–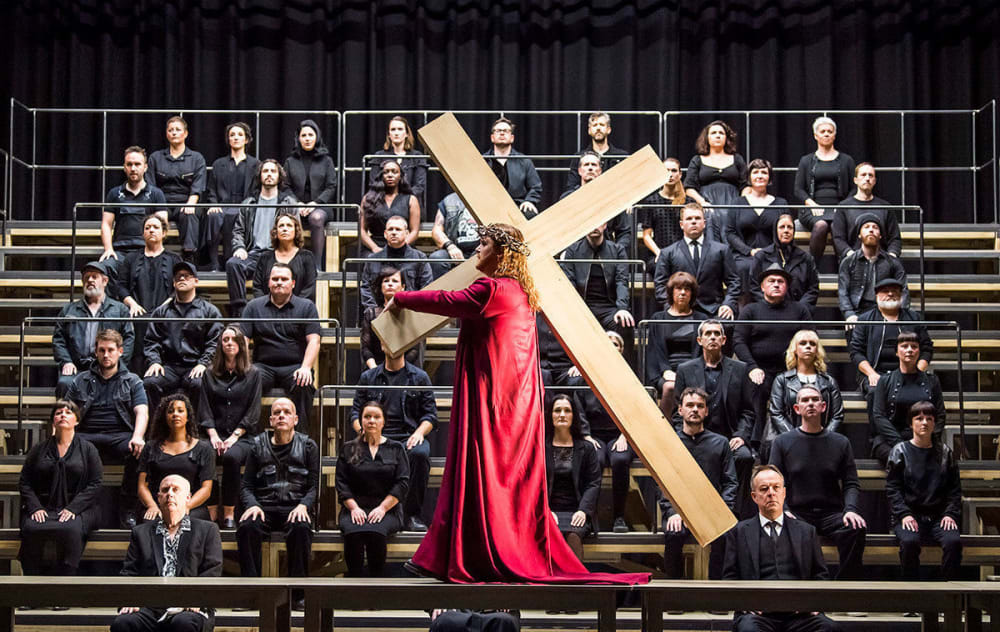 Bohuslav Martinů's final opera—an urgent plea for compassion for the dispossessed—could hardly be more relevant today. In a political climate where refugees are frequently demonised, it is heartening that Opera North has chosen to stage The Greek Passion, a piece that exhorts the importance of kindness and empathy towards those in need.
Based on Nikos Kazantzakis's 1948 novel Christ Recrucified, The Greek Passion opens on an Easter Sunday in the small Greek village of Lycovrissi. The community, overseen by the strict priest Grigoris (Stephen Gadd), has assembled to allocate roles for the Passion play which will be performed the following year. Local shepherd Manolios (Nicky Spence) is cast in the role of Jesus, the widow Katerina (Magdalena Molendowska) is chosen to play Mary Magdalene and her temperamental lover Panait (Jeffrey Lloyd-Roberts) reluctantly accepts the part of Judas.
When a group of refugees arrive, led by the priest Fotis (John Savournin), the villagers initially show compassion. However, when one of the refugees dies from hunger, Grigoris blames the death on cholera in order to have them expelled from the village. Fortunately, Manolios and Katerina—the most compassionate members of the community—lead the refugees to a place where they can find shelter.
It's been nearly twenty years since The Greek Passion was last performed in the UK, which is rather baffling given the sheer dramatic power of the piece. A former refugee himself, Martinů had first-hand experience of what it is like to be displaced and this understanding is channelled directly into his last operatic work.
The storytelling is made crystal clear by Christopher Alden's confident direction and Charles Edwards's imposing set design. The stage is dominated by raked seating which doubles as both the villagers' meeting place and the mountain on which the refugees eventually settle. Even more striking is the use of white mannequins to represent the refugees, which allows the villagers to double as refugees whenever they lift them up. The use of life-sized models also conveys how refugees are dehumanised by those who seek to ignore their suffering.
The Greek Passion is dominated by the always impressive Opera North chorus, but several individual performances also stand out. Nicky Spence is particularly moving as Manolios, a man who becomes Christ-like when he advocates for the refugees, and Magdalena Molendowska is equally fine as the misunderstood Katerina. Stephen Gadd shows how a lack of humanity can exist under a devout exterior and John Savournin lends grit and determination to the role of Fotis.
The Greek Passion is brought to thrilling life by conductor Garry Walker, who brings out the intensity and lyricism of Martinů's score.
Reviewer: James Ballands