The Green Table
Kurt Jooss
The Joffrey Ballet of Chicago / Wocomo Music
The Joffrey Ballet of Chicago
From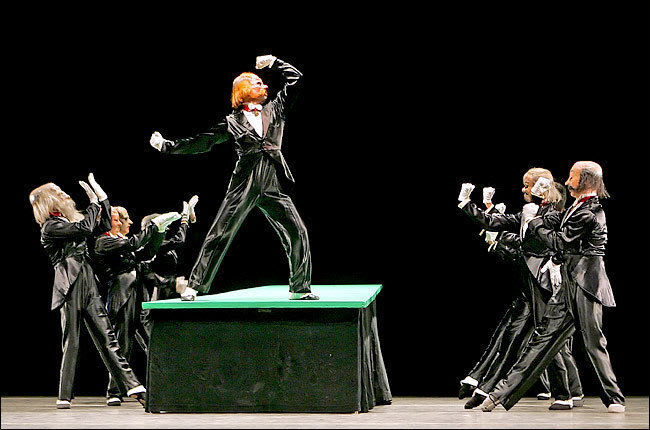 Kurt Jooss, German pacifist, wrote the book and created the choreography for his expressionistic anti-war dance drama The Green Table, which premièred in Paris in 1932 and won first prize in a competition. The music for two pianos is by Frederic Cohen.
The ballet is a political statement on the futility of war and the futility of peace negotiations. It had a major revival by Joffrey Ballet of Chicago in 1967 at the height of the Vietnam War.
The 2013 performance now online is based on the staging by Jooss's daughter, Anna Markard, who had recreated Jooss's work as faithfully as possible for Joffrey Ballet in 2007.
The Green Table, billed as a Dance of Death in Eight Scenes, opens unforgettably with a diplomatic conference round a green beige tabletop, a witty satire on the League of Nations. The diplomats, men in black suits with white gloves and white spats wearing superb masks designed by Hermann Markard, move and gesticulate in a stylized manner to tango music.
The stage is in total darkness. Only the dancers are lit. The pianists pound away. Cohen's music has a harsh, brutal, grating, relentless sound.
A standard-bearer waves a flag; three soldiers rally to his call; women young and old try to stop the soldiers going to war; women grieve; men fight each other on a chaotic battlefield; whilst back home, a profiteer in a bowler hat chases women and has a good time. Nobody escapes Death.
Death, a ghoulish, strapped, robotic medieval monster Hun towers over everybody, Mars-like. He looks as if he has stepped out of a horror cartoon. There are memorable images of him striding the stage with the Standard-Bearer by his side and hovering over a female corpse as if he is about to devour her. Davis Robertson, strikingly made-up and costumed by Hein Heckroth, is a potent presence. Death was originally played by Jooss.
The ballet ends with a return to the incompetent diplomats who are still arguing. The Green Table is a memorial to all those who die in war.
The Green Table can be watched online on the Wocomo Music channel.
Reviewer: Robert Tanitch