The Grenfell Project
Devised by the company
Hope Theatre
–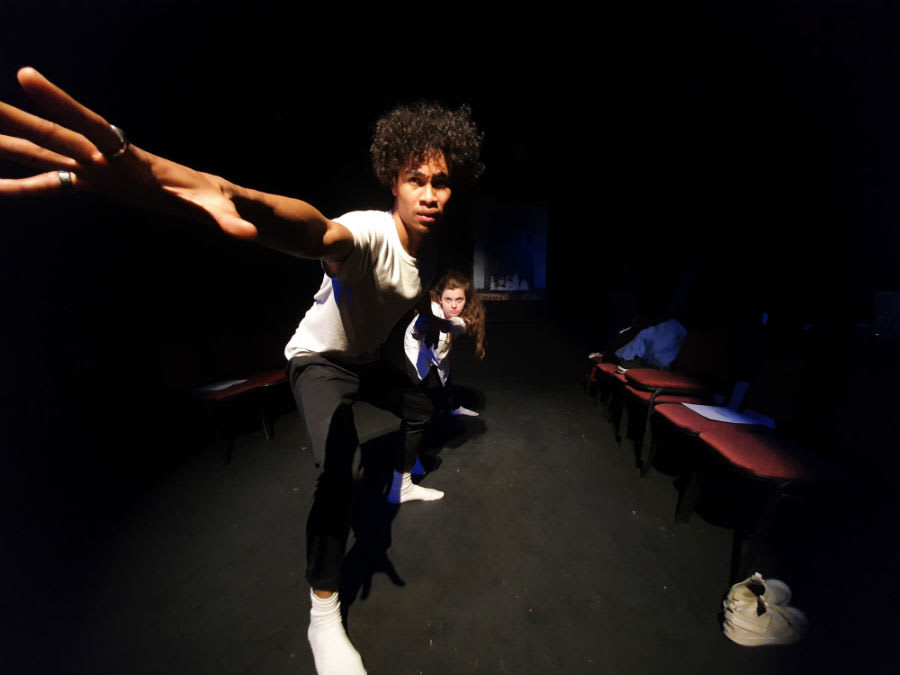 You can't miss it if you are anywhere near Ladbroke Grove. The burnt-out ruins of Grenfell Tower looms over the area, a brutal marker of the 72 killed and the trauma still suffered.
You can hear that trauma in the voices of many of those dramatised in The Grenfell Project, a sensitive script constructed around interviews and the transcripts of meetings, interspersed with spoken word poetry, dance and song that takes us through the events of the fire and what happened next.
In an early scene on one side of a darkened traverse performance space, a family whom we can barely see by the dull, red, glowing lights they hold in their hands are told by the emergency services they phoned to wait in their flat, even as the fire engulfs the building.
Across from them, in the darkness, are the voices of two firefighters climbing the smoke-filled stairs of Grenfell, their radio communication down, their torches narrow, bright beams. They know there are people further up but to continue they risk their own lives.
The scenes carry us to Theresa May (Amy Sherlock) three days later, seemingly complacent, being asked about her lack of response; the interviewer Emily Maitlis who "saw the chaos for myself" claims that if it had been a flooding she "would have had the army there."
The army wasn't called in and official support was lacking, but we hear of volunteers who bring donations of food, clothing and bedding.
A video gives us Ricky who was there on the night, images of him playing football, walking streets as his poetic, gentle voice-over speaks about the personal impact of Grenfell, the camera finally lingering on a firefighter's helmet lying on the floor just inside his front door.
One of the most powerful scenes takes us to the council meeting where relatives and survivors express their rage. Someone describes having to tell their eight-year-old child that his teacher was one of those killed. An exasperated resident recalls having given by letter and in person a long line of warnings about the fire risks, all of them ignored.
Between such scenes are short, vivid pieces of connected spoken word poetry and, towards the end of the show, a moving dance sequence of a woman and her husband which begins with the woman mourning the loss of her husband who still appears in her dreams: "Always the same dream. Always the same question. 'Which floor did you jump from?' And I never get an answer."
The loss is also captured in the fine simple harmonies of Amy Sherlock and Victoria Izzard singing a cappella a slightly modified version of Tori Kelly's "Blink of an Eye".
Most of what we see and hear in this very fine, important production is edged with anger at what has happened and what could again happen because, as we are reminded, there are still hundreds of buildings clad in the same material as Grenfell, "the shame of London… the violence of that night a product of decades of invisible violence."
Reviewer: Keith Mckenna