The Grinning Man
Based on Victor Hugo's novel "The Man Who Laughs " with book by Carl Grose, music by Tim Phillips and Marc Teitler and lyrics by Carl Grose, Tom Morris, Tim Phillips and Marc Teitler
Bristol Old Vic
Bristol Old Vic At Home
–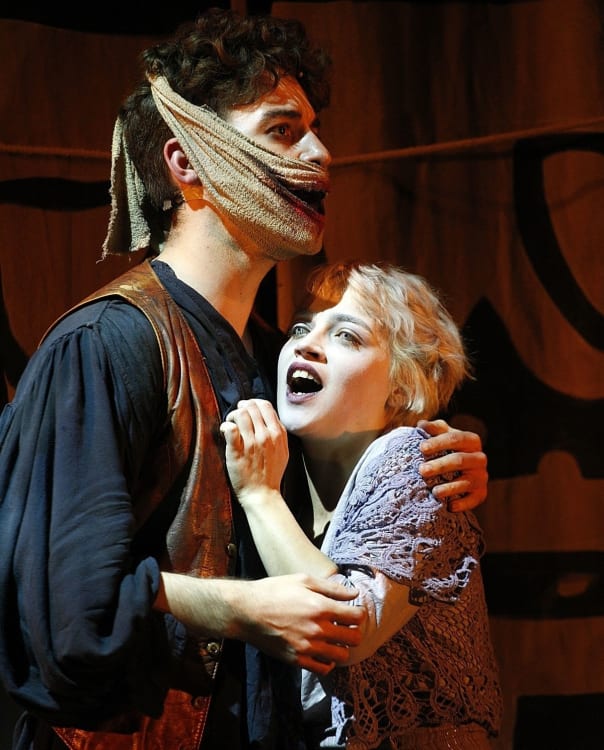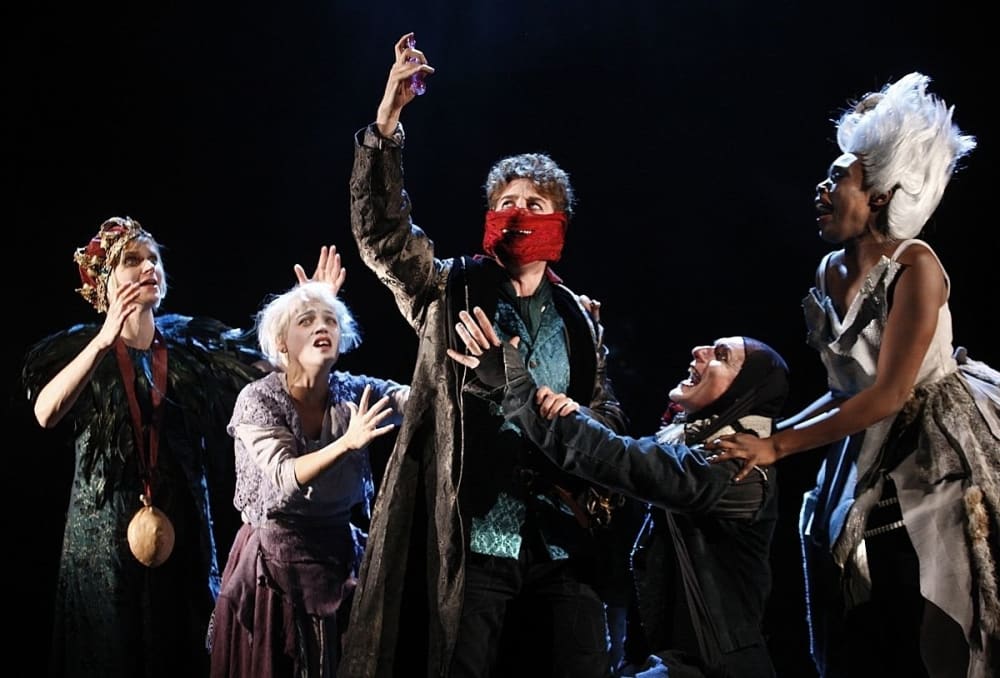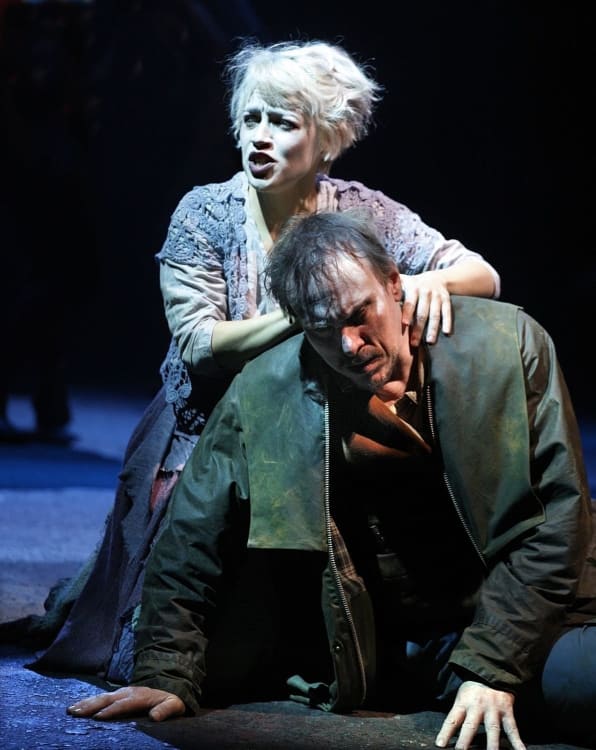 Based on Hugo's 1869 novel L'Homme qui rit, but here transferred to an imaginary Bristol that is the capital of England, this is a very dark musical about a young man disfigured as a child so that his mouth is a gaping wound, dreadful to see, who cannot remember how or by whom he received it.
As grotesque court clown Barkilphedro (Julian Bleach) tells the audience in his introduction, it is a story that is "utterly horrid but strangely uplifting", a tale "so tragic it could only be true." It turns out it's a tragedy in which he is complicit and that he is bound to go on recounting but its horrors are presented with hilarious invention for, as a first chorus lengthily announces, "laughter is the best medicine".
The Grinning Man is set in a harsh world where the King savagely puts down a people's rebellion and the story is taken up by one of the rebels, now a showman, who has cared for the boy Grinpayne and a blind baby the lad found in the snow whom they call Dea. Showman Ursus (played with depth and understanding by Sean Kingsley) produces a potion to help Grinpayne forget his pain, but the boy wants to find out who he is and who gave him his injury.
Grinpayne hides his disfigurement under a bloody bandage and, when the children play themselves in the family fairground freak show, its removal becomes the high point of the drama. Although there may first be a recoil of horror, its revelation changes hearts, even those of some of the royals whose previous mantra is "to him that hath, much more shall be given… those that have little shall have it taken away". With the death of the tyrant King and accession of a reformed Queen Angelica, the past is revealed and there is hope for the future.
Louis Maskell and Audrey Brisson are a charismatic couple as Grinpayne and Dea, not just excellent voices and honest performances but able to project them through the puppets that represent them as children, which they also manipulate.
Skilful puppetry has an important role in Tom Morris's production. There is one point when a puppet Grinpayne and Dea seem to be puppeteers themselves as they present small puppets representing Beauty and the Beast in a story that in some ways echoes their own. Finn Caldwell and Toby Olié of Gyre and Gimble are responsible for the puppet design and direction including the creation of Ursus's great wolf-like dog who becomes a very real part of the story.
Although The Grinning Man has more then twenty songs, this isn't a show made up of would-be hits: the music is part of the dramatic structure. A couple of numbers go on too long and less time spent with the court and the incestuous royals would remove some confusion—but these are small faults in a powerful piece of theatre whose gothic darkness has a joyous and humane heart. This adaptation seems as much Voltaire as Hugo.
Reviewer: Howard Loxton