The Gruffalo
Adapted by Olivia Jacobs and Toby Mitchell from the book by Julia Donaldson and Axel Scheffler
Tall Stories Theatre Company and Kenny Wax Family Entertainment
Vaudeville Theatre
–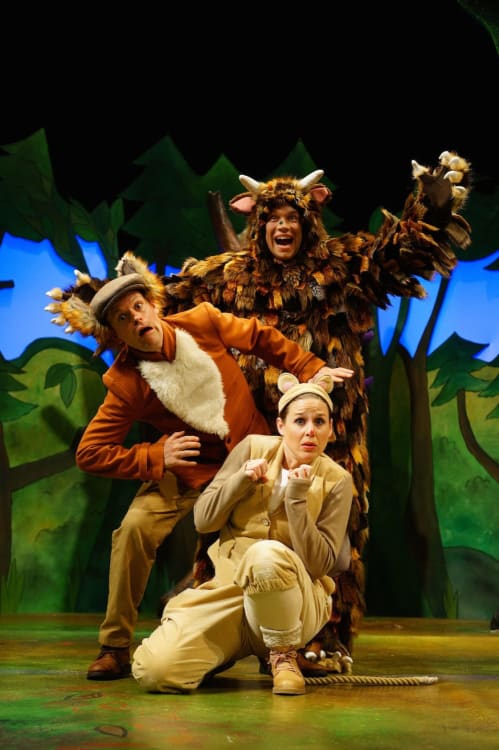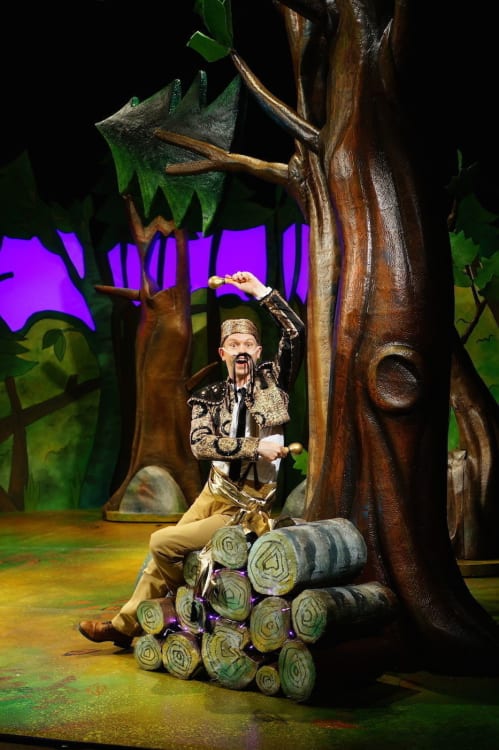 Julia Donaldson and Axel Scheffler's award-winning book about a little brown mouse that goes in search of hazelnuts in the deep dark wood has been a children's favourite ever since it was first published 16 years ago and this Tall Stories' adaptation has been delighting youngsters almost as long.
Now it is back in the West End for Christmas playing during the daytime at the Vaudeville Theatre with a delightful new set and costumes by Isla Shaw and a slightly reworked production that under Olivia Jacobs's direction comes up as fresh and as lively as you could wish for.
Ellie Bell is the mouse who goes off with her Nut Map and encounters a series of predators who all want to eat her. She's a mouse, but a little girl being a mouse too. It's a theatre "let's pretend" game that brings audience and actors into contact, creating an easy rapport between stage and auditorium.
Owen Guerin tells the story and often becomes part of the action, encouraging the youngsters throughout the theatre to join in with songs, wiggly in-your-seat dancing and bits of counting as well as some pantomime-like "behind yous" and a whole lot of Gruffalo roaring on Mouse's instructions.
Timothy Richey plays all the predators who want to eat mouse. With the help of snazzy costumes, he makes them three totally different characters: cockney wide boy Fox (was he raised on the rich pickings of London's food waste?), be-medalled and bossy Owl with his army officer accent and then the exotic and glittery Snake who thinks himself "the handsomest thing in the forest" and wields a maraca (he's a rattlesnake). Later (when Guerin turns himself into the Gruffalo), Richey takes over as storyteller.
All three actors pitch their performances just right for their audience and, though using microphones, sound balance is excellent.
How does mouse escape getting eaten when saying no to their kind invitations to join them at mealtime proves not enough? She invents someone she is meeting who is due any minute, someone she makes up on the spur of the moment: the Gruffalo. Chances are she doesn't have to invent him. If the audience is anything like the one I saw it with, they are telling her his name before she can think of it because they already know the story.
This adaptation doesn't attempt to make an exact reproduction of picture book pages; it brings its own theatrical reinterpretation. It works, and very well too, clearly delighting the audience it is aimed at, both existing Gruffalo fans and the newcomers to the story—especially those in front stalls whom he comes down to hide among, so close the bravest can touch him.
The Gruffalo (Live on Stage!) is aimed at an audience of three years and older but older infants will love it too and, at just under an hour long with plenty of songs, jokey dancing and audience involvement, it is well within the attention span even of those three-year-olds. With new youngsters to discover The Gruffalo year after year, it looks like being a perennial children's favourite.
Reviewer: Howard Loxton