The Gun Show
E M Lewis
CoHo Productions
SpaceTriplex
–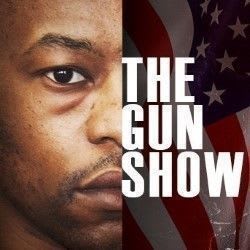 Not everyone is pro- or anti-greater gun controls. That is the argument we hear early on in the powerful monologue The Gun Show spoken by Vin Shambry.
He claims that the majority of people have views that are somewhere between the extremes that usually dominate the debate.
That apparent ambivalence in the show continues for a while. The performer even tells us jokes he has been sent that stand on different sides of the argument.
"When using a gun always point it in a safe direction. At a hippie or a commie."
All of which can sit uncomfortably with a British audience who are fairly united on the need for the strictest gun controls.
But this show isn't simply an abstract debate. It is much more of a personal story. The writer E M Lewis sits in the audience and it is her account of five linked stories in her life, each of which has its emotional pull till the final one leaves you deeply shaken.
This is a very writerly play with its polished rhythms, its repetition of phrases, and its occasional sharp poetic image. There has been a loving care with the language that would excite any actor to give a fine performance and this play certainly gets one with Vin Shambry who is sensitively directed by Shawn Lee. Vin is an actor you will want to see much more off.
He makes it clear that we are hearing E M Lewis's story. He speaks to her during the play and at times seems to tentatively seek permission to say just a bit more about a particularly painful memory.
We become conscious that the performer's monologue is her story spoken by an actor.
Ultimately, the emotional power of the show weighs heavily on the side of greater gun control, but whichever side of the debate you stand, you will be greatly moved by what you have seen and remember much of it for some time to come.
Reviewer: Keith Mckenna