The Habit Of Art
Alan Bennett
The Original Theatre Company
Festival Theatre, Malvern
–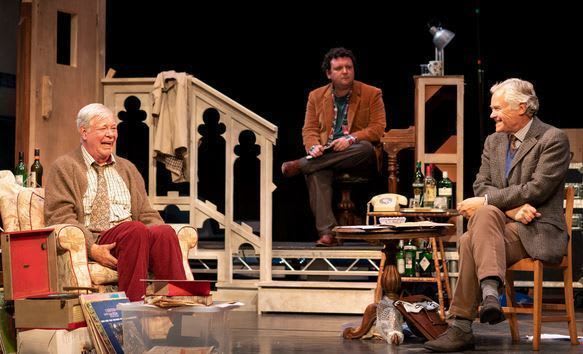 The scene is an imaginary meeting between two giants, W H Auden and his former friend and collaborator Benjamin Britten.
The two had not spoken for 30 years, since a bust-up in wartime America, but Britten is anxious about the likely reception of his latest (and last) opera, Death in Venice, with its too-near-home subject of an elderly artist fixated on a beautiful young boy, and visits the poet for reassurance.
That meeting never actually happened, except in the brilliant imagination of Alan Bennett, in this, possibly his most ambitious and greatest play. The result is by turns shocking, hilarious and moving, with a cast as sharp as pins.
The piece is structured as a play within a play, with the peerless Matthew Kelly as Fitz, an old theatrical darling having trouble with his lines, rehearsing the part of Auden.
In his Oxford college rooms—so squalid that his vest is confused for a dishcloth—he delivers forth on poetry, on life (Newcastle is "all vomit and love-bites") and on sex.
And it is on the last mentioned that he is most voluble. With a rent-boy, whom he amusingly calls one of "the ancillary caring services," he enters into what must be one of the longest, most graphic, teasingly, filthily funny stage disquisitions on male genitalia.
Enter David Yelland, in a finely-tuned performance, as the more constrained, fastidious Britten, less open about his secret life with partner Peter Pears and still less so about his attraction to boys. "Sometimes I think they'll come for me as they come for (Peter) Grimes," he confesses. Bennett even comes close to saying that the composer himself had worked as a male prostitute.
Robert Mountford is Neil, author of Caliban's Day, the play within the play, with Benjamin Chandler as Stuart, his rent-boy/Caliban, given the freedom at the end of the piece to speak for those forgotten in the histories of great ones.
There is even the hint of a third layer of story-telling with John Wark playing both a narrator and Humphrey Carpenter, the radio interviewer who in a later distinguished career was to become both men's biographer, dividing for ever prior perceptions of their works and personalities.
It's clever, it's witty, it's about poetry, music, biography, life and sexuality, and about the profound and workaday essence of art. Above all, it's about the value of theatre.
Reviewer: Colin Davison