The Habit of Art
Alan Bennett
York Theatre Royal, the Original Theatre Company and Ghost Light Theatre Productions
York Theatre Royal
–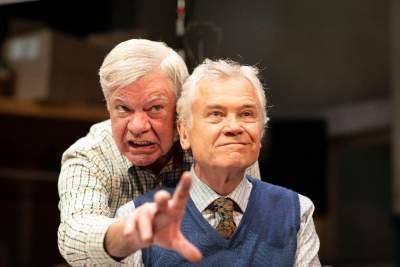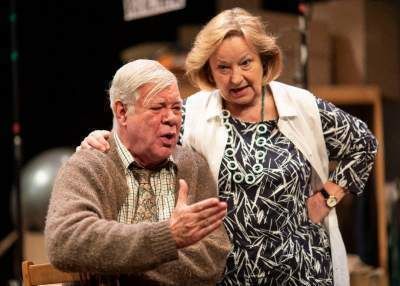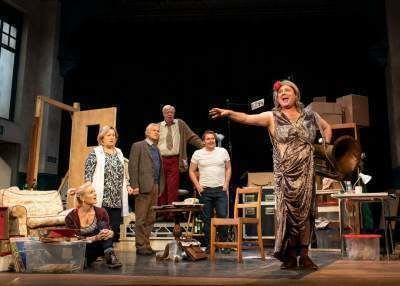 Being a national treasure must be a poisoned chalice. On the one hand, you're the recipient of mass public affection and respect; on the other, there is something inextricably twee about the title. For Alan Bennett, the damage was almost certainly done by his Talking Heads series, but audiences often remember the cosy trappings of these monologues whilst forgetting their darker undercurrents.
Newcomers to Bennett's oeuvre, with only a stereotype of what his work entails, may be shocked by this revival of his 2009 play The Habit of Art. This is a drama, after all, in which a sexagenarian books an appointment with a rent boy and enters into a prolonged discussion about penises. However, if you've seen Bennett's 2004 play The History Boys, then you will appreciate how mischievous and bawdy his humour can be at times.
Set in a delightfully shambolic rehearsal room (kudos to the designer Adrian Linford), The Habit of Art presents the audience with a play-within-a-play. The play in question, Caliban's Day, centres on the relationship between two of England's greatest cultural titans: the poet W H Auden (Matthew Kelly) and the composer Benjamin Britten (David Yelland).
Auden and Britten became friends whilst living in America at the beginning of WWII and they collaborated on various works including the opera Paul Bunyan (1942). Their friendship and collaboration came to an end, however, when Britten returned to England in 1942. Bennett's play-within-a-play imagines them meeting up in later life to discuss Britten's passion project, an opera based on Thomas Mann's novella Death in Venice (1912).
The drama that unfolds between Auden, Britten and a guileless male prostitute (Benjamin Chandler) is punctuated with contributions from the play's author (Robert Mountford), who watches in horror as the actors criticise and butcher his precious text, and notes of encouragement from the company's indefatigable stage manager (Veronica Roberts).
There is much to enjoy in The Habit of Art. Bennett has an undeniable gift for comedy and his dialogue crackles with wit and intelligence. The play is filled with perceptive observations on a range of subjects, including loneliness, betrayal, the nature of creativity and repressed sexual desire.
However, I have mixed feelings about the show's play-within-a-play structure. I enjoyed Bennett's depiction of life in the rehearsal room and the creative challenges and disputes that theatre companies must contend with, but this means that the central relationship between Auden and Britten is not as thoroughly explored as I would have liked. I longed to hear more about their relationship in America and its abrupt dissolution.
I was also made uneasy by Bennett's depiction of Britten, who became infatuated with a series of prepubescent boys over the course of his musical career. Unlike Hector in The History Boys, Britten has not been accused of physically molesting his young charges, but I still think a more condemnatory note needed to be struck.
Despite these criticisms, I still enjoyed Philip Franks's sure-footed revival, which benefits from some fine performances. Matthew Kelly is excellent as the irascible Auden and the self-regarding actor who plays them. His performance contrasts nicely with that of David Yelland, who skilfully captures Britten's prissiness and reserve. Also impressive is John Wark, whose character grows increasingly frantic about his role in the play to great comic effect.
The Habit of Art may not rank alongside Bennett's greatest works, but it still delivers an entertaining and thought-provoking evening at the theatre.
Reviewer: James Ballands