The Handan Dream
Tang Xianzu (adapted by Yu Quingfeng and Qu Zhaojie)
Guangzhou Dramatic Arts Centre
Hackney Empire
–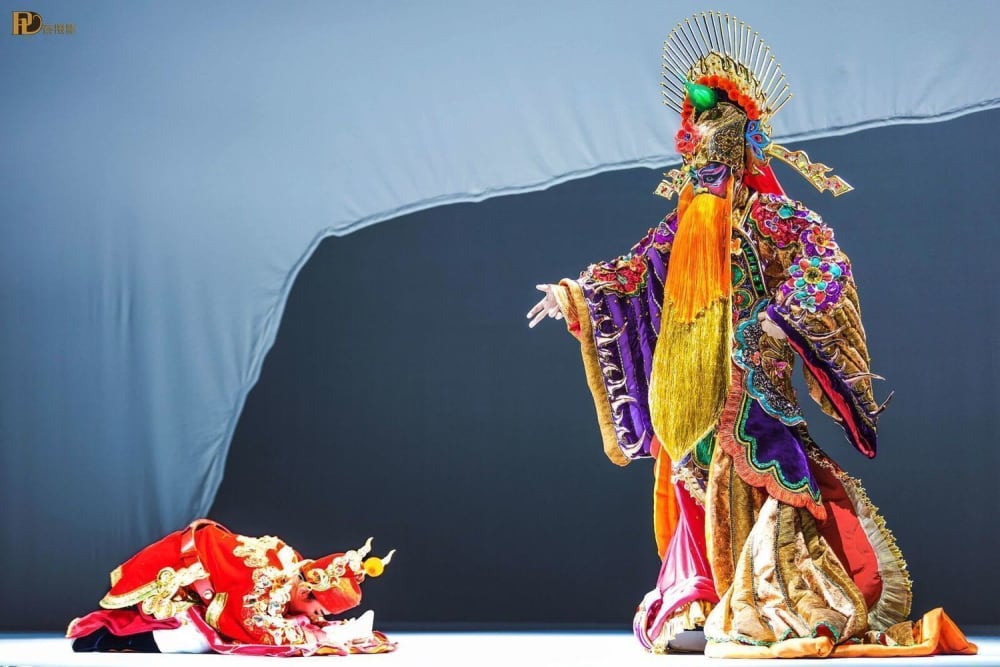 This is an elegant example of a Chinese classic being given a very modern production. It is acted in Mandarin Chinese with easily read surtitles in both English and Chinese.
Ming Dynasty poet and playwright Tang Xianzu was a contemporary of Shakespeare and has similar status in China. They both died in 1616 (as also did Cervantes). Not widely known in the West, though a dance version of his The Peony Pavilion by the National Ballet of China was seen at Sadler's Wells in 2016 and that year also saw this play, in its original Kunqu opera form interspersed with passages from Macbeth, Cymbeline and King Lear, was performed at St Paul's Covent Garden as A Shakespearean Handan Dream.
This Guangzhou version is also a reimagining that slightly reshapes the story and adopts a more contemporary staging though it also draws on Chinese traditional theatre. While British audiences get a taste of the spirit of Kunqu opera (which predated the Beijing style) with exotic costumes, the Chinese instruments in the score and a deliberate delivery of text, a Chinese playgoer will probably find it much more like western drama.
The Handan Dream has at times been considered a critique of bribery and corruption in public life but it is essentially a fable that suggests people live in the real world not that of the Handan Road, the fantasy of the Golden Rice Bowl, the American Dream, the London of streets paved with gold.
In China, intellectuals were highly regarded, their fine minds made them suited to political office, even commanding an army. A Taoist priest and poet (Guan Dongtian) tells the story of Master Lu, a young scholar who needs to pass an Imperial Exam that will set him on the path to an official career. The trouble is he has already failed it three times.
Actress Li He, cast gender-blind, makes a delightful Master Lu, lively and charming. While waiting for his lunch to be cooked at an inn, he moans about his bad luck and the priest gives him a magic pillow that makes him start dreaming. His worn-out donkey gains a voice, there is a dog and a cockerel who join in too (Wang Fang, Hu Wei and Wang Ping—all excellent physical characterisations) and Lu meets Cui, a beautiful girl from a rich family (graceful Wan Jing) and they marry.
Cui's money bribes the way to an exam pass that is signed by the Emperor, even though Lu hasn't answered any questions, but no one has given the Prime Minister (Chen Zhirong) his pay-off and as Lu rises through the ranks the Minister finds ways to have him demoted. On the way, on this Handan Road, Lu becomes a Provincial Governor charged with building a canal and then leads an army. In a long life, at eighty Lu himself becomes First Minister. He's celebrating his birthday and his promotion with a party when he wakes up: he is still at the inn, his dinner now nearly ready.
It is a simple story presented in a clear line. Ji Qiao's setting is a simple white platform at the rear of which a heavy gauze and a cut-out cloth on a circle track provide a changing layered background that reveals figures through openings, allows sightings through the gauze, shadows and silhouettes to all be part of the image. Downstage, cut-out ink-drawn ground row images cross on a travers track, above a border drops in with a black line marking the Handan Road route. Against this elegant but pure-seeming setting, Li Rayding's colourful costumes stand out vividly. It looks lovely.
Text is delivered in a measured way, movement somewhat stylised but the impression they make is natural. The delightful animals and some other characters are masked or have stylised make-up (though not the designs of Chinese Opera convention), some natural faces. Was there meaning in the distinction? Perhaps it was because some actors doubled roles—that isn't clear from the surtitling—but it doesn't affect the overall understanding.
Add songs and the rest of Dong Weijie's contemporary score and the result is a feast for the eyes and an evening of theatre that director Wang Xiaodi and her choreographer Yao Xioming keep continually moving. For nearly two hours without interval, it is always engaging. It is a pity that they are only at Hackney for such a short visit for they are well worth seeing and make one want to see more work by this company.
Reviewer: Howard Loxton