The Handyman
Ronald Harwood
Yvonne Arnaud Theatre, Guildford
–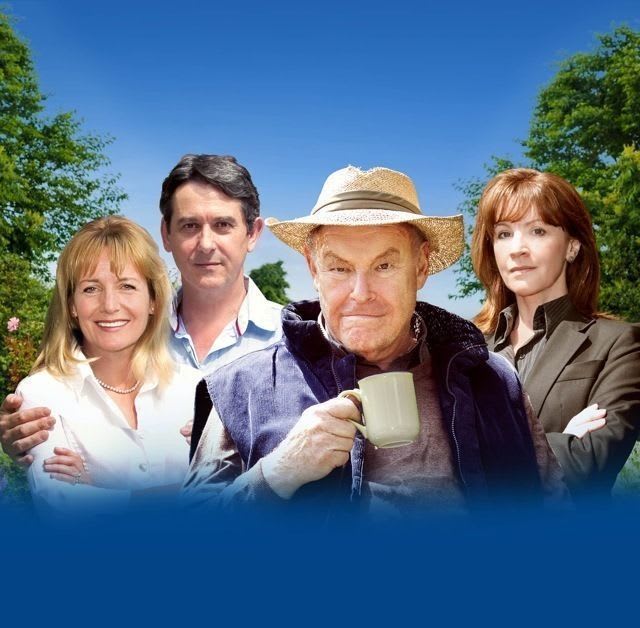 Harwood has written numerous plays, several very much with the same theme and similar in style, but that makes them no less interesting, absorbing, gripping and thought-provoking.
The Handyman (written in 1996) begins innocently enough on a sunny summer day in a Sussex garden where a middle-aged couple are discussing their lifestyle, their plans for the day and mundane, everyday details such as the hedge needs trimming and they must ask their elderly Ukrainian gardener / odd-job-man and friend to see to it. Julian is in derivatives and, it seems, on top of his game, while wife Cressida is working for a degree in gender studies. Who knew that the events of five decades ago would come to haunt them and turn their lives upside down?
The issues addressed cover guilt, culpability, compassion, retribution or revenge. A little infidelity is thrown in for good measure, but it is the arrival of the police investigating war crimes which begins the process of considering and evaluating their own opinions, and the discovery that they hold extremely differing beliefs.
The intrusion at first offends as the police conduct a search of their property and confiscate various documents and photographs, leading to the furiously indignant Julian's accusation "We're living in a police state"—an opinion frequently voiced today when the rules and regulations from Brussels annoy. This story, however, takes us to Ukraine under Nazi rule, the contrast making our observations appear ludicrous.
Timothy West is Roman Kozachenko, known affectionately at Romka, the sweet and gentle old handyman, a friend of Cressida's late Army Major father and a British citizen for many years, living his life in peace and quiet. Is it possible that he was once a vicious murderer of Jews, or have they accused the wrong man? Can it be right to pursue a now law-abiding person for crimes committed over fifty years ago? Although, as Julian pointed out, they have had fifty more years than their victims.
Tensions build as the couple argue over their opinions—Julian (Adrian Lukis) believes that massacres are 'culling', a necessary reduction of over-population, and is more concerned that they have "the world's media on our doorstep'' than that Romka has been committed for trial, while Caroline Langrishe's sympathetic Cressida disintegrates to the extent of denying the Holocaust and lawyer Marian (Carolyn Backhouse) lectures on the dangers of fascism re-emerging.
An interrogation scene at Scotland Yard shows video footage of Steven Berkoff as fanatical and vicious Nazi soldier Nikita Fedorenko giving, with relish, his account of the horrendous massacre of over eight hundred Ukrainian Jews during the second world war and he is sure that his companion soldier was Romka, but he is old and little confused. Can his account be relied on? Vanessa Redgrave (also video) as Sister Sophia is a more positive accuser, but could she be mistaken?
Scene changes are swift as ghostly figures switch props in the semi-darkness and, accompanied by Matthew Bugg's unobtrusive music, give us a moment to absorb the previous scene and consider our thoughts and our own beliefs.
You'll find no definite answers in this play. You have to make up your own mind—but the final chilling words "the birds do not sing" might, just might, be a clue.
Not only was the large audience captivated and intrigued from beginning to end, but they were endlessly discussing the play on the way out—the sign of a very worthwhile evening.
Touring to Cambridge. Richmond, Malvern and Oxford.
Reviewer: Sheila Connor