The Hartlepool Monkey
Carl Grose
Gyre & Gimble, presented by Fuel, in association with Stratford Circus Arts Centre
Stratford Circus Arts Centre
–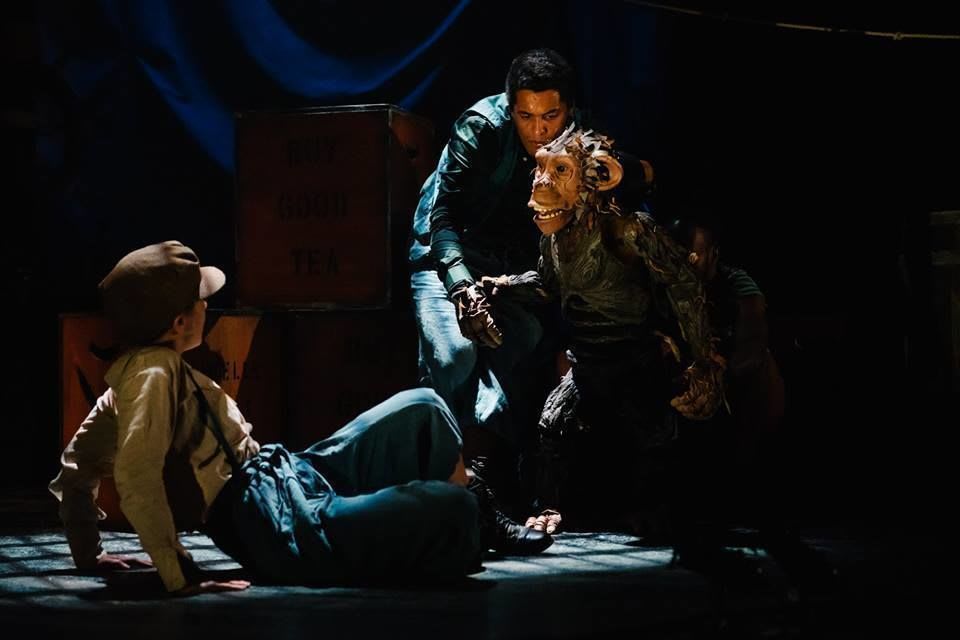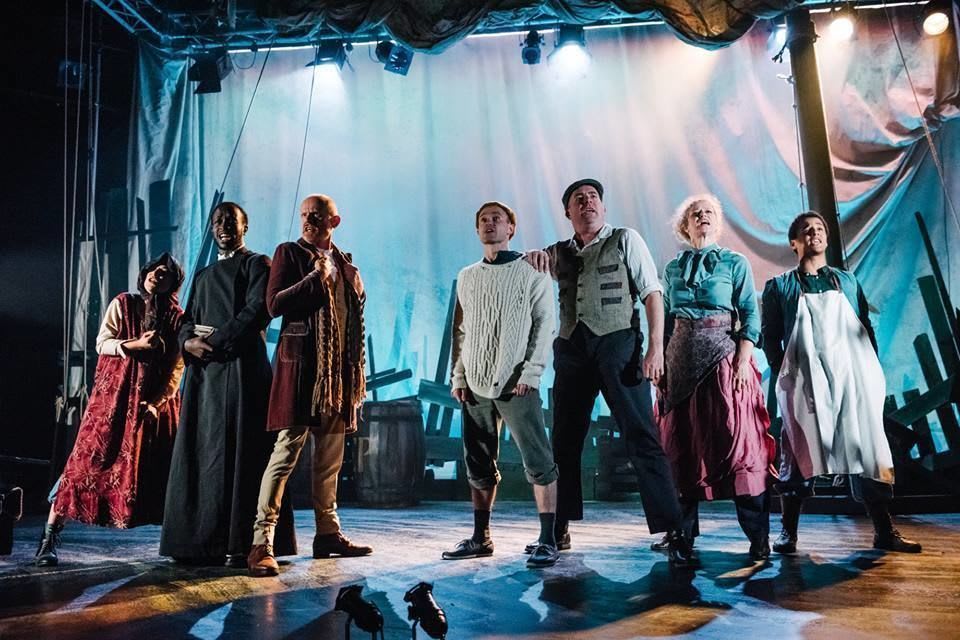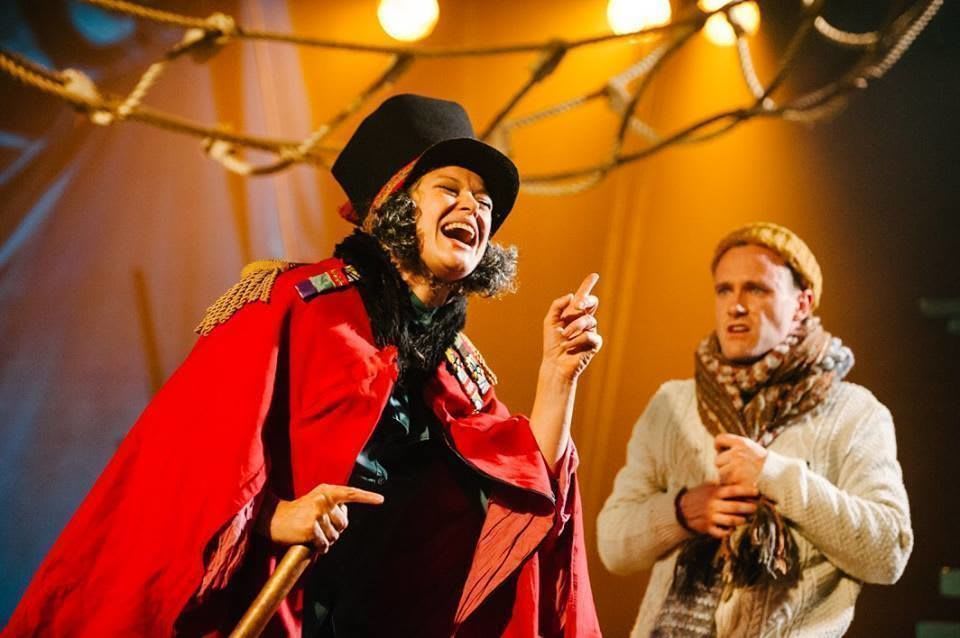 In 1815, as England battled the French under Napoleon, a chimpanzee, cast ashore from a shipwreck off Hartlepool, was mistaken for a French spy, given an arbitrary trial and executed by hanging.
One of the cast gives the whole game away by telling us this at the start to the consternation of his colleagues. What's the point of seeing a play if you already know the ending? (I take it, dear reader and theatregoer, that I don't need to tell you.)
It is an old story, an urban myth you might call it, and all the actors seem to have their own version set elsewhere: Aberdeen, Fishguard Mevagissey, and more—not Hartlepool says one actress "I can't do the accent!" But Hartlepool it is—it is spelled out on the barrels and tea chests that are part of the set along with furled sails overhead as borders, lots of ropes, cannons and cannonballs and a fractured fence silhouetted in the background.
The action starts in Eric Braithwaite's hostelry, the King George, where he is chivvying his son Billy to wrap up, adding extra scarves round his neck—but teenage Billy is no wimp and as played by John Trindle is someone a young audience can identify with.
There's friendly Betty (Rachel Sanders) who works in the bar too, keeping an eye out for both Billy and Eric while local preacher Rev Pike and Dr Cottril-Bent (Baker Mukasa and James Duke) are a couple of villains who set themselves up as the town elders to exploit it and run up a never-paid tab at the pub. Then there's retired Major Hornscrock, a mad xenophobe (a comic double from Rachel Sandes—a situation exploited later for further humour) who accepts no contradiction of his crazy reasoning.
That's Hartlepool, but the scene swiftly shifts to aboard a French warship with the whole cast turning into its French-speaking crew (though fortunately one of them translates anything essential). Among them is Clémence (Rebecca Collingwood), a patriotic stowaway who gets dumped in the hold where she finds herself sharing the space with the monkey Napoleon (a puppet, voiced and operated mainly by Fred Davis).
They scupper an English fishing boat then, violently storm tossed, they sink (though ashore the Major claims it was his cannon fire) with only Clémence and Napoleon surviving.
Clémence encounters Billy and is taken back to the King George (which as a French patriot she becomes set on destroying) but Napoleon ends up in the hands of the preacher, the doctor and the major (who pretends to translate his utterances which they think are French) and proceed to a fixed trial and execution, though Eric pleads for justice and the young couple both set out to save him.
It is an often hectic, frequently funny and boldly theatrical presentation that offers a sardonic portrayal of the way the professional classes treat those they think beneath them and of inbred xenophobia. It makes a strong case for tolerance and understanding and international friendship that seems particularly appropriate at this point in our political history.
That the major is grotesque and his accomplices too somewhat caricature means it's in a tradition of cartoonists of the Napoleonic period and emphasises the humanity of the chimpanzee. His designers Finn Caldwell & Toby Olié (who also direct the show), Fred Davis and those assisting him in bringing monkey Napoleon to life all do a fine job. They make him an audience favourite but the heart of the show is revealed in the advice that young Billy was given by the mother he still misses.
The Hartlepool Monkey will tour: 7 October, Derelict, UCLan Preston; 10-14 October Northern Stage, Newcastle; 16-21 October, Wales Millennium Centre, Cardiff; 24-25 October, Aberystwyth Arts Centre; 27 October, Connaught Theatre, Worthing; 31 October – 1 November, Nuffield Theatres, Southampton; 3-4 November, The Lowry, Salford; 7-8 November, Exeter Phoenix; 10-11 November, Theatre Royal Margate; 14-15 November, Hartlepool Town Hall, 17-18 November, Unity Theatre, Liverpool.
Reviewer: Howard Loxton