The Haunted Manor
Stanislaw Moniuszko
Theatre Wielki, Poznan, Poland
Poznan Opera House, Poznan, Poland
–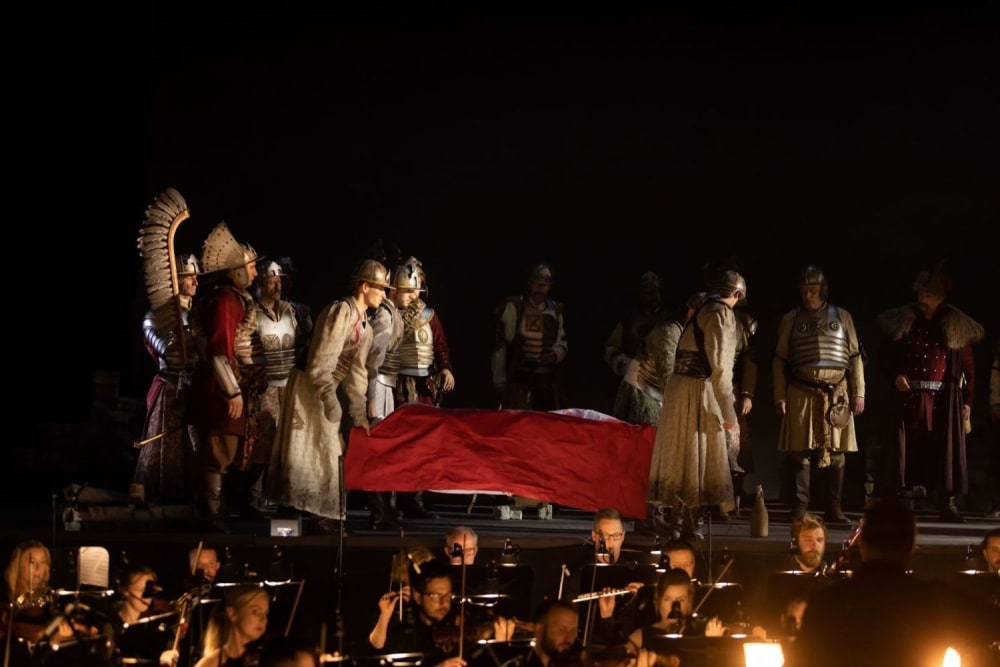 Stanislaw Moniuszko (1819–1872), who is much revered in Poland, wrote his patriotic opera in 1865 to give comfort to the nation when the Poles were being given a bad time by the Russians. It remains to this day Poland's most popular opera.
The Haunted Manor is so rarely performed outside of Poland that the Poles think it is time it was better known and have decided to promote it online. Never having heard of it, let alone never having seen it, I should have preferred a traditional Polish production with Polish folk dancing.
Unfortunately, Ilaria Lanzino's production, hideously designed by Leif-Erik Heine, for Poznan Opera, is a disaster, mixing old and new in a really messy way.
The first act is set on a wide, narrow stage with no depth at all and no scenery, bar a few tacky props. The singers are in period costume of a school wardrobe sort. The production is old-fashioned and poorly acted. The rest of the opera has a high school production feel about it. The chorus reactions are amateurishly overacted.
Two brothers, soldiers, want to be farmers and remain single. "No place for women in our household," they declare. "Long live bachelorhood!" As you would expect, they meet two beautiful women and fall in love.
The score, conducted by Marco Guidarini, has some fine arias, duets and ensembles, including a rousing debate about killing a boar. The high spot is an aria for the father of the two girls. Stanisław Kuflyuk sits in a wheelchair, blindfolded. describing the qualities he would expect in a man who married his daughter. Foremost, he thinks the man shouldn't even think about forsaking old traditions.
The inclusion of not one but two interviews during the intervals is a really bad idea. The second interview is particularly incoherent. Better to have left them to be added after the opera was over and especially when it is quite clear that the interviewer does not like what an Italian director had done to a Polish opera.
The Haunted Manor can be watched online on the OperaVision channel until 9 January 2022.
Reviewer: Robert Tanitch