The Heart of a Dog
Gordon Duffy-McGhie, adapted from a novel by Mikhail Bulgakov
Simian Features
Whorlton Village Hall, near Barnard Castle, Co. Durham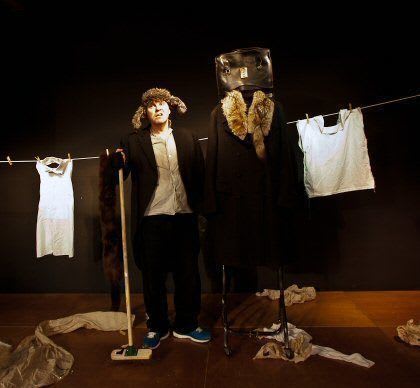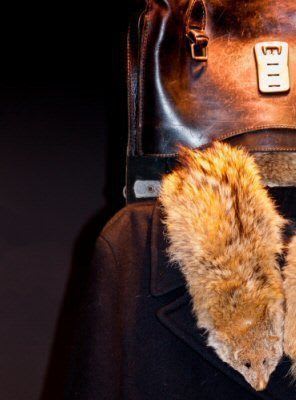 Just occasionally you come across something so obscure and quite frankly so totally 'barking mad' that it really makes you sit up and take notice. The last place you would expect to experience such an absurd anomaly is in a pretty little rural village in County Durham. Whorlton Village Hall, I applaud you.
Firstly I'd like to introduce you to Professor Philip Philopovich, a master plastic surgeon; he's the coat stand with an upturned briefcase on his head. I hope the image of the Professor I've supplied comes along with this review. It really is a genius idea that you need to see to appreciate.
The basis of the story revolves round Philopovich's medical experimentations and what happens when he pops the human pituitary gland of a recently deceased drunk into a stray proletarian dog. Set in Moscow and based on a book by Mikhail Bulgakov (Master and Margarita), The Heart of a Dog is written from the dog's perspective. A savage vision of the monstrously funny dangers of canine cosmetic surgery!
We get a glimpse of the Soviet Union of the 1920's, led by illiterate cooks and caretakers, and in the subtext we meet Bulgakov himself, the doctor-writer examining the country as he might examine a very sick and dangerous patient. The writer's gaze is stern, if a little misty, as the one-time morphine addict adorns reality with his own special free-falling imagination.
The Heart of a Dog is a one man show from Simian Features actor Gordon Duffy-McGhie on its first outing; a world première no less, and it will soon be in a suitcase on a ferry heading for the Prague Fringe Festival.
Duffy-McGhie's dog, Sharik, really is the top banana in the fruit bowl, an over-enthusiastic cockney dog with a speech impediment who belongs to the breeding kennels of Physical Theatre. I know it's physical theatre by the sweat, buckets of the salty stuff, sprayed quite liberally on the defiant character of our wide-eyed, scoundrel. Sharik lives on the streets of Moscow, he hates caretakers—they chase him with brooms—and when we first meet him he's shouting that he's dying after some filthy cook threw boiling water over him for scavenging in the bins. As a human, he's hysterical, both funny and peculiar, as he drinks vodka, goes to the zoo and gets married, all performed with fabulous energy and a rather appealing understanding of canine behaviours.
The story evolves through The Professor and, as Duffy-McGhie becomes all of the characters, the action moves at a rapid, more-sweat-inducing pace, so you do have to concentrate to keep up. I loved his interpretation of the bespectacled Mr Shvoner, the chair of the housing committee, as well as the dog and The Prof which are just brilliant, but the various women and Doctor Bormenthal need a little bit of Russian spit and polish to develop their characters a little further. Then, I think Duffy-McGhie may have something that will tickle the Prague audiences pink and I hope the Prague critics will be acclaiming A Dog's Heart as 'genius, barking mad and doggedly funny'.
I would add a 14+ to the recommended viewing though as there are a few mucky words and a wee bit of low flying sexual content.
Wish I was going to Prague now!
Reviewer: Helen Brown