The Herbal Bed
Peter Whelan
English Touring Theatre; Royal & Derngate, Northampton; Rose Theatre, Kingston
The Lowry, Salford
–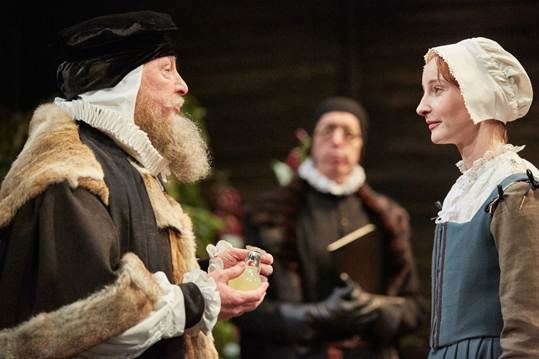 Raking up the real-life scandal surrounding Shakespeare's daughter might seem misplaced in the year the country commemorates his death.
Susanna was his eldest child and a woman caught up in her own drama when she is accused of adultery. The facts of the case are taken from church records of the time.
The Herbal Bed, however, proves much more than a fascinating footnote to her family's history.
Playwright Peter Whelan loads on to it an intricate lattice work of religion, politics, medicine and gender to create a play that Shakespeare himself may have recognised as an absorbing and rewarding drama. He might just have struggled with the more modern language though!
Whelan's play is now 20 years old but receives this timely revival in a weighty co-production by three theatre companies. It provides enthralling context to a time when Shakespeare's light might have been dying but Britain was taking its first faltering steps towards the Enlightenment.
A play to satisfy history scholars just as much as it will reward those who love an emotionally-charged domestic thriller, that climaxes in a courtroom drama.
It's also something of a home fixture for Emma Lowndes, in the central role. She hails from Salford and will be familiar to local theatre audiences as well as for recent appearances in TV's Downton Abbey.
She's teamed here again with director James Dacre, with whom she worked on a memorable performance of Accrington Pals at the Royal Exchange, that also probably remains Whelan's best-known play.
In this work, there are echoes of Arthur Miller's The Crucible, another play wrapped around discerning what might, or might not be, the truth of an accusation.
As the woman at the heart of it all Lowndes gives a polished, tightly-controlled performance, backed by equally elegant casting throughout.
And in a play that demands some light amongst the shade no-one is about to stop Matt Whitchurch lapping up the comedy composite role of Jack Lane. In him is every roistering drunk, conniver and charlatan Shakespeare ever imagined.
Reviewer: David Upton