The Herbal Bed
Peter Whelan
Rose Theatre Kingston, English Touring Theatre and Royal & Derngate Northampton
The Rose Theatre Kingston
–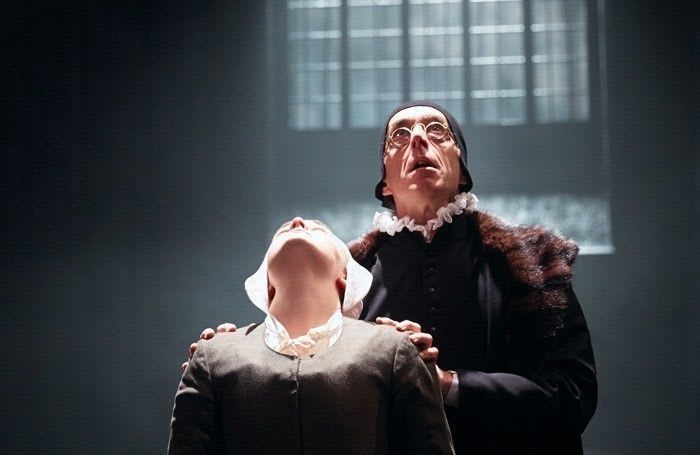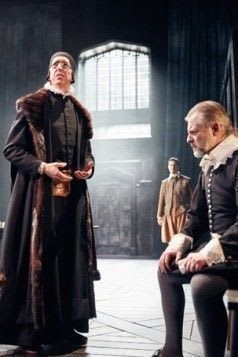 The records of the ecclesiastical court at Worcester Cathedral for 1613 indicate that Susanna Hall, the daughter of Shakespeare, won a case against John Lane who had slandered her. Peter Whelan's play The Herbal Bed imagines a story around this event.
The seventeenth century was a time of huge social change. Institutions were divided and old established loyalties and beliefs no longer carried the weight they once did.
This is evident from the first scene where the Hall's family friend, Rafe Smith (Philip Correia), worries that he might have bowed to a Bishop (Patrick Driver) who is visiting Susanna's husband John Hall.
The failing duty to authority is also something that the Vicar General Barnabus Goche (Michael Mears), complains about later in the play as he talks about the punishment someone must receive for failing to turn up at court.
John Hall (Jonathan Guy Lewis) is a practical, urbane man concerned for his patients and trying to take a more scientific approach to disease based on herbal remedies. The Vicar General asks him if it might not be more appropriate to pray for the patient. His reply is one that looks to a world that sees people making their lives rather than simply relying on religion.
His practical approach extends to his personal life where he is willing to turn a blind eye to his wife's affections for Smith. However, those affections become the basis of a rumour that could ruin both his marriage and his employment.
Susanna, who is played with intelligent warmth by Emma Lowndes, is independent minded and willing to act on her feelings for Smith. But she is also practical and quick to find ways of dealing with the rumours that follow.
When John Hall's medical assistant Jack Lane is sacked for harassing women, he resentfully decides to tell people in the pub that Susanna has venereal disease and is in a sexual relationship with Smith. He bases this on things he has seen but misunderstood.
This is a fine performance of a gentle play. But there are moments of strong dramatic tension such as in the cathedral when a suspicious Vicar General decides to informally speak with them about the rumours of Susanna's sexual activity in a manner that quickly becomes threatening. There is also the evening when Susanna meets Smith alone in her garden and they begin to express their love for each other.
This feels like a very contemporary play dealing as it does with women's rights, the importance of the individual against the institution and various moral issues concerning questions of honesty. Peter Whelan is liberal and sensitive about all these and leaves us perhaps not always agreeing with his characters but having a great deal of sympathy and understanding of where they stand.
Reviewer: Keith Mckenna