The Hired Man
Book by Melvyn Bragg, music & lyrics by Howard Goodall
Union Theatre
–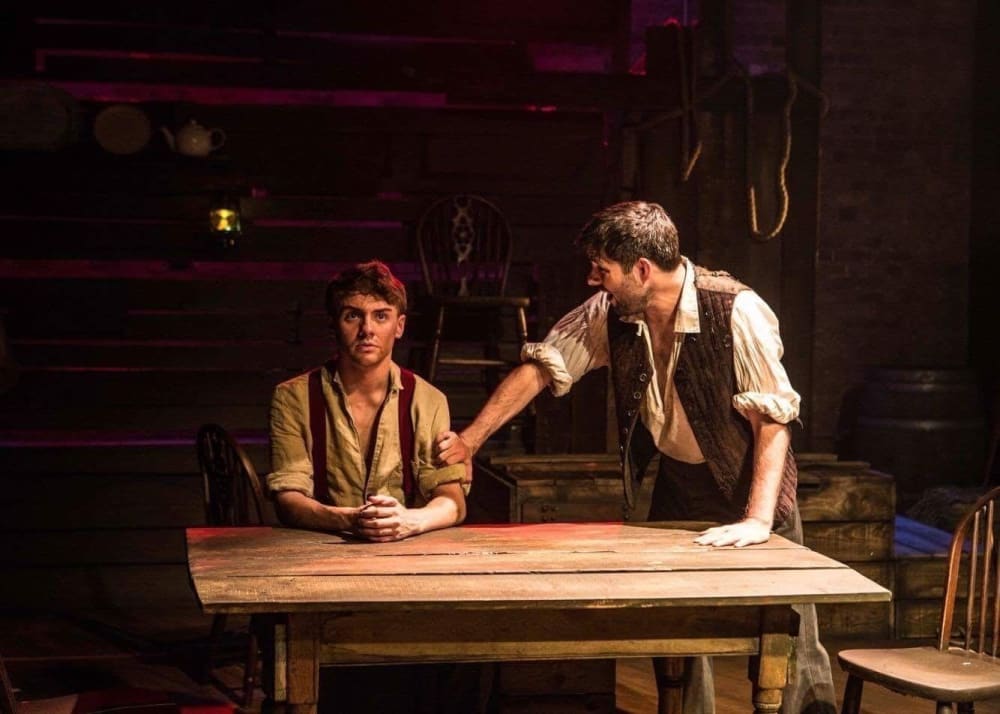 Adapted by Melvyn Bragg from his novel of the same name, the first in his Cumbrian trilogy, this is the tale of a Cumbrian worker, first on the land and then down a coalmine, and that of his family between the late 1890s and 1920.
It is a fast-moving piece that presents life through key moments rather than a continuous storyline and is packed with 18 different numbers, lovely melodies with rippling accompaniments often reflecting English folk idiom and frequently supporting dialogue scenes too.
It starts with labourer John Tallentire about to attend a hiring fair in the village of Thurston, taking a quick tipple to prepare himself as the music turns into the opening number set at the fair where workers seek employers and vice versa.
They may start off singing "We're expecting a better life to morrow," but will they get it? "You'll have to do a man's work," a farmer tells a woman. "I've never done anything else," she answers. As they bargain, dialogue overlapping with the music, demands may start at a cottage and 18 shillings but there are many for the same job. Tallentire ends up accepting 15 shilling plus vegetables and some other benefits. It's a tough life and, as he tells Emily, his pregnant missus, their cottage is way up the hillside.
John and his brothers Seth and Isaac join other villagers in the pub where Seth issues a five-bob challenge to wrestle that's taken up by Jackson Pennington, the son of John's new employer. Seth wins but Jackson has caught Emily's eye.
Now with a daughter, Mary, John is happy with this life but Emily isn't. When he's away at a fox hunt, Jackson visits. They become lovers but, frustrated in getting Emily for himself, Jackson enrols in the army. It's then that John discovers the situation.
The second act begins with little May, now 15, with a brother Harry two years younger. John is working alongside Seth in a coal mine, Emily in a factory but in 1914 the war sees the menfolk, including underage Harry, volunteering and life at home is intercut with the realities of the front line. Isaac loses a leg but his life is saved by Jackson who then is killed, as is young Harry.
Back in England, the war over, John is back down the mine. Emily, who has developed TB, wants him to go back to farming. He is trapped in a mine accident but rescued only to find his wife has died and, then carrying out her wishes, goes back to being a hired man.
With songs that celebrate farm work, give glimpses of unionisation (led by Seth), warn a younger generation of work dangers and a brilliant combination of war sorties and domesticity as well as expressing the characters emotion, The Hired Man charts this story.
Brendan Matthews's lively production is cast with both fresh and careworn faces that look like country folk but this is not a naturalistic staging. Its bare feet are a symbol of poverty rather than documentary fact and no one worries when clean washing brushes on the earth or gets stood on. Instead they get on with Charlotte Tooth's sprightly dances which occasionally take on a balletic touch outside the Cumbrian vernacular.
The characters, however, are played for realism with Ifan Gwilym-Jones a strong central presence as John, Jonathan Carlton the budding socialist, Luke Kelly as Jackson and a charismatic sparkle from Jack McNeill as young Harry. Rebecca Gilliland is a gentle Emily but under estimates the projection this space needs and that's also true of other dialogue passages.
The acoustics of this space are tricky: hard surfaces all round and the placing of the band don't help. The whole company makes a splendid sound (and wisely are not miked) but the band, though excellent, sometimes swamps them and it is often difficult to decipher what they are singing, especially when not directed out to the audience. Fortunately, enough is clear to follow the story and the score continually delightful.
Reviewer: Howard Loxton