The History of Korean Western Theatre
Jaha Koo
CAMPO
The Courtyard, Leeds Playhouse
–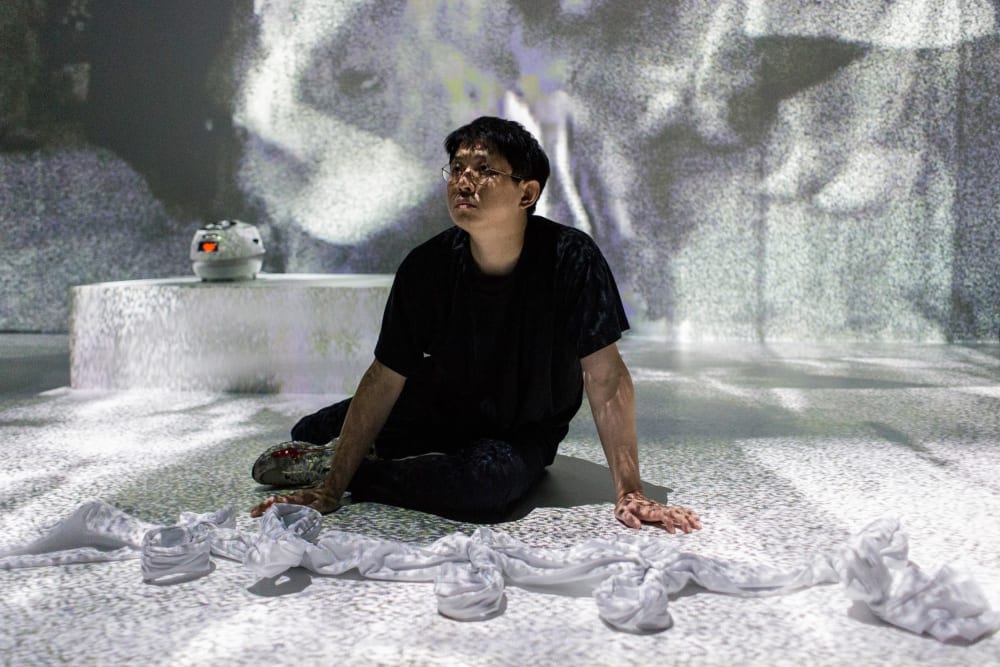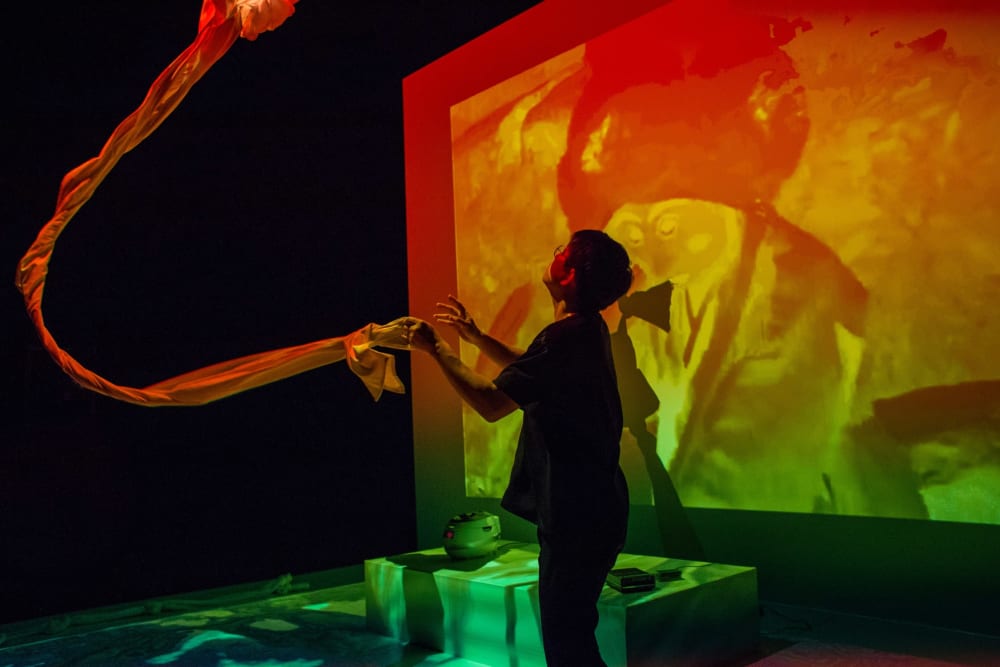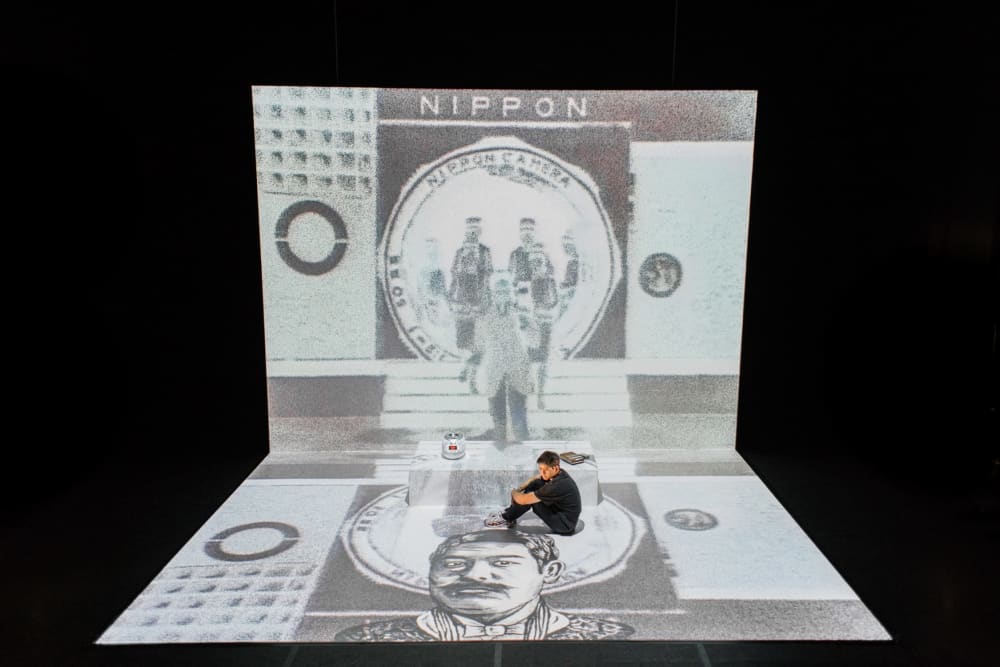 The Leeds Playhouse is bustling as I arrive, even though the evening's performance of Macbeth is already underway. Street dancers congregate, hop, skip and breakdance in the front windows downstairs—I'm not sure if it's a rehearsal in progress, or just a gang of mates who've found a welcoming place to hang out. Or it could well be one of several events animating various spaces in the Playhouse and around other Leeds venues as part of Transform Festival 21–22.
In the Courtyard theatre, South Korean theatre-maker Jaha Koo is also already in action, albeit less energetically, as I take my seat. He's kneeling onstage, intent on folding a large sheet of shiny green paper in the geometric patterns of origami. Slowly a toad emerges from the flat square of paper.
Koo's larger-than-life amphibian companion joins him, and us, in watching an introductory video, projected across the large screen at the back of the space and composed of a swiftly changing assemblage of reversed, negativised, and colour-treated stock footage. We witness an evocative but cryptic set of images—folk dancers twirling long white linen sheets, flames appearing from thin air before returning to paper form and leaping into people's hands, and, yes, a podgy, blinking toad—all rendered uncanny by the inverse colours and reversed flow of time. By the end of the hour-long show, the significance of these eerie, poetic images has been made much clearer, even if questions remain: are they arbiters of hope, or signals of the death of something?
Tracing back time and establishing oblique but evocative connections is Koo's stock-in-trade in this show, and like previous works in his Hamartia trilogy (neither of which I've had the chance to see), The History of Korean Western Theatre uses autobiography, research and personal experience to explore and lay bare much broader cultural questions. But "lovers of the documentary theatre genre" should look elsewhere, as we're told early in the performance. "Rimini Protokoll will probably be putting on a show somewhere nearby."
This line is indicative of the knowing humour of the piece, but its use of a cultural in-joke based on knowledge of contemporary European performance also points to the deeper ways that Koo is seeking to explore, expose and explode cultural memory and capital. His starting point is a centennial celebration of Korean theatre, which he attended as a theatre student in 2008. Here, he interrogates the claim that the theatre history begins in 1908, and lays out for us how this revisionist view of performance in Korea is built on the elevation (and emulation) of an imported Western, mainly anglophone, canon whose roots lie in Ancient Greece. We see stills and video footage of Korean actors in whiteface embodying the lords and ladies of Shakespearean drama; Tennessee Williams and Sophocles also get name-checks. This was the view of theatre that was held up to Koo during his time at drama school as the pinnacle of the art; but what had happened to the older cultural forms and stories shared with him by his grandmother (whose presence also looms large in the performance)?
While I learnt a great deal from the show, it is anything but blandly educational, thanks to its freewheeling blend of autobiography and history, and pop and folk culture. This is a one-man show, but Koo has two co-performers with him: one is the aforementioned 'origami baby' toad, who later sings a touching ode to its 'father', and the other is an even more 'chatty actor', an electronic rice cooker which sits on stage throughout, its lights flashing as a synthesised voice tells us its name is Cuckoo. Cuckoo also sings to us: of trying to unravel history and myth, of trying to understand one's cultural landscape when so much of it has been reformed by overseas forces.
Koo is, then, for much of the show a passive observer, as his compositions are performed by his onstage automata, and ever-shifting video unspools alongside the looping beats (all directed and produced by Koo himself). Jittery but catchy, this audio-visual combination reminded me often of the YouTube playlists of pop / visual artist Momus, who himself draws influence from his one-time adopted homeland of Japan. Alongside the aesthetic parallels, Koo and Momus also share a willingness to experiment, and to interweave a rigorous intellectual quest with wry humour and an openness at times bordering on naivety. It's a compelling blend, and Koo's show left me positively fizzing with ideas and questions.
Even origami as it currently exists in South Korean culture, we learn, is a relatively recently confected craft. Imported via the Japanese adoption of a Western European kindergarten system created by Friedrich Fröbel in the 19th century, rigorous rules swept aside more experimental classical traditions, as folk conventions were replaced by a Europhile elevation of supposedly refined cultures. But what happens to a culture when its memories are burned and scattered by colonising forces? Does it evaporate? Can it be preserved? And can it even grow back stronger?
Reviewer: Mark Smith