The Hobbit
Kevin Dyer
The Dukes & Williamson Park
Williamson Park, Lancaster
–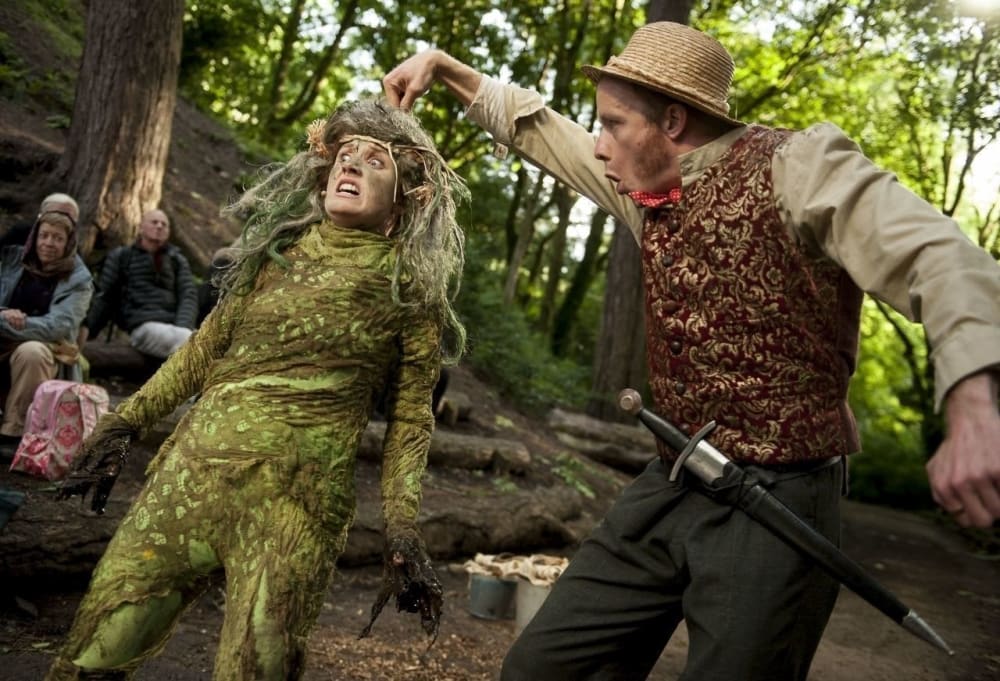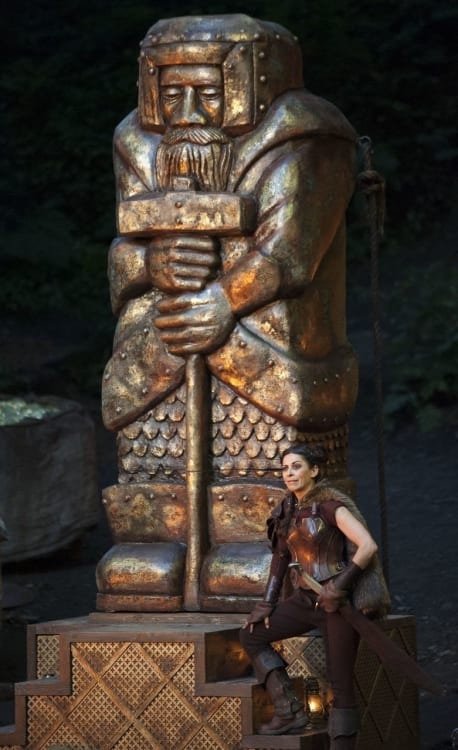 Bilbo Baggins, the hobbitual burglar, may well lift the Arkenstone from the lair of Smaug, but it is writer Kevin Dyer and director Joe Sumsion who successfully 'steal' the essence of The Hobbit in this visually and dramatically thrilling adaptation.
It's one of the most audacious and effective stagings of these Dukes Theatre outdoor walkabout productions seen in some years, a triumphant blending of Barney George's stunning costume designs, Oliver Birch's soundscape and Brent Lees's lighting effects.
The latter, in particular, knows just how much illumination to add to parkland settings which—on a good night—are already often flooded with sunlight. When the production's occasional pyrotechnics leave smoke hanging over scenes that are then shot through by the setting sun you appreciate once again the momentary magic of live theatre.
Not that much else has been left to nature's chance. This Hobbit has been four years in the making and, from the detailing in the costumes through to Dyer's artful editing of the story, there is much to admire.
He's had to sidestep some of the characters and settings, but staged over five of Williamson Park's natural 'theatres' the story maintains a clear narrative and a mounting scale of action.
As its central character Bilbo, Gareth Cassidy again comes into his element (indoors or out) to hold an audience spellbound to his character. The reluctant hero always matches his physical comedy abilities.
The other six cast members inhabit nearly 20 roles between them, but they in turn are augmented by six members of the Dukes Young Company who are so well cleaved to the production that it's often difficult to discern the professional from the enthusiastic amateur.
In the Queen of the Woods setting, or the climactic battle scenes, you would swear there was a cast of thousands.
Next year, Gollum film star Andy Serkis, who has just become an honorary patron of the Dukes having appeared in its first outdoor production in 1987, should be able to see for himself that—sometimes—computer generated imagery, motion capture and all the other cinema technology does not come close to the live experience.
Film commitments prevent him from seeing this Hobbit before it finishes August 13. Don't make the same mistake.
Reviewer: David Upton