The Homefront
John Kristian
Fairground Theatre Company
Union Theatre
–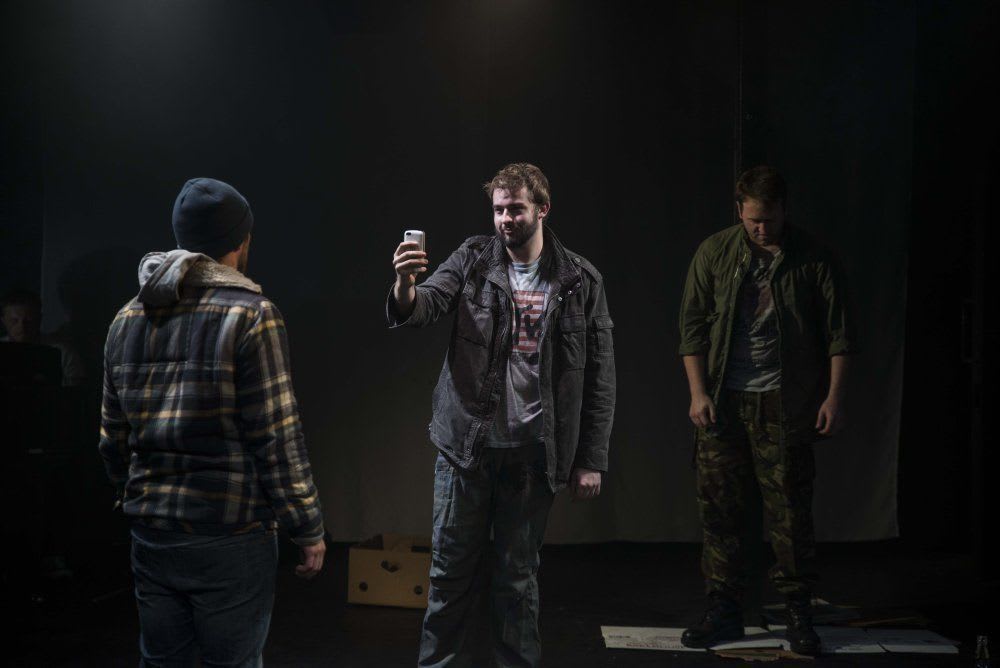 Do you ignore them, bundles of cloth in the shadows or curled up in a doorway, hurry past as they accost you in the street or beg their way down the carriage on the underground or do you stop and buy a Big Issue, reach in your pocket when they ask for some change to help buy a coffee or pay for the night in a shelter? Do you stop to think what it is like to be one of London's homeless or just notice the dog beside him?
Cardboard city may have been cleared from the Southbank, Cardboard Citizens become part of our theatre scene but homelessness is still with us. There have been media investigations and other theatrical presentations of the homeless predicament, but this debut production from Fairground Theatre packs a visceral punch that is particularly powerful. That's because it is a totally engaging piece of theatre based on actual experience.
It draws on the experiences of real homeless people that writer / composer / director Kristian met when he himself was homeless for a short time in 2013, but this isn't just first-hand reportage; it is skilled theatre making created very simply with just three performers, a couple of pre-recorded voices, Kristian at the piano and associate director Josh Haberfield on percussion.
I hesitate to describe this as a musical, but its musical element is integral, allowing its characters a lyrical expressiveness of inner hopes and feelings and its harsh rhythms underscoring much of the action. While adding another emotional level, it also provides a kind of distancing: making the audience observers at the same time as the play questions their consciences by direct confrontation.
Kristian doesn't answer the inevitable question of what brought his character to this situation, or at least not directly or in detail, though revealing enough to draw some conclusions. The three men he presents are both individuals and represent many others.
First, speaking in rhymed verse to begin with, is the youngest: homeless for just three weeks so far on the cold pavements of Woolwich where louts have set fire to the borough's Christmas tree. Fresh-faced and well-spoken, one hazards there has been some family bust-up. Josh Maddison, in his first professional engagement, makes him open and honest, bewildered and bravely touching, a very creditable debut.
Bruno Loxton plays a belligerent boozer, six years on the streets. He makes him a convincing amalgam of potential threat and warm camaraderie, who is gradually revealed as a battle-damaged ex-soldier painfully alienated from wife and child reaching out with and for affection.
Thirdly, there is Alasdair James McLaughlin's addict, homeless for eight months, driven by his need for a fix, self-aware but dangerous.
These three may represent different aspects of homelessness and the incidents, that include police brutality, arrest and an irresponsible killing when they come together, be a combination of wider experience, but the strength of the play comes from it feeling rooted in reality and the total conviction with which the actor-singers perform it.
If you read this in time, do catch the final performance of this short run. If not hope for future performances for it deserves a much wider audience.
Reviewer: Howard Loxton