The Hotel Plays
Tennesse Williams
Defibrillator
The Langham Hotel
–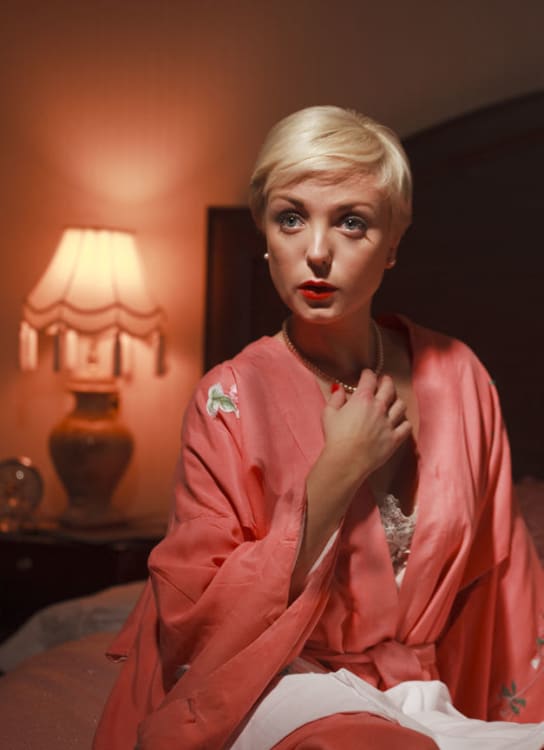 The feeling that remains after leaving the sumptuous surroundings of the Langham Hotel is not the novelty of watching Tennessee Williams's Hotel Plays in hotel rooms. The feeling that remains is one of apprehensive admiration for the dazzling words and characters that he created. These three plays are perfectly formed gems of drama and exquisite studies of human nature.
Green Eyes directed by James Hiller is the most powerful piece. Williams's words are like deadly arrows which pierce and cause intense discomfort. A newly-wed couple named only as 'boy' (Gethin Anthony) and 'girl' (Aisling Loftus) wake in their New Orleans French quarter hotel on the first morning of their honeymoon. It transpires that something very strange happened last night. She is covered in bruises and scratches but he has no recollection of causing them.
This tiny scene manages to challenge the war in Vietnam, racial prejudices and unrealistic ideals of marriage. Loftus is sizzling and richly complex as the girl, a character so intensely interesting that I wanted to watch whole scene at least twice over. Her monologue about the eyed man is delivered with startling passion.
The Pink Room (direction Anthony Banks) is a finely-tuned snapshot of an affair drawing to a close, the crumbling of illusions and removal of false sense of security. The room symbolises a kind of false and transient paradise-prison, a place which has welcomed the man (Gyuri Sarossy) for so many years and now his mistress (Helen George) has rejected him. George is like a fantasy, a kind of pink fairy or siren trapped in a perpetual hotel room.
Sunburst is the finale to the trio and director Jonathan Humphreys has expertly captured its oozing black humour. Hapless thieves Giuseppe (Daniel Ings) and Luigi (Jake Man) who are trying to get their hands on the famed sunburst diamond are thwarted by the resourceful and indestructible aging actress Miss Sails (Carol Macready). Macready is excellent in her role but Humphreys has not quite convincingly communicated the transition of time in the scene—it doesn't feel quite enough like a night long ordeal.
Setting the plays in three actual hotel rooms is fantastic and gives the audience a real feeling of being special and at an exclusive event. However the links between the scenes do not encourage us to keep within the world of the plays and, although there is a nice performance from Linden Walcott-Burton as the porter throughout, there needs to be greater consideration for how we move from scene to scene and how to extend the immersive experience beyond the actual bedrooms.
Reviewer: Anna Jones