The Hound of the Baskervilles
Adapted for the stage by Douglas Maxwell from the novel by Sir Arthur Conan Doyle
NORTH at Northern Stage
Northern Stage, Newcastle
–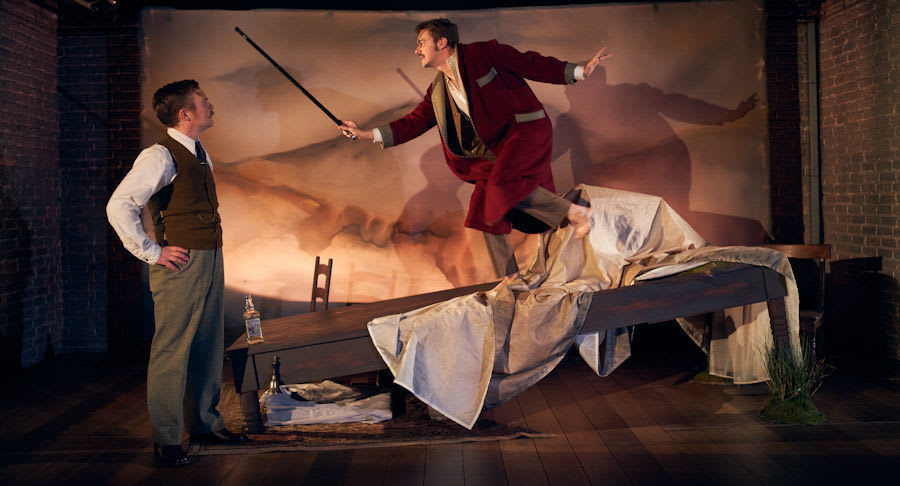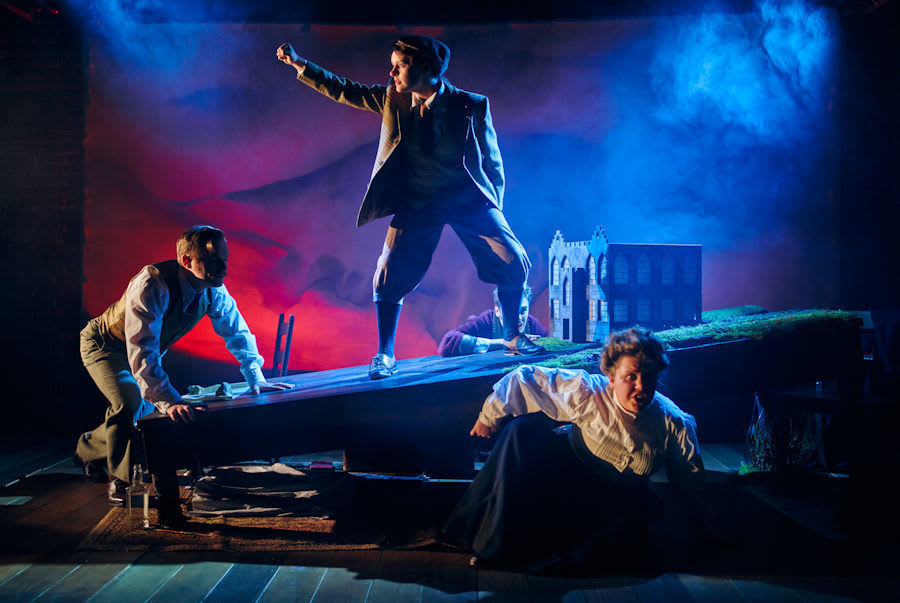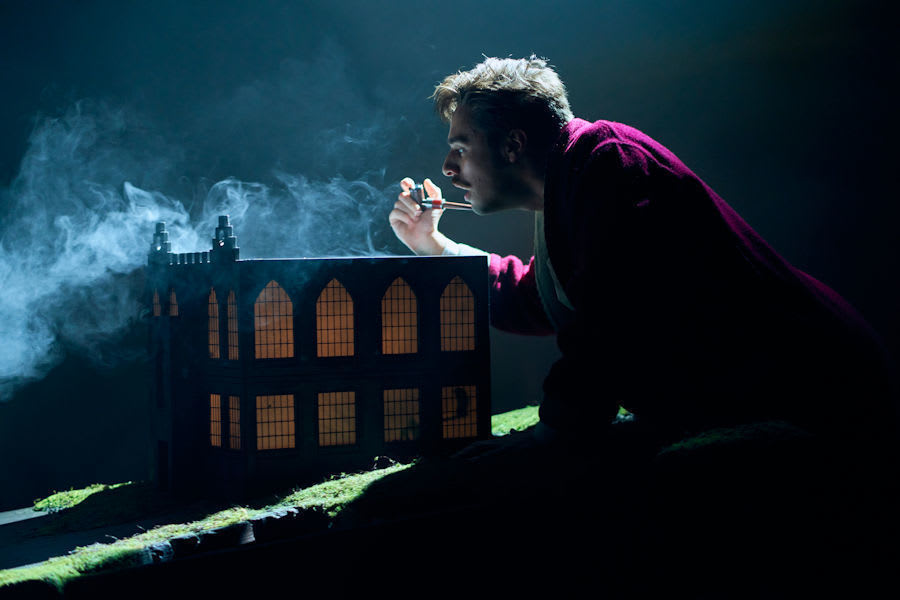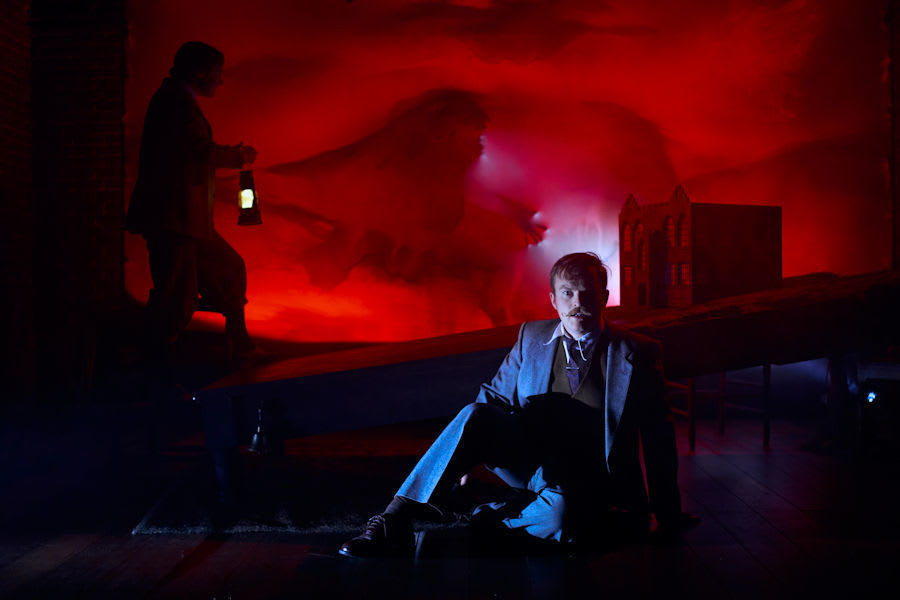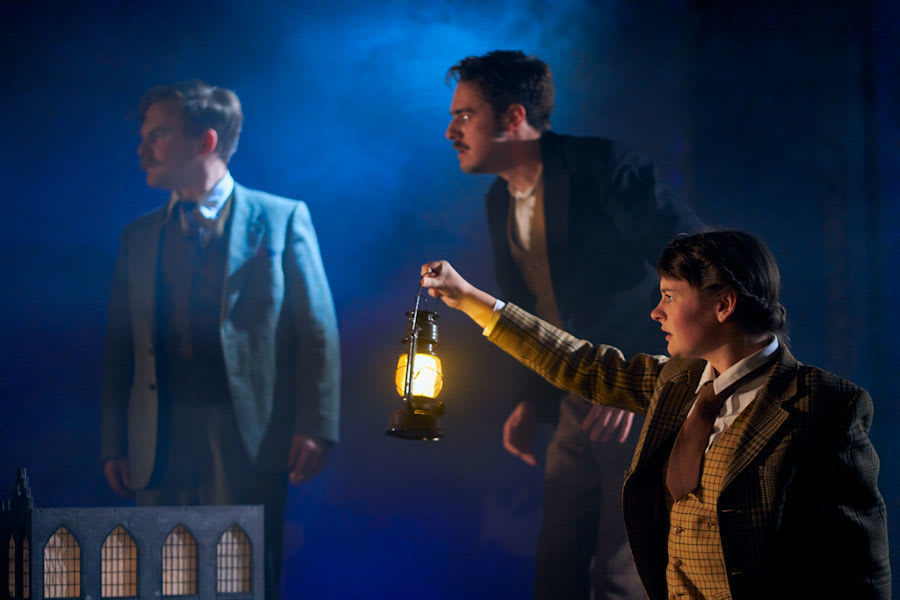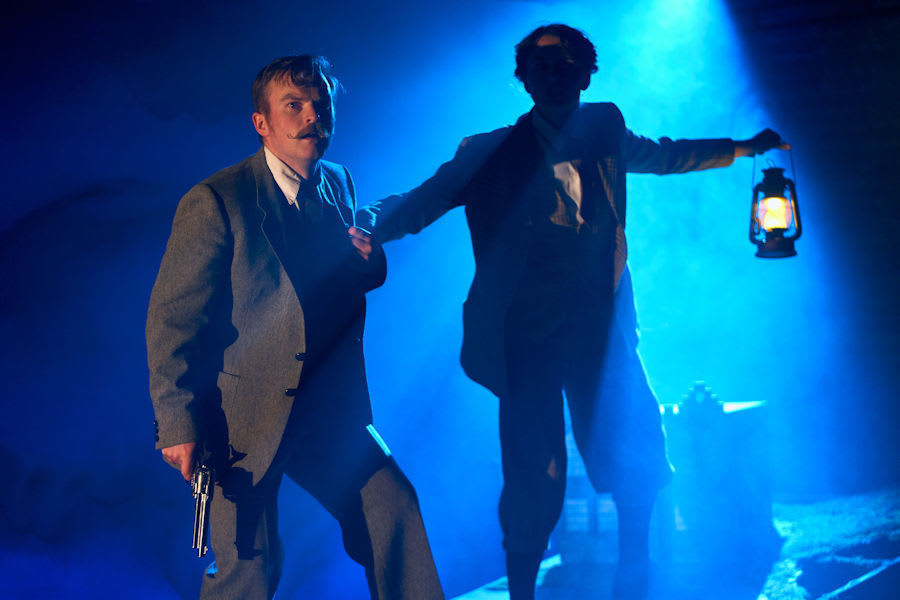 Condensing a full-length novel into a play of just over an hour and a half was never going to be an easy task, but when you add in the fact that there are five plot strands, the problems are compounded. Add the further complication that the piece is to be performed by a company of four (two men and two women) and the writer Douglas Maxwell (a Scottish playwright commissioned by Northern Stage) can be forgiven for taking a few liberties with the storyline.
Some are minor: Dr James Mortimer, for example, becomes a leading midwife (played by Siobhan Stanley) given the honorary title of Doctor by her colleagues and, in a touch which gives her a little depth of character, insists on that title being used by everyone.
It also means a bit of cross-gender casting with the young Henry Baskerville, fresh from Canada, played by Rebecca Tebbett, which not only emphasises Baskerville's youth but is actually rather reminiscent of the "britches roles" in opera like Prince Orlovsky or Cherubino—or even (and I mean this in a good way) of the panto Principal Boy as played by a woman.
In the novel, Holmes sends Watson to accompany Sir Henry to Dartmoor as other cases keep him in London and here Maxwell's version deviates considerably from the original for he gives us a Holmes who is suffering an emotional breakdown as his last case resulted in the death of someone and he blames himself.
In fact, the play, like the novel, puts Dr Watson (Jake Wilson Craw) centre-stage for much of the time, freeing up James Gladden, who plays Holmes, to add the Soldier, Barrymore and Mr Stapleton to his repertoire.
A large table, tilted to the floor at one end with, at the upper end, a model, lit from the inside, of Baskerville Hall (Amy Watts), very effectively lit by Michael Morgan, provides the set which can be 221B Baker Street, a train, Grimpen Mire and, indeed, any- and everywhere else. Jeremy Bradfield's sound and music design enhances the movement / physical theatre created by movement director Patricia Verity Suarez with the cast and director Jake Smith to build up a threatening atmosphere.
And there are some very clever moments—hands and face pushing against the tightly stretched backcloth from behind; a projected hound's face with bright red eyes; the smoke from a pipe blown across the model of the Hall to conjure up the swirling mists of Dartmoor; the edge of the table becoming the quicksand of Grimpen Mire—all of which combine to produce the sense of menace that is so essential to the play, prolonging the sense that something supernatural is at work here.
Craw shoulders the burden of being the central figure not just confidently but convincingly. The other three—Gladden, Tebbett (Henry Baskerville, Miss Stapleton, Laura Lyons) and Stanley (Dr Mortimer, Mrs Barrymore, Mrs Franland)—switch effectively between their characters with minimal costume changes but maximum skill. It's a fine example of ensemble playing.
Maxwell's version of the story does deviate somewhat from the novel in a number of places and Holmesian purists may well take issue with some of the changes but within the limits of being allowed only four actors and the short time allowed for the performance (and the fact that Steven Moffat and Mark Gatiss have accustomed to a very different approach to the stories), it works well.
After Northern Stage, the production tours to Tron Theatre, Glasgow (25–29 September), Theatre Royal, Wakefield (30 September–2 October), Jarrow Hall (4 October), Otley Courthouse (5 October), Gosforth Civic Theatre, Newcastle (7–8 October), The Witham, Barnard Castle (10 October), Gala Theatre, Durham (11 October), Queen's Hall Arts Centre, Hexham (12 October), Square Chapel Arts Centre, Halifax (16 October), Pocklington Arts Centre (17 October), Hull Truck Theatre (18–19 October), The Exchange, North Shields (23 October), Rural Arts, North Yorkshire (24–26 October), The Phoenix Theatre, Blyth (30 October), Hamsterley Village Hall, Co. Durham (31 October), Troutbeck Village Institute, Windermere (1 October), Shilbottle Community Hall, Northumberland (2 October), Bardon Mill Village Hall, Northumberland (3 October) and The Dukes, Lancaster (6–9 October).
Reviewer: Peter Lathan