The Hound of the Baskervilles
Sir Arthur Conan Doyle adapted by Clive Francis
Oldham Coliseum Company and Imitating The Dog
The Haymarket Basingstoke
–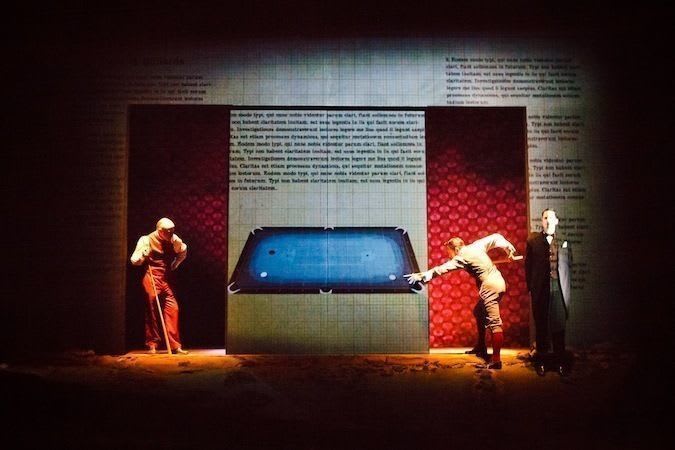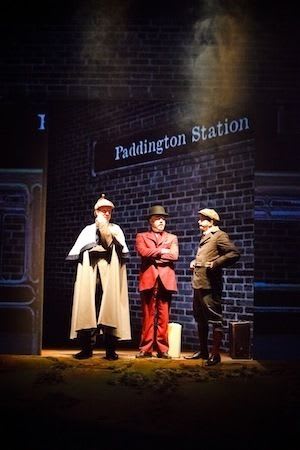 Sir Arthur Conan Doyle's The Hound of the Baskervilles is one of the greatest detective stories of the 20th century and it's given a fresh, invigorating interpretation in this superb production by Oldham Coliseum and the digital special effects company, Imitating the Dog.
The design (Michael Spencer) and visuals (Simon Wainwright) are stunning, clever projections that move the action seamlessly between Sherlock's Baker Street home, a train journey to Dartmoor and the horrors of the moor and to the gothic Baskerville Hall, all technologically ingenious. The game of billiards where a virtual ball is removed from a projected billiard table, polished and replaced was magical.
Kevin Shaw's sharp direction and high production standards are impressive as are his five strong company of actors who create over a dozen characters between them.
The story is well known and has a macabre and overpowering tension as the intrepid heroes Holmes and Watson try to solve the mystery of Sir Charles Baskerville's untimely death on the desolate Devon moorland where footprints of a giant hound have been found near the body and the blame is being placed on an ancient family curse. But can Holmes and his trusted companion Dr Watson solve this mystery before Sir Charles's heir meets an equally horrifying demise?
Gwynor Jones is an iconic Holmes, intelligent, thoughtful and brings a jocular subtlety to the role that suits the character perfectly, whilst Leigh Symonds as the long-suffering Dr Watson is the perfect foil and narrates much of the story.
Amy Ewbank plays all of the female parts with alacrity changing from one role to another with such deftness that you actually believe there were more actors.
Steven O'Neill and Robin Simpson give excellent support playing all the other characters including Sir Henry and the servant Barrymore.
The dramatic climax when O'Neill's Stapleton is sucked into the marshland was both moving and chilling.
There is an atmospheric soundscape and music by James Hamilton and lighting by Andrew Crofts and Andrew Quick. This is a memorable, entertaining production that should not be missed. Highly recommended.
Tours to Taunton, Lancaster, Harrogate, Windsor, Exeter and Buxton
Reviewer: Robin Strapp