The Hound of the Baskervilles
Arthur Conan Doyle devised by the company
The Watermill Theatre
The Watermill Theatre Garden
–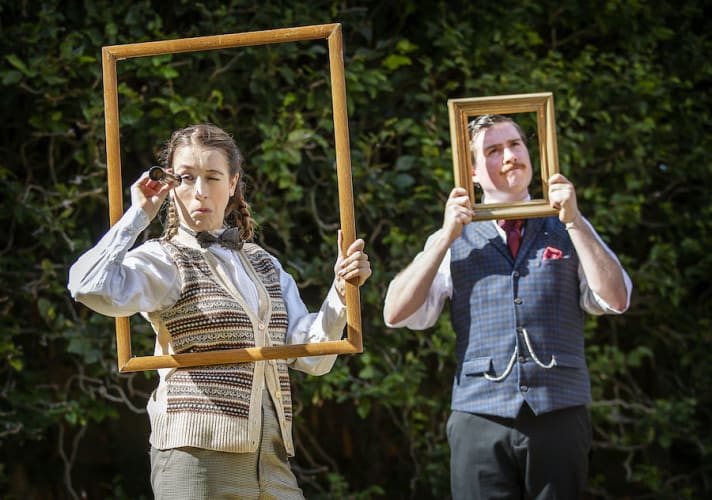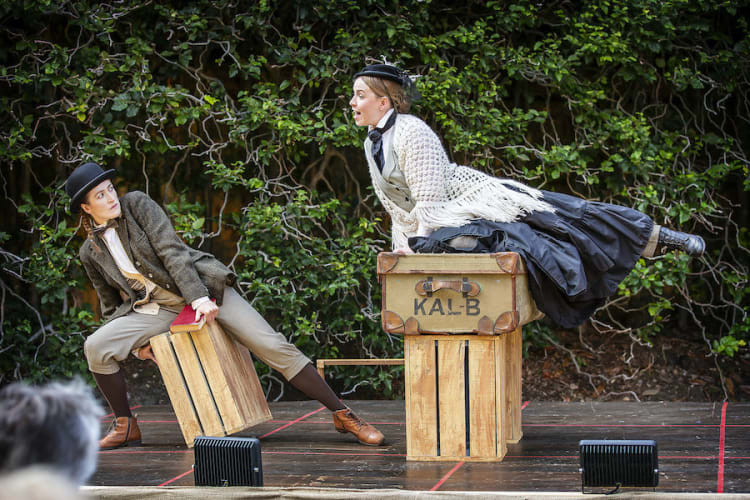 What a delight to be able to return to the Watermill Theatre following three months of lockdown. The auditorium is of course closed, so the performance is taking place in the beautiful gardens—and what a wonderful setting. The audience are seated at one of the twenty tables available, each within a socially distanced bubble, or perhaps that should that be white-painted square?
What a treat was in store. Based on Arthur Conan Doyle's The Hound of the Baskervilles and devised by the company this spoof "corona virus edition" was a huge comedy caper, and tremendous fun. The perfect antidote to the virus.
The talented cast of three—Victoria Blunt, Rosalind Lailey and James Mack—are no strangers to The Watermill having performed in the theatre before and so know the venue well, which undoubtedly helps.
They have a wonderful rapport with the audience and make fun of the need for social distancing with each other. Even the stage is marked out in one metre squares that become the butt of many COVID-19 jokes, all part of the performance.
The simple raised set consisting of a coatstand with various costumes, hats and wooden boxes together with a large trunk are inventively used.
I loved the Perspex screen that arrived late so that the actors could perform closer together in a socially acceptable way.
It is remarkable that the whole production was put together in two weeks after the relaxation of lockdown restrictions, a first in the country, and it's a sheer joy to watch, particularly if the weather is kind as it was on my visit.
Victoria Blunt is splendid as the bowler-hatted Dr Watson and Rosalind Lailey obviously relishes the part of Sherlock Holmes with James Mack as Dr James Mortimer and countless other characters. And they all play the gigantic hound—howling "Aaah Wooo" in a running gag throughout the show with more than a nod to pantomime.
They are summoned to Dartmoor to investigate the horrid murder of Sir Charles Baskerville, found face-down in the grounds with a look of utter horror on his face next to footprints of a gigantic hound. So, what about the curse? The "games afoot!"
Each cast member plays myriad characters donning hats, beards and costumes and changing gender and voices to create the roles—all 'tongue- in- cheek' fun which the audience loved, especially when things didn't quite go according to plan.
Imaginatively directed by Abigail Pickard Price, with so much inventive theatrical 'business', it kept us all on our toes in case we missed something. The passing of letters between characters is magical and very cleverly executed.
The whole experience is like a delicious summer pudding, the perfect recipe to dispel the lockdown blues.
I can't wait to see the next production of Camelot at the end of the month.
Reviewer: Robin Strapp