The Hound of the Baskervilles – The Radio Theatre

Veni Vidi Theatre Company
Theatro Technis, Camden
–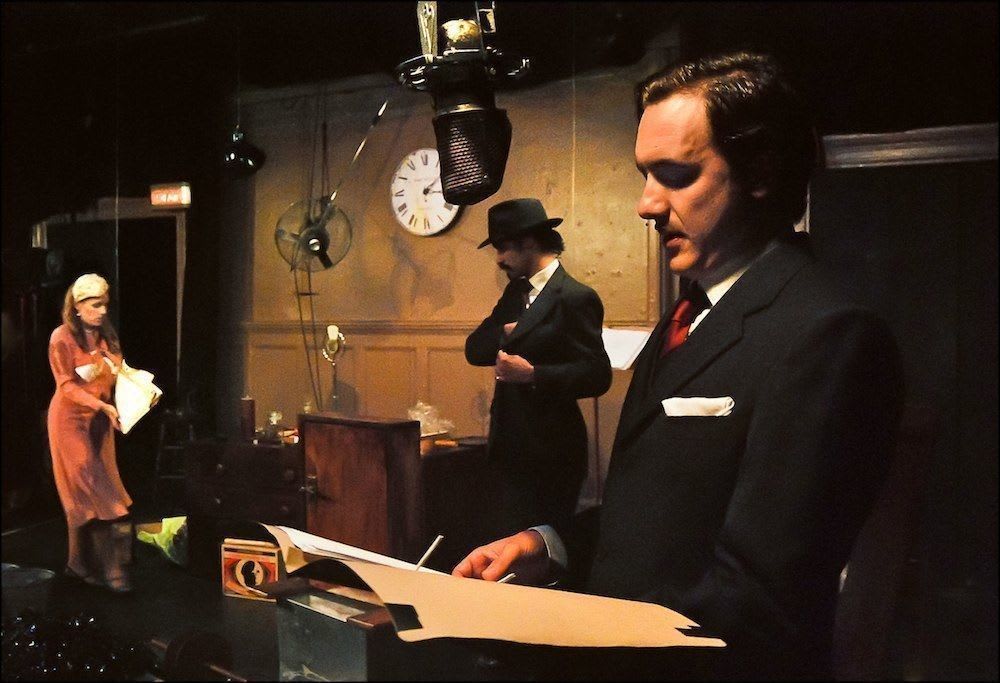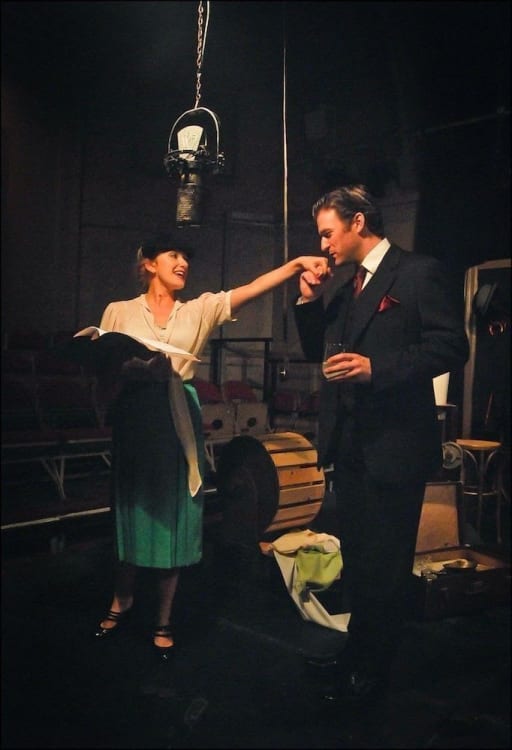 The question of how to make Sir Arthur Conan Doyle's classic The Hound of the Baskervilles new yet again is answered by Veni Vidi in this charming 1930s take on a live radio broadcast of the novel.
This version (a re-working of Simon Williams's stage adaptation of Hound) keeps close to the original tale of young Henry Baskerville's return to his ancestral home with surrounding moors plagued by a mysterious and apparently murderous canine—a mystery to be solved by Dr Watson (Robbie Telfer) and Sherlock Holmes (Henry Douthwaite) who takes an advisory role in guiding Watson to crack this "three pipe problem".
An inter-war studio mood is set on entering the auditorium with microphones dangling from the ceiling, an array of contemporary radio props (deployed to great effect throughout the show) and performers dressed in 1930s attire who, as we take our seats, make final adjustments to lighting, sound, and script, whilst engaging in the buzz of pre-show stage talk.
The framework of a live recording allows actors to play actors and so we see "stars" taking a break between lines, having a drink and a cigarette, and flicking through "Wireless World"—little touches that provide an authenticity continued into the fifteen minute interval that is explained away as a minor breakdown in transmission.
The cast is strong and hard-working (with each actor taking on several roles) but special praise goes to Laura Bacon, exquisitely haughty as the established actress who seethes at the cutting of any of her lines; and Katie-Don Hughes, sweetly believable as the earnest young stage hand / budding actress who finally gets her big break in showbiz.
The production team has created an "On Air" atmosphere that will be enhanced by special evenings encouraging audiences to dress in vintage clothing (5 and 11 May) and Veni Vidi proves to be on the button with regard to accessibility, with pre-show "touch tour" events for those with sight loss.
Recommended.
Reviewer: Anita-Marguerite Butler