The House of Bernarda Alba
Frederico Garcia Lorca, translation by Carmen Zapata and Michael Dewell
The Spanish Theatre Company
Cervantes Theatre
–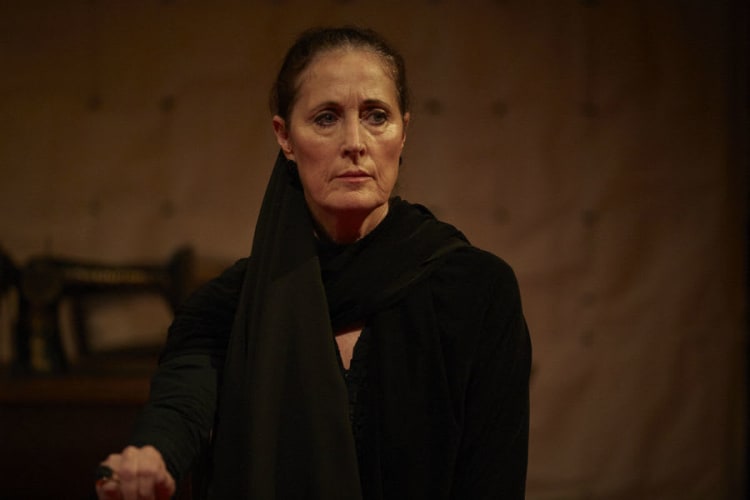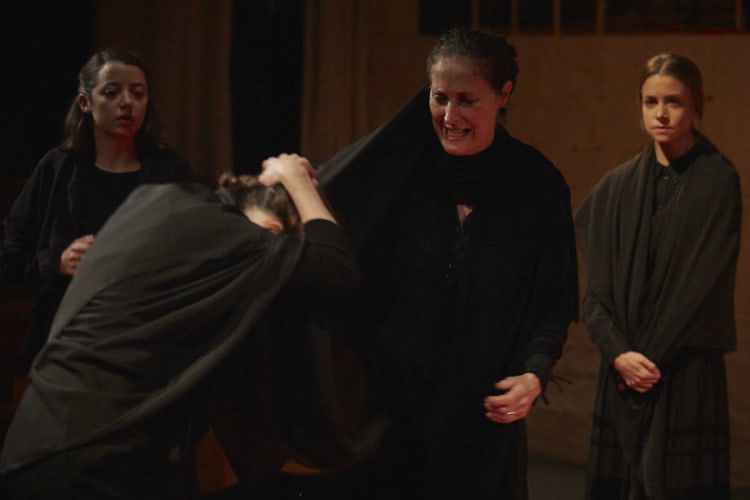 No men appear in Lorca's play The House of Bernarda Alba.
But they are always there. In the stories the women speak about, in the rules that govern their lives, in the yearnings for a different life.
Bernarda says her household of five daughters must for eight years mourn the death of her husband and, just in case we feel he must have been a great man, a servant lets us know that he had been "lifting her skirt behind the stable door... May he rot."
This is the house built by Bernarda's father where they must "sit in this dark room day after day. That's what it's like to be a woman."
They watch for the men outside in the fields. They hear about a woman being taken by a group of fifteen men for sex in the olive grove. And there is the terrible news of men dragging a woman through the streets to be killed after she caused the death of her baby born outside of marriage.
As the women rush to the door to hear that news, Maite Jáuregui as the youngest daughter Adela hangs back. There is a look of terror in her eyes as she clutches her stomach in a disturbing visual premonition of a possible future.
This production has many striking visual scenes.
At one point, the sister's awareness of something happening beyond the house triggers a startling visual moment that is a mixture of dance and physical convulsion heightened by the evocative music of Javier "Peke" Rodriguez. Yet they are simply modifying what they were already doing to convey pain and yearning. Amelia (Adela Leiro) continues to sew at her machine and Adela walks in restless circles.
The emotional impact of this moment cannot be understated. Tears rolled down the face of someone sitting across from me.
But there are lighter moments of humour and the text in a translation by Carmen Zapata and Michael Dewell helps give the production a lyrical quality.
Among the fine cast there is Mary Conlon as the magisterial figure of Bernarda who conveys the woman's awful power and occasionally gives us a glimpse, when she is talking to the servant Poncia (Moir Leslie), of a yearning to know what is really happening around her.
Lorca's depiction of the world did not sit easily with Spanish conservatives who executed Spain's greatest playwright.
But the cruelty of that world is still our world. It is why we should welcome the "Me To" movement and other campaigns for women's rights.
It is also why you should see this production.
Reviewer: Keith Mckenna