The House of Mirrors and Hearts
Eamonn O'Dwyer & Rob Gilbert, music & lyrics by Eamonn O'Dwyer
Katy Lipson for Aria Entertainment & Perfect Pitch
Arcola Theatre (Studio 1)
–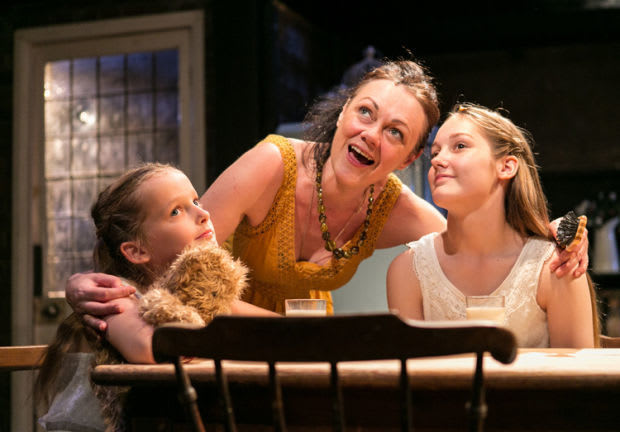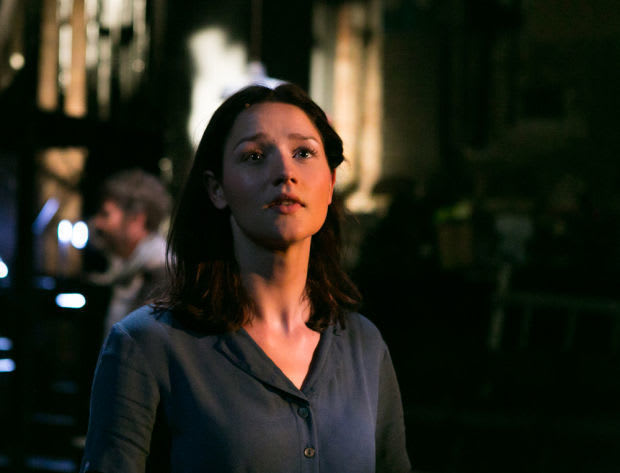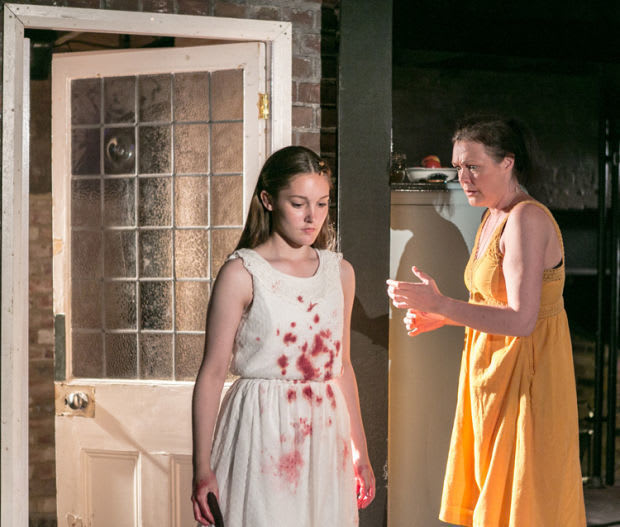 This new British musical had an earlier outing at Edinburgh as a shorter one-act version and now gets a stylish two-act staging. It is a dark piece about a dysfunctional family that lives with secrets and lies that the presence of a new young lodger begins to bring out into the open.
It begins in an apparently idyllic, happy household with innocent little Lily is practising pirouettes and port de bras encouraged by doting mum Anna. Their father makes mirrors; a number for the two of them describes mirror making as light shimmers around them.
A crash in dad's workshop shatters everything. The door is jammed and when it is opened elder daughter Laura emerges, blood-splattered and carrying a shard. Older versions of the girls replace them and the action moves onto seven years later: seven years of bad luck perhaps, seven years father- and husband-less. Seven years in which Anna has taken to the bottle, little Lily has become a sexually precocious fifteen-year-old and Laura a withdrawn young woman.
Into this household of women comes new lodger Nathan, at work on a collected edition of poems by eighteenth-century ancestor Alexander Thornton Gray, a precursor of the romantics. As he works though earlier editions and original manuscripts piled up on the kitchen table, Anna makes a drunken pass at him and Lily attempts much more serious seduction. Nathan meanwhile finds himself increasingly drawn to secretive Laura while the guy Nathan takes to be his fellow lodger feeds him with threats and advice.
The plot is essentially about uncovering the truth of what happened and acknowledging it and the restoration of happiness but it would have to be a very dim audience that hadn't already worked out what happened from the start. There is no twist to the story to wrong-foot presumptions, which makes the final apparent closure appear to accept the unacceptable in its reconciliations. Or are O'Dwyer and Gilbert simply saying that for life to go on we just have to accept what has happened and get on with it?
That question may seem important but less so because none of this seems really believable. Little Lily doesn't look as though she has ever been to a ballet class and, though the horror that still obsesses Anna could drive anyone to alcoholic amnesia, she and her daughters remain stereotypes. That doesn't stop Gillian Kirkpatrick giving a full-bodied performance to match the red wine she swigs back (especially when singing "Something for the Pain"). Molly McGuire is frighteningly forward as Lily and Grace Rowe's traumatised Laura maintains remoteness.
Though the characters may be thinly written, they get strong performances that even attract sympathy, but do they have any existence outside designer David Woodhead's atmospheric kitchen and mirrored staircase? Jamie Muscato is a likeable Nathan, but his favourites among Gray's poems are the nearest to real information about him, and they become two songs.
"Lodger" David, whom only Nathan seems to meet, is meant to be mysterious but by inference we seem to know as much about him as any of the others. His touching number "Little Bird," sung to Laura, is delightful but does it explain anything?
It is a likeable score with echoes of Sondheim in its rhythms and verse forms and rhymings and just a touch of romantic Lloyd Webber but some songs seem a little over-extended. The show comes to life most when it sparks into action as Lily chucks Nathan's books around and when Laura and Nathan throw her mother's empties far into a pond (forget the faulty ecology, its an emotional gesture) but it hits home most in a solo from Nathan "He Meant This" which explores his own discovery of love. The lyric is slight but it captures the feeling.
The arrangements are meltingly mellifluous and the band of Ruth Whybrow (reeds), Pippa Mason (cello) and MD David Randall (piano) play splendidly if sometimes a little too loudly, despite everyone being miked. I'd like to hear these singers unamplified. I feel they would do better with natural projection both in encouraging clarity and making audience contact rather than relying on technology to achieve the right balance.
"Though truth be whole, there is yet beauty in the breaking of things" quotes Nathan from Gray and that forms the basis of a final reconciliatory number for the whole family. It sounds very poetic but what does it really mean? The whole show is a bit like that.
Reviewer: Howard Loxton