The House They Grew Up In
Deborah Bruce
Chichester Festival Theatre with Headlong
Minerva Theatre, Chichester
–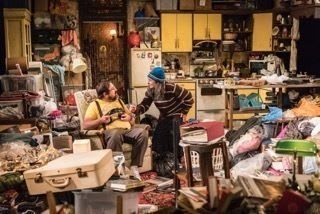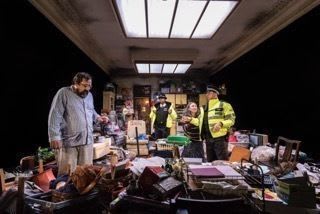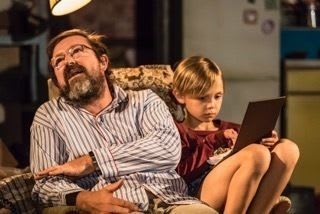 The play opens in the living area of a terraced house in South East London. I say 'living area' but how anyone can manage to live there is impossible to imagine. The room is so cluttered with every conceivable item of furniture, clothing and household goods that it's nigh-on impossible to move around let alone find anything, yet here are brother and sister Peppy and Daniel, all that remains of their family, cosseted in the home they have always known and keeping the outside world at bay.
Not a lot happens in act one except for getting to know the two siblings a little. Peppy, it seems, long ago gave up her studies at Trinity College, Cambridge to look after her younger autistic brother who now spends all his time listening to music and writing in a journal. He has a prodigious memory, a fact which annoys Peppy when he doesn't think to tell her it is Christmas Day before she tries to go shopping. In fact she is irritated with him quite often, scolding him and complaining, seemingly living on her nerves and thinking she has ''so much to do''.
There is a lot to find amusing here, not I hope laughing at them but at their situation and their conversations, and it seems that their way of life will go on forever until Ben, the child from next door, wanders in—a boy from a broken family innocently looking for friendship. That is when their world begins to disintegrate as the outside world intrudes, tries to take advantage of ignorance and suspects the worst of an innocent relationship.
The performances of Samantha Spiro and Daniel Ryan are so perfect and so convincing that gradually during the first act, and without even realising it, we become so involved with the two siblings that their feelings become our feelings—the worry, the anxiety, the panic, frustration and loss of control as events unfold. There was more than one horrified gasp in the audience, especially at the 'concerned' neighbour who thought he was onto a good thing and offered to buy the house for a ridiculously low price.
Young Ben from next door (played by Leonardo Dickens on the day I attended) also gives a very good account of himself and is very natural. He is happy to have found a friend, polite enough to say "thank you for having me" even when thrown out of the house, and then frustrated and confused by the many questions the 'helpful' police detective throws at him.
Designer Max Jones has provided a fully functioning kitchen, just as jumbled as the rest, although the living room clutter is not quite random, with layer piled upon layer through year after year, and Jeremy Herrin directs a very emotional play with sympathy and understanding.
Towards the end, Spiro's anguished howl of bewildered loss cuts to the heart and I thought for a moment that was the end of the play, but no! Thank goodness there are some caring people in the world and it ends on a note of kindness and hope. Very well worth braving the miserable train journey and torrential rain for such a superb production.
Reviewer: Sheila Connor