The House with Chicken Legs
Sophie Anderson, adapted by Oliver Lansley
Les Enfants Terribles
HOME Manchester
–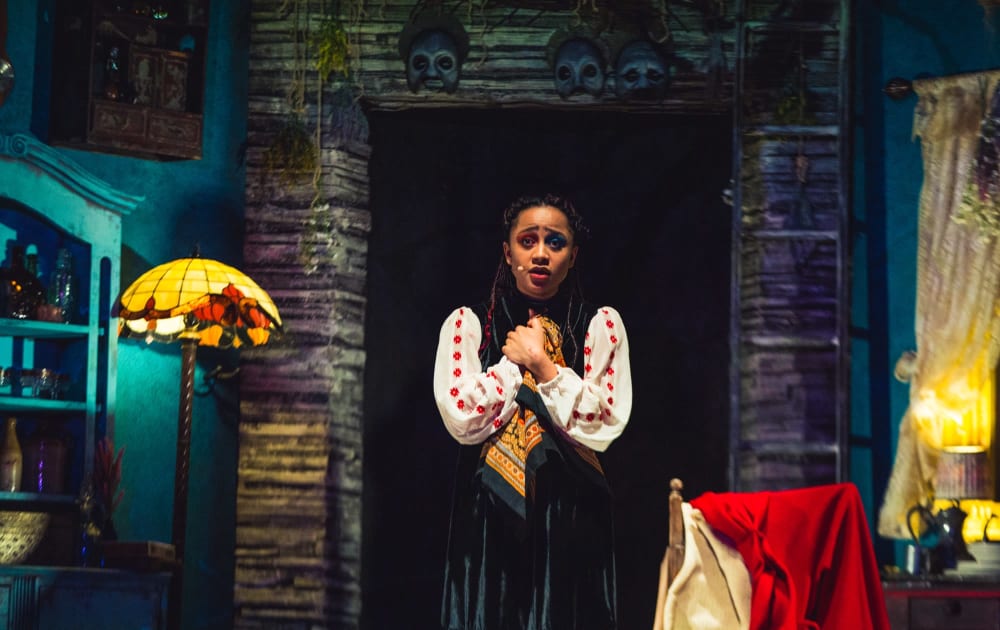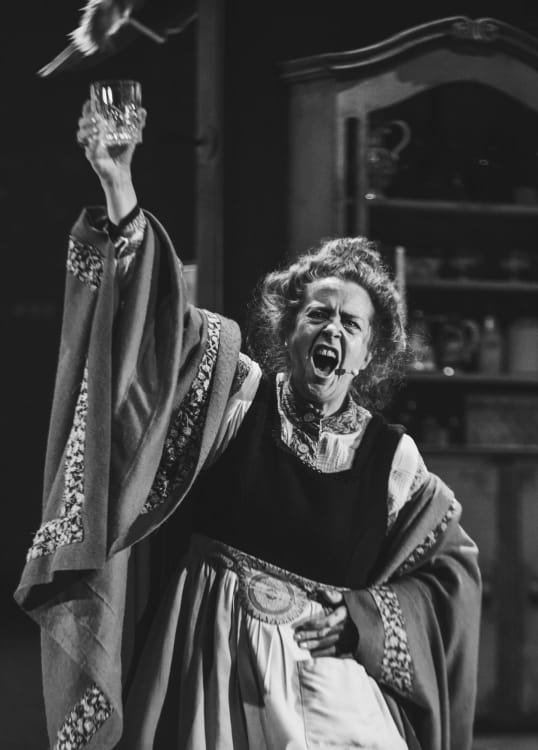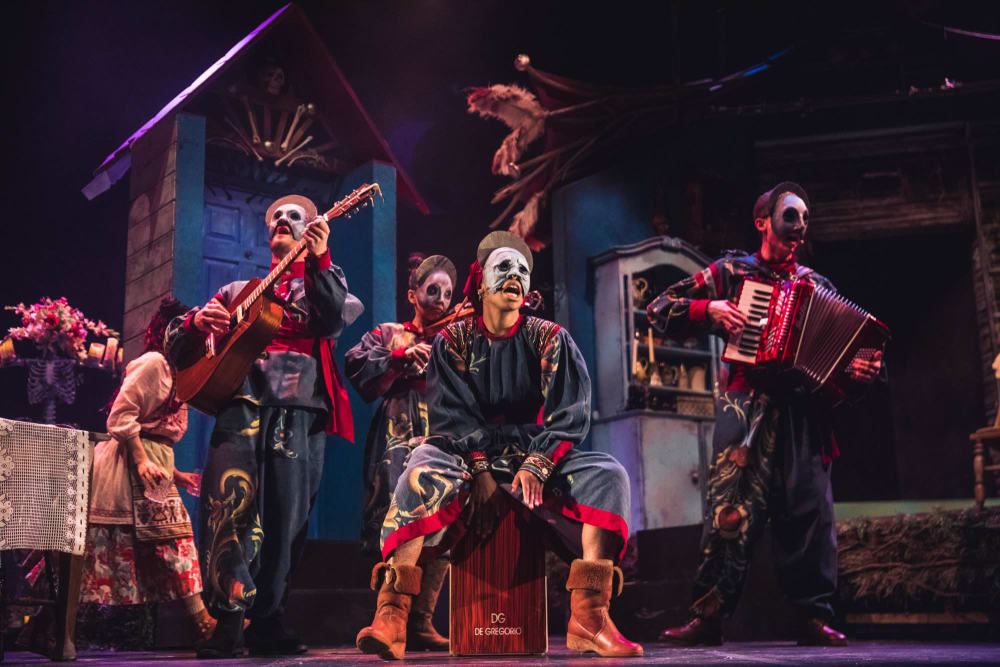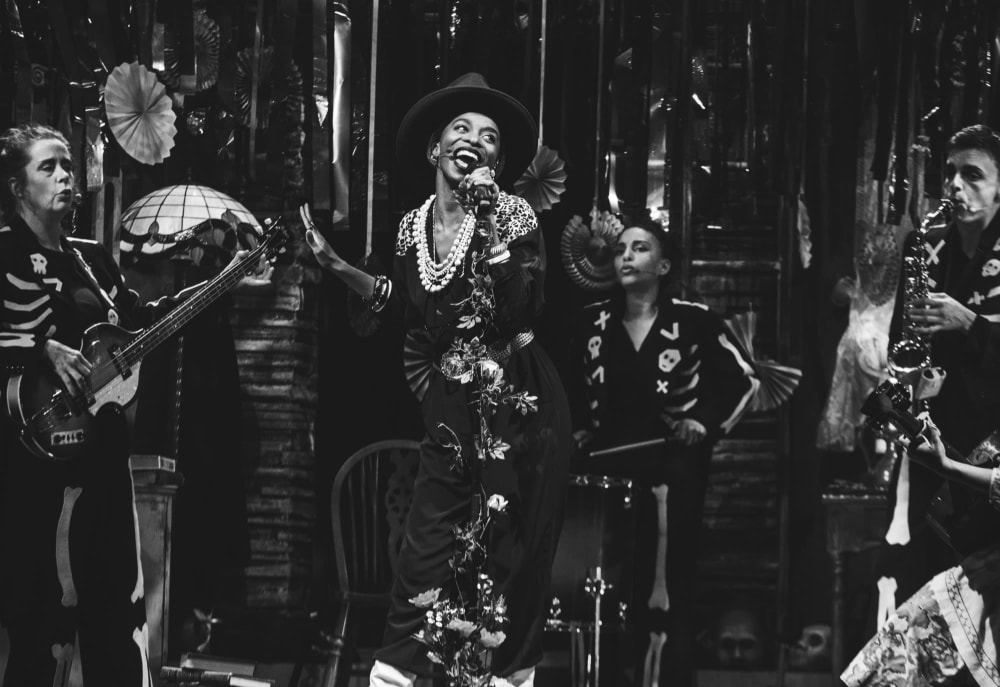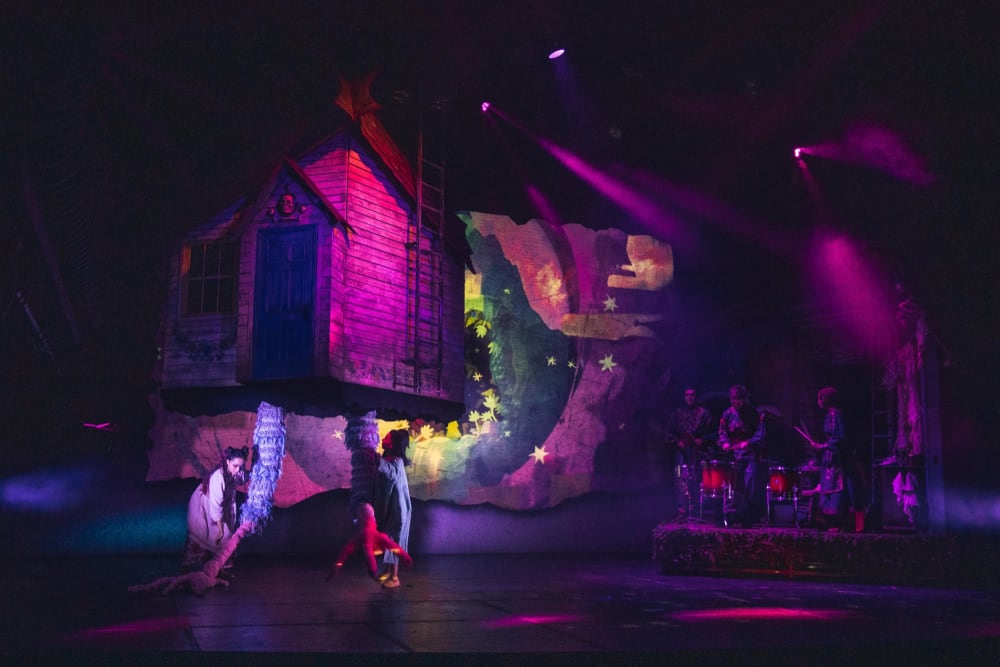 Les Enfants Terribles celebrates its twentieth birthday with a brand new theatre show, their first in some years and their first ever to open in Manchester, but, while it is technically more sophisticated than some of those earlier shows in poky little Edinburgh venues, it still bears all the hallmarks of a vintage Les Enfants show.
Baba Yaga is a figure from many Slavic folk tales, but this particular story has been adapted from the book by Sophie Anderson by regular LET writer Oliver Lansley. The Yagas are women who help the dead on their way to the stars with a party, allowing them to tell their stories over a drink of kvass and a bowl of borscht. This Baba Yaga (Lisa Howard) has a 12-year-old assistant, Marinka (Eve De Leon Allen), her granddaughter whose parents are dead, whom she is training up to take her place as the next Guardian.
The Yagas are bonded to their houses, which contain and control the gateway into the next world and are alive with personalities of their own, but the houses never stay in the same place for long. They get up and walk to where they are needed—on giant chicken legs.
Marinka, on the threshold of adolescence, is starting to resent not being able to have friends (that are alive) and having a destiny in which she has no say, and when she meets a boy, Ben (David Fallon), with whom she seems to have a lot in common, she wants to stay in one place—but the house has other ideas. But then Baba seems to be lost and it is all Marinka's fault, when she tries to save a young girl Nina (Keshini Misha), so she has to ask another Yaga (Pérola Congo), a famous author of Yaga tales in New Orleans, to help her.
Storytelling is at the heart of all of this company's work and they do it very well here again. The first half alone is longer than most shows I've seen at HOME over the last few years but it flies by. The second half seems to begin with scenes full of spoken plot information, despite the big jazzy number, so feels slower, but picks up again later. It is a long show—I assumed the 7PM start time was to accommodate younger audiences, but press night overran the projected 9:30 finish by nearly half an hour—but then I only noticed one child from the audience going to the toilet during the performance, which is always a good sign that the show has gripped them.
Eve De Leon Allen, who only graduated from Rose Bruford College last year, holds everything together expertly as Marinka with a compelling performance. Everyone else plays multiple roles, including the house itself, and plays multiple instruments. The beautifully detailed set design by Jasmine Swan looks like it has leapt from the pages of a picture book. Nina Dunn's video design provides some effective backdrops for most of the show, but then becomes an important part of the storytelling towards the end.
Costumes are by Samuel Wyer, who has also designed the puppets, which seem straight out of an old Eastern European animated film as they tell flashback tales—some wonderfully effective use of books fluttering past in one of these. The most prominent puppet is Jack, the jackdaw, operated by Matthew Burns and a character as constant to the story as Marinka and with a great personality (just like real jackdaws).
The songs by Oliver Lansley and Alexander Wolfe fit the narrative well, and Wolfe's sound design—together with perfect diction from all the cast—gives the voices excellent clarity, although the music in some of the numbers was a little muddy and boomy at the bottom end where I was sitting.
There is such attention to detail in every aspect of the production, so much so that someone who is on stage for barely five minutes and doesn't say much more than "I'm Mark, Ben's dad" still stands out as a recognisable, nuanced character and gets a good laugh.
It is long and it does have a bit of a lull in the second half, but this is a great show that will appeal to most ages (it is billed as for 9+, which seems about right) which envelops you in a great story and looks and sounds stunning. Highly recommended.
Reviewer: David Chadderton