The Hunters Grimm
Devised by Teatro Vivo, written by Michael Wagg
Theatro Vivo
Deptford Lounge, the streets of Deptford and The Albany
–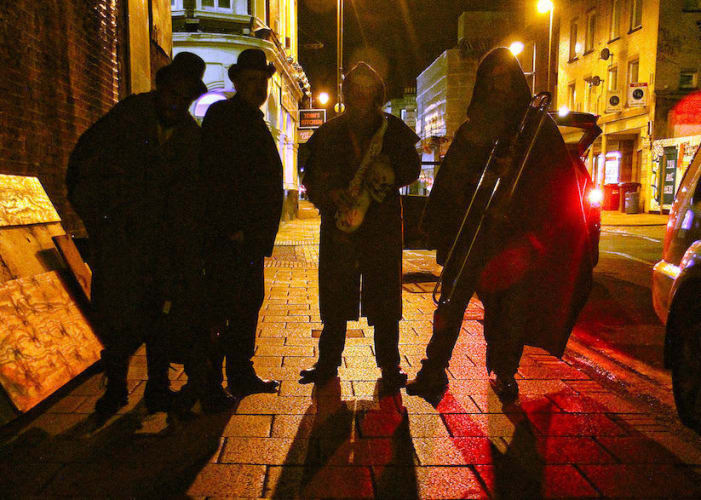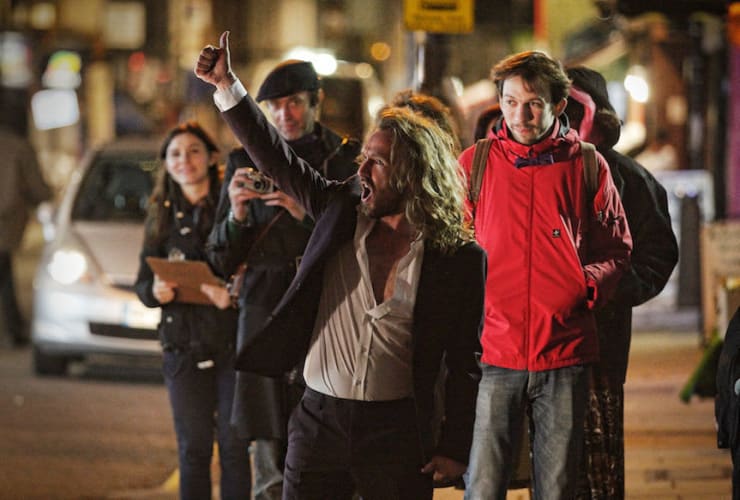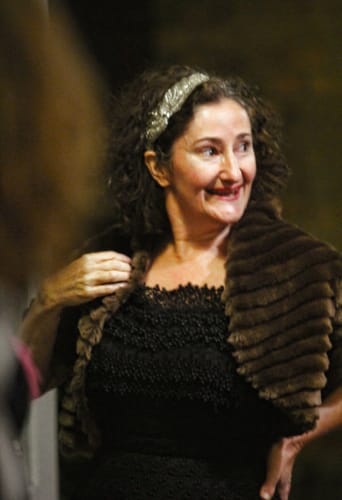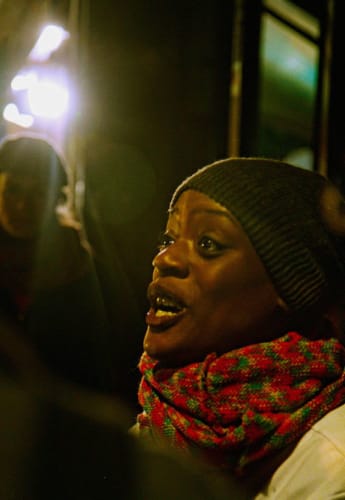 Once again Theatro Vivo takes to the streets with an outdoor and indoor promenade that retells a classic. This time, it is not just one story but many and it sends its audience out to find them. The framework is provided by story collectors Wilhelm and Jacob Grimm.
This delightful couple of chaps welcome everyone to Story HQ, their library cum study, lined with bits of stories, pictures, maps and well-stocked bookshelves. They welcome new tales, write one for them on the instant if you've that sort of talent, but mainly they want help in collecting those already out there.
They are seeking certain kinds especially. Wilhelm says there are already lots in their collection about princes and princesses but those about starvation and amputation are in particular short supply. Wilhelm does seem to have rather a lot of pictures of hangings and burnings behind his desk and, as their helpmate Henrietta Dorothea (they call her Dot) explains, they need more happy stories.
She begins one tale (it's Hansel and Gretel) that Wilhelm started but got stuck on the dark side. He's having nightmares: so many of their stories tell of the dark and dangerous and have unhappy endings. He's getting increasingly depressed and ailing. If there are no happy tales to cheer him up, he is going to be seriously sick.
So, out into the street, led either by Dot or Jacob (in two groups that will join up later) to be sent to a likely location for a story—and there are a bunch of musicians and the first encounter. It is with the Lord and Jess who works for him (though she doesn't look like an angel) and is all about a gambler who can't get into Heaven.
That story sounds like a new one, but the others that are gathered as each encounter leads on to another all come from the Grimm portfolio, though not quite the versions you may be used to. There's a very different take on the Cinderella story, for instance, from a much older step-sister determined to make that slipper fit her with a randy Prince who isn't exactly charming.
Just five professional actors play all the main parts with support from a group of eight drawn from the local community, providing a succession of delightful encounters. I have seen a number of dramatic versions of these stories, some also in promenade, but this is the funniest, perhaps because it targets an adult audience only. It isn't a show for tots.
There is some excellent doubling from all the cast. Sarah Finigan is not only a grand ex-Hampstead step-sister hating living in Deptford (and seeing that slipper as her ticket out of it) but an hilarious green Frog with princely aspirations and Olga the Owl who runs the Bremen musicians and teaches their audience country dancing.
Tania Miller is a ravishing Rapunzel, shorn of her locks, and other roles in episodes my group did not get to see and Kas Darley is not only the all-important Dot but the Bremen Chicken and step-mother to Cinderella (or rather Aschenputtel in this version).
The Brothers Grimm also have roles in their own stories. Mark Stevenson, who plays concerned Jacob, also appears as the Prince with the silver slipper and Greyface the Bremen Donkey, while Joel Mellinger, the troubled Wilhelm, turns up disguised in fur as the food-obsessed Wolf, a sleepy soldier trying to follow three red-cloaked princesses (and needing a frequent touch upon the thigh to rouse him), the Bremen Dog and the Rapunzel's Prince.
More characters encountered story-seeking in Deptford's shops, bars, cafes and alleys are played by that Community Chorus. There is some clever timing that enables every one of them to be in the right place at the right time for the story hunters to find them. They are all dab hands at improvising to suit what they encounter and an efficient stage management ensures that Sophie Austin's imaginative production runs smoothly.
I luckily got a dry night but, even had it been raining, I think I would still have had a good time. The company reminds you to go equipped for any weather, but they play regardless.
And go you should; even if you think you don't like promenades, this could be the show that wins you over.
Reviewer: Howard Loxton