The Hunting Lodge
Ignace Cornelissen, translated by Purni Morell
Unicorn Theatre (Clore Theatre)
–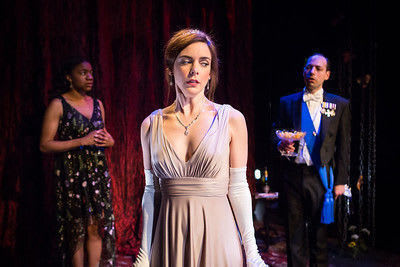 This is a fifty-minute three-hander that's a Cinderella sequel—and perhaps I've already given away too much, for part of the pleasure of this simple story is the way you gradually discover how the one grows out of the other which it seems did not really end "happy ever after".
However a pre-show announcement hints at what's coming when, after the customary "Turn off your mobile 'phone" request, it has a special announcement for all the unmarried girls in the audience: an invitation to a ball at which the Prince has promised to sing at midnight.
This isn't "Purple Rain" territory. This Prince is a shy fellow who comes out of the bathroom drying his hair and still in his singlet. Although he is on the cover of a trashy pop paper billed as "The Sexiest Man Alive", he is not in his first flush and in completing his toilette he's keen to disguise the beginning of baldness.
It's a leisurely opening with an offstage major domo announcing arriving guests as he puts on formal gear (white shirt, waistcoat and bow tie, blue sash of an Order, tail-coat with medals), then practices some polite laughter and a few dance steps.
Philip Arditti make it clear that his Prince isn't eager to go out into the ballroom where he is going to have to dance with every one of a succession of ladies and he is certainly not pleased to be interrupted by a young woman who has come looking for him.
This is Daisy (Fiona Sheehan), decked out in long gown, feather wrap and tiara. She 's supremely confident that she's going to be the star of the evening and determined to get a first dance here and lay claim, manoeuvring them into a tango with a flutter of rose petals falling over them.
Then Charlotte (Rhiann Francis) turns up complaining that Daisy went off in the car without her. She's had to walk all the way and on the way has got mud splattered. Being left behind was no accident (and this is where the real spoilers start) for she's Daisy's cleaner.
So too was the Prince's last love: Cinderella, but five years ago she'd had enough court life where posh people questioned her suitability for royal duties and she got fed up with trying to "yawn through your ears" as she succinctly put behaviour conforming to protocol.
Cinderella disappeared. For five years the Prince has lived in the hunting lodge that was the place she liked best. He's made it a sort of shrine to her; her diamond-studded dress still hangs in the wardrobe.
Belgian playwright Cornelissen offers an underlying critique of class attitudes and sexism and a questioning of conventional ideas of marriage and romance but wraps it up in a rom-com for teenagers. It is lushly mounted in Simone Romaniuk's symbol-loaded setting of red brocades with hanging chains, plants that sprout up through the carpet and a huge altar offering of candles, blossoms and scent sprays in honour of lost Cinderella.
Though there is one splendidly violent, weapon-wielding catfight, director Purni Morell doesn't rush things, there is time to take in detail—and some of the most telling things are wordless.
This is an entertaining, tongue-in-cheek fairy-tale that is seemingly frothy but it should spark off debate about numerous issues about status, gender typing, the idea of happiness and the existence of true love.
PS The programme thanks producer Carolyn Forsyth for the loan of shoes. If all those left behind by would-be princess really are hers henceforth we should all call her Imelda.
Reviewer: Howard Loxton