The Ice Cream Boys
Gail Louw
Jermyn Street Theatre in association with Jeffrey T Apter
Jermyn Street Theatre
–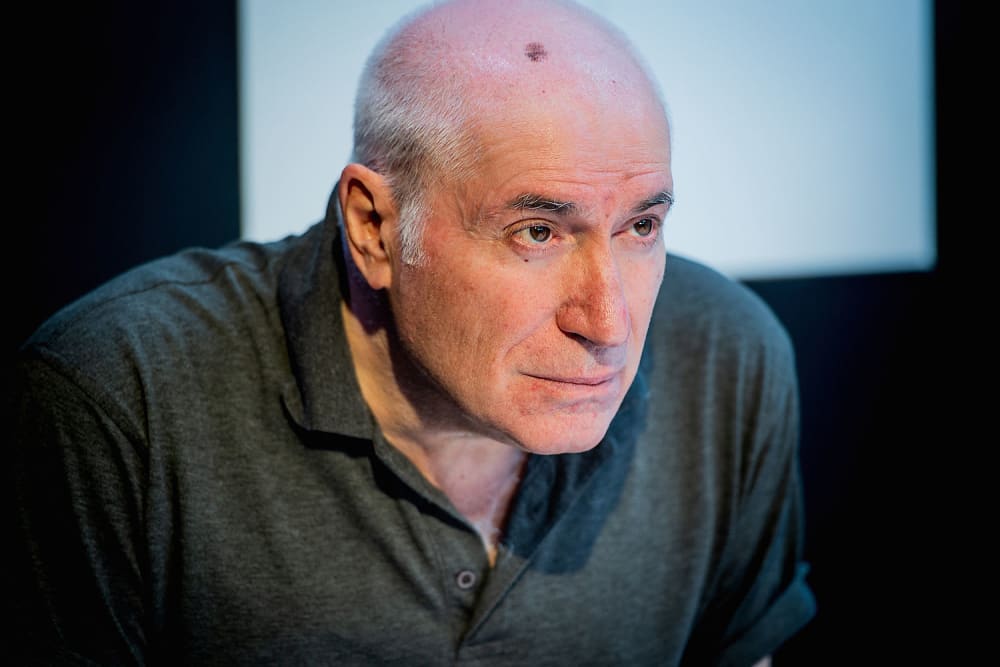 Former President of South Africa is due in a Pietermaritzburg court this week on corruption charges but he is already being arraigned for his conduct in this new play by Gail Louw which imagines an unexpected meeting between him and this old comrade in the fight against apartheid and his former Minister for Intelligence Services now his critic, Ronnie Kasrils.
This 80-minute one-act drama is set in a pristine private hospital where Zuma (Andrew Francis) is being treated for a prostate problem and Kasrils (Jack Klaff) undergoing investigation of a possible melanoma. Designer Cecilia Tonos's antiseptic black and white tiled area between their private rooms provides a neutral setting in which to conduct their confrontation with Bu Kunene's nurse a sidelines observer.
Francis and Klaff give full-blooded performances, Zuma full of himself, proud of his womanising and many children, boasting of his property, does it with a smile and a warmth that makes you like him while this Kasrils, while skewering his old friend with his accusations, still has an underlying affection for the man who gave up his own bid for freedom when Ronnie was injured on their joint attempt to escape across the border.
This is a fascinating appraisal of what went wrong after apartheid was overcome, of the difference in values of people who once stood shoulder-to-shoulder, of the clash between tribal tradition and political theory. It isn't a detailed, deep-digging polemic but this two-handed argument encapsulates history with nurse Thandi Dube (Bu Kuene), at first calming neutrality, later becoming the voice of the new generation so dissatisfied with the mess these old men have made of things.
Briefly dramatizing what the two men are talking about, Bu Kuene also appears as a succession of characters ranging from Kasrils's wife to a Christian Missionary and even Nelson Mandela. As Mandela, she gives his argument that, after the 1992 meeting in Davos with world leaders, he saw "they view our Freedom Charter as a socialist document… If we implement socialist policies we will have no foreign investment… Without foreign investment we will never get our economy going."
Mandela saw compromise necessary. It was then that the vision of a new South Africa had to alter. Communist, anti-Zionist Jew Kasrils is still fighting for it.
Those with a deeper knowledge of recent South African history may find this exposition superficial but it is gripping and informative theatre, not least because of the powerful performances director Vik Sivalingam draws from his actors; in the close proximity of this theatre you can't cheat and they are splendid.
Reviewer: Howard Loxton