The Illusion
Adapted by Tony Kushner from Pierre Corneille's L'Illusion Comique
Secret Heart, RADA and Moya Productions
Southwark Playhouse
–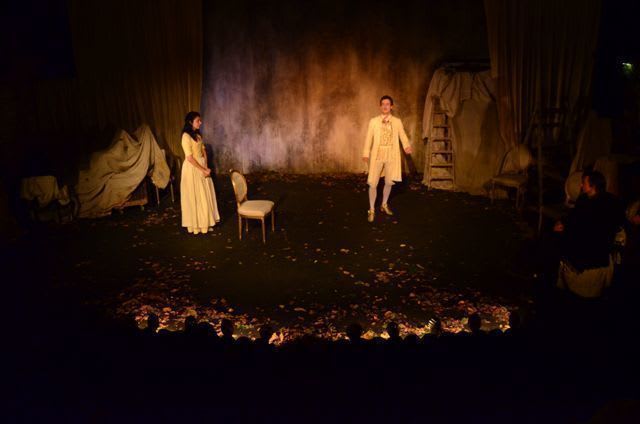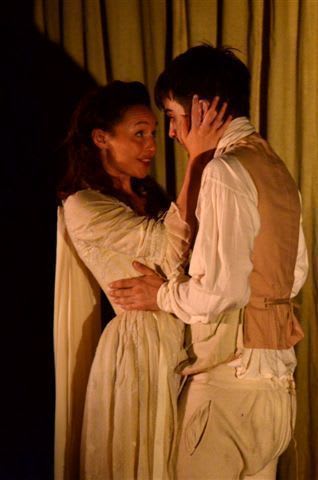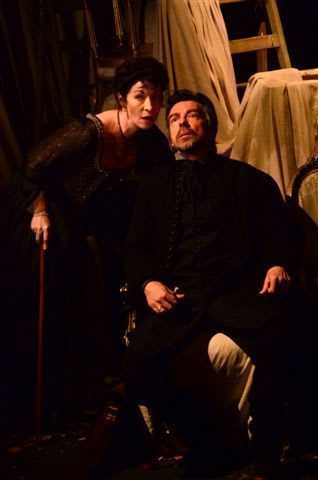 I have never seen Pierre Corneille's L'Illusion Comique, first staged in 1639, and have not checked this script against its text but I imagine that this version keeps close to the spirit of the original.
Kushner wrote it before Angels in America gave him world renown but this is its London premiere. It is not a translation but a very free adaptation. It cuts minor characters, adjusts the plot a little and, though some passages are in rhyming verse, it does not attempt to copy the formality of the French but has a very natural colloquial feel. However, the original comedy does not itself stick to classical form and is very different from Corneille's later tragedies.
This is the story of a father, lawyer Pridamant, who wants to know what has happened to his estranged son Clindor who fled his Avignon home some fifteen years ago. He has travelled to the cave of the magician Alcandre whom he believes will be able to help. Indeed she does, conjuring up Clindor to appear before him. Pridamant recognizes him immediately but he looks so young, just as he did when his father drove him away, and he has acquired a different name. So with what looks like a group of very similar characters, though appearing under different names, we appear to see a sequence of scenes from Clindor's life that explores his romantic entanglements and changed social status.
There is the rich girl who may love him but he is too poor to marry her and her father already has a man lined up for her husband; the servant girl whom he says he loves and he only wants her mistress for her money; the foppish, lily-livered rival suitor; the employer with whom he is in amorous competition; a rival who at one point seems to have killed him. But he's not dead and in another episode he kills another in a duel and ends up in prison. What is Clindor's real fate? Will he be able to embrace his son and find reconciliation or must he mourn him?
But these scenes are all visions, magicked up by Alcandre. Some of the roles are even played by her deaf-mute servant who is able, it seems, to cross over into the spirit world. She says she cut out his tongue and pierced his eardrums to ensure he could not reveal her secrets, but in the world of illusions he can both hear and speak. Corneille's original was partly a play in defence of theatre, under attack from the repressive Catholic Church, and Kushner's version is a piece of meta-theatre.
Kushner is a wordsmith and the language is a delight, rich without becoming too self-conscious. This cast delivers it well, especially Melanie Jessop as the stately Arcante commanding all with a gesture and turning illusion on and off with a tap of her magician's staff, and James Clyde as the anguish-stricken Pridamant. It is a delight to hear such mellifluous voices.
The younger members of the cast do themselves credit too. They are all recent RADA graduates: two from 2011 and two who have just left are making their professional stage debuts. There has been much recent criticism of poor stage speech and bad projection so it is especially pleasing to commend Charlie Archer's Clindor, romantically appealing in his various manifestations, Daniel Easton as Arcante's creature and Adam Jackson-Smith as the foppish Matamore Daisy Hughes as the charmingly sweet Isabelle and her other incarnations and Shanaya Rafaat her rather more knowing servant.
Designer Sarah-Jane Prentice has dressed it in whites and creams framed by ecru drapes over piled furniture and scaffolds against a pale pastel splashed backing that, with Howard Hudson's lighting, conjures romance with a mysterious ripple of music in Seb Harcombe's enchanting and pleasingly theatrical production.
Reviewer: Howard Loxton