The Importance of Being Earnest
Based on text by Oscar Wilde, music and libretto by Gerald Barry
Royal Opera House
Barbican Theatre
–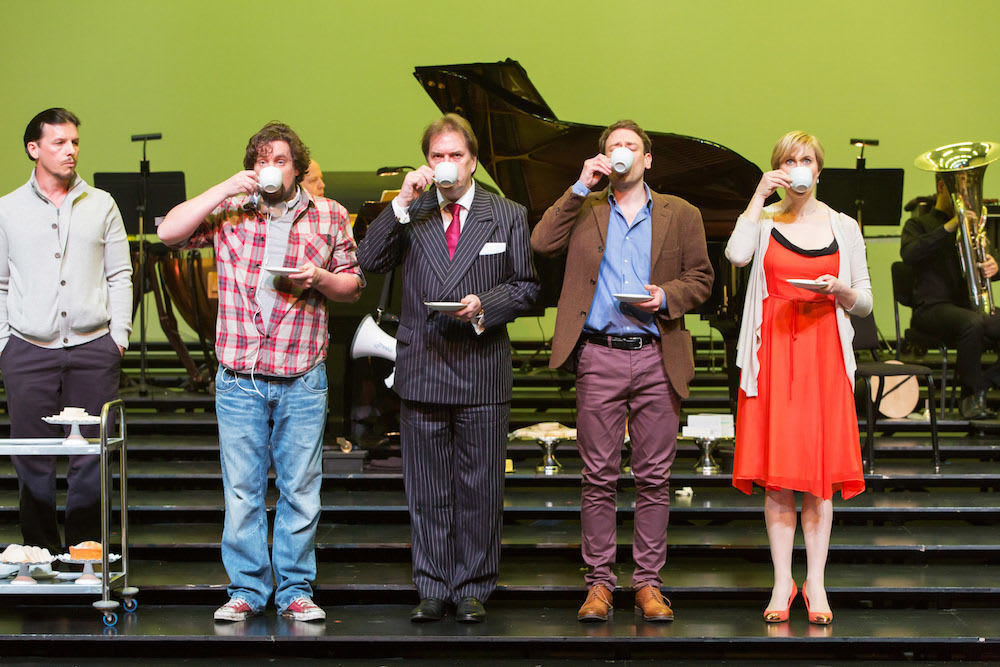 Oscar Wilde's The Importance of Being Earnest, a brilliant mixture of elegant sophistication and preposterous nonsense, is the wittiest play in the English language. The comedy is perfect. There is no need whatsoever to mess about with it.
When Robbie Ross interviewed Wilde in 1895, just as the play was about to go into rehearsal, and asked him what sort of play audiences were to expect, Wilde replied, "it is an exquisitely trivial, a delicate bubble of fantasy."
Gerald Barry's opera is no delicate bubble. I feared I might hate it. Instead I found it great fun. The play has been severely cut but a good deal of Wilde's wit remains to amuse the audience.
There have been to my knowledge at least 17 musicals based on The Importance. None of them has had an afterlife. None of them has displaced Wilde as Lerner and Loewe's My Fair Lady displaced Bernard Shaw's Pygmalion for so many years.
There have been operas of Salome, The Picture of Dorian Gray, Lord Arthur Savile's Crime, The Florentine Tragedy, The Canterville Ghost, The Birth of the Infanta, The Happy Prince and The Selfish Giant.
But up till now there has been only one opera of The Importance: Bunbury by P Burkhardt which premièred in Munich in 1955.
Barry's opera was first seen in a concert version in Barbican Hall in 2012. It had its stage première in the Royal Opera House's Linbury Studio in 2013.
Barry will not supplant Wilde in the way Mozart's The Marriage of Figaro has supplanted Beaumarchais and Verdi's La Traviata has supplanted Alexandre Dumas fils and La Dame aux Camelias.
Singers and orchestra are on stage. The steep steps would do very nicely for the recreation of the steps of Odessa in Eisenstein's Battleship Potemkin. The singers when they are off-stage sit in the front row of the stalls. The opera begins in the dark with a terrible noise.
"Did you hear what I was playing? asks Algernon (Benedict Nelson).
"I didn't think polite to listen, sir," replies his manservant, Lane (Simon Wilding).
The music (conducted by Tim Murray and played by Britten Sinfonia with loud, rampaging energy) is manic, chaotic, zany and quite surreal.
Barry constantly makes a witty commentary on Wilde's text as when Gwendolen complains there is very little music in the name "Jack" and when John Worthing goes in search of the handbag. The turmoil is an amusingly unpleasant sound.
Wilde also said in his interview that The Importance "has a philosophy that we should treat all the trivial things of life very seriously, and all the serious things of life with sincere and studied triviality."
Barry's music and libretto and Ramin Gray's modern dress production, with Lady Bracknell played by a man in a suit, display enormous signs of triviality. The singers are up to the challenge, both as singers and actors.
One of the most enjoyable moments is the silly dance Lady Bracknell (Alan Ewing) and John Worthing (Paul Curievici) do during the interview. Lady Bracknell and Miss Prism are liable to start speaking in German. Lady B in act 3 sounds like Hitler addressing one of his rallies.
Miss Prism and Cecily are attacked by a swarm of wasps and Gwendolen (Stephanie Marshall) and Cecily (Claudia Boyle) address each other with megaphones to the accompaniment of the breaking of 40 dinner plates. The orchestra adds pistol shots and the sounds of jackboots marching.
Miss Prism (Hilary Summers) is very amusing when she is re-united with her handbag and dithers. The orchestra join the singers to ask in unison the vital question: "Where is the baby?"
I should now like to see Barry's opera performed in the Victorian period. There is in fact already an Irish production by Anthony McDonald's set in Victorian times which has been seen in Belfast and Dublin but not in England.
Reviewer: Robert Tanitch