The Importance of Being Earnest
Oscar Wilde
Guildford Shakespeare Company
Castle Grounds, Guildford
–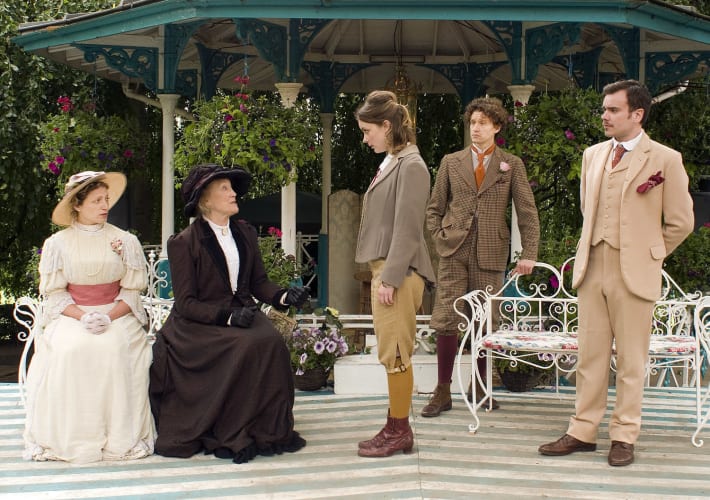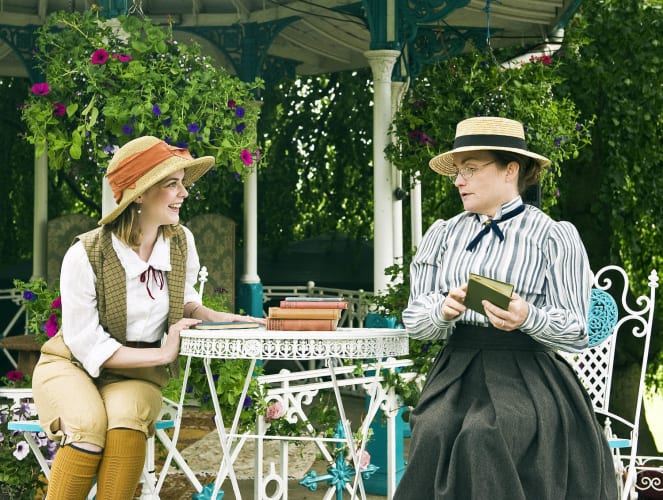 This is the first non-Shakespearean play that the company has performed and, being young and energetic, their style for comedy has often been of the visual variety, very Shakespearian, and sometimes very necessary when battling against the elements.
Luckily last night's weather was fine and dry, but, had it been blustery, Wilde's witty and sardonic dialogue would still have come through clear and strong. Their ennunciation and projection was, as always, excellent.
Performed in and around the Victorian bandstand, and overshadowed by a massive oak, the location is idyllic, and Andrew D Edwards has designed a set to match with an abundance of flowers around the elegant morning room/ terrace in London and even more when the action moves to the country.
In his London flat, Algernon (played as the grown-up version of a spoilt and petulant child by Richard Keightley) is eating all the cucumber sandwiches prepared by the butler for Lady Bracknell, while refusing to let his friend Ernest (Richard Delaney, and exactly the rakish character I had imagined) have any because, "she's my aunt".
As the butler, Matt Pinches's exceptional talent for comedy is, in this play, if not exactly redundant then a little superfluous as Wilde's script is comedy enough and all the funnier for being played straight and with total conviction, however absurd the situation. He manages, though, to cleverly create two completely contrasting characters in his interpretation of the two butlers, Lane and Merriman.
The two gentlemen have their own self-indulgent ways of managing their lives. Algernon has invented a constantly ailing friend Bunbury who takes a turn for the worse whenever Algernon wants to get out of a social engagement, while his present friend is respectable Jack in the country and who knows what he gets up to as Ernest in London.
Of course, complications rise up to confound them when Algernon takes it into his head to pretend to be the reprehensible Ernest and arrives at the country address to instantly fall in love with Jack's ward Cecily. This is no surprise to Cecily who has been having a romance with him for months, without ever meeting him.
Joan Blackham's Lady Bracknell is a little more motherly and not as autocratic as she is often portrayed, but she keeps a stern eye on her daughter and there are strict rules which must be adhered to, particularly as to the suitability of a suitor. Her criteria depend a great deal on parentage—a distinct disadvantage for Ernest who has none.
She arrives, majestically sweeping into the room, followed by Sarah Gobran's Gwendolen, chin held fashionably high, a lady who is more autocratic than her mother. Gobran alternates beautifully between imperiously instructing Ernest in the niceties of proposing to her and subsiding quietly into obedient daughter on receiving instructions from mother.
Anna Ledwich keeps the production at a steady pace, fast but not rushed, and there are some really stand-out performances. Most notable is Fiona Sheehan as Cecily, making the most absurd assumptions with a natural wide-eyed innocence as if it is all perfectly normal. There is a delightfully funny scene where she and Gwendolen adore each other on sight, before discovering that they are both seemingly after the same man and relations becomes exceedingly frosty.
Wilde's play, mocking the Victorian superficiality and obsession with etiquette and social standing, is always a joy, particularly the very cleverly constructed denouement. In this setting, and with this talented and dedicated cast, it creates an evening of laughter and total enjoyment—and no rain.
Reviewer: Sheila Connor