The Importance of Being Earnest
Oscar Wilde
Rose Original, English Touring Theatre and Leeds Playhouse
Rose Theatre, Kingston
–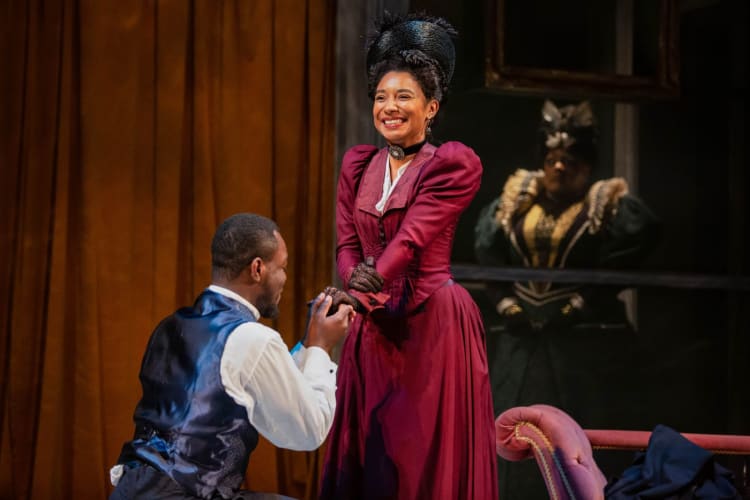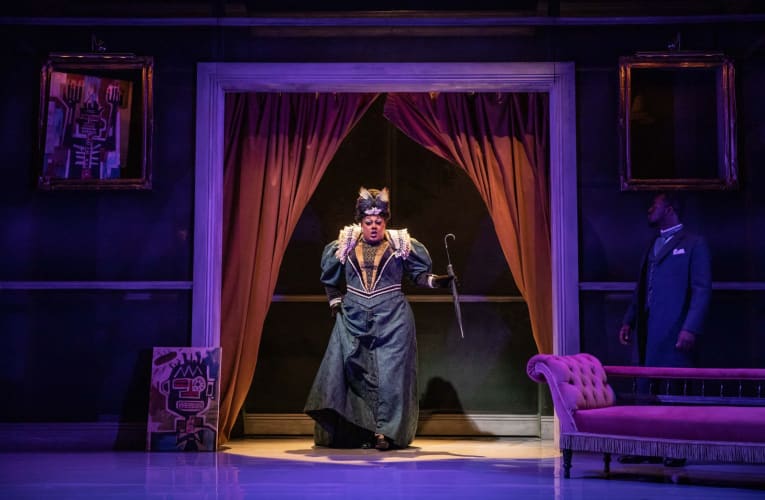 Denzel Westley-Sanderson directs an all-black production of the wittiest comedy in the English language, something which I don't think has happened professionally in England since Yvonne Brewster's production in 1989 for Talawa Theatre.
The poster and the programme cover make the same bold statement. There is a large silhouette of a handsome black young man and on his profile is printed the title of Wilde's play and the word EARNEST is emphasized in huge letters. In the Victorian era, Earnest was a euphemism for homosexual.
At the play's première in 1895 at Theatre Royal Haymarket, the gays turned out in force, wearing green carnations in their buttonholes, a gay symbol. Incidentally, Cecily, the name of one of the characters in the play, was a popular trade-name for rent-boys.
The two young men in Wilde's comedy lead double lives, just like Oscar and his boyfriend Bosie Douglas did. Algernon has invented a permanent invalid called Bunbury. Jack pretends to have a wicked brother, who is always in trouble, called Earnest.
Strangely, given the emphasis of Earnest on the poster and programme, their gay subtext is not explored at all. Instead, Canon Chasuble is turned into a female priest and she is having an affair with Miss Prism, Cecily's governess. There is no justification for this in the text and the poor acting doesn't help.
Many male actors have played Lady Bracknell. The role is part Queen Victoria, part Wilde, part transvestite. I think Bette Bourne was the first drag queen to play her in England. He was so convincing, the audience had no idea he was a man.
Daniel Jacob, AKA drag queen Vinegar Strokes, is a formidable Lady Bracknell, a comic cartoon figure of Brobdingnagian proportions. He is given a stylish entrance and then goes on to spoil his performance by being too loud and vulgar and hitting too many words for six.
This is the major fault of the whole production The acting is often hysterical. The actors scream too much. It's all way over the top. The comic business is not subtle. A man stuffs his mouth with food. A manservant lugging luggage upstage detracts from the dialogue being spoken downstage. Cecily and Gwendolen playing hoopla is ridiculous and merely gets in the way of what they are saying and ruins their bitchy scene.
There is much to annoy. There is much that could easily be corrected. There is much to enjoy already. Abiola Owokoniran and Justice Ritchie are totally confident playing Algy and Jack and deliver Wilde's witty dialogue with ease. Owokoniran, making his professional debut, stands out precisely because he is the only actor in the cast who constantly underplays and never raises his voice.
Reviewer: Robert Tanitch