The Importance of Being Earnest
Oscar Wilde
The Original Theatre Company
The Lyric, Theatre Royal Plymouth
–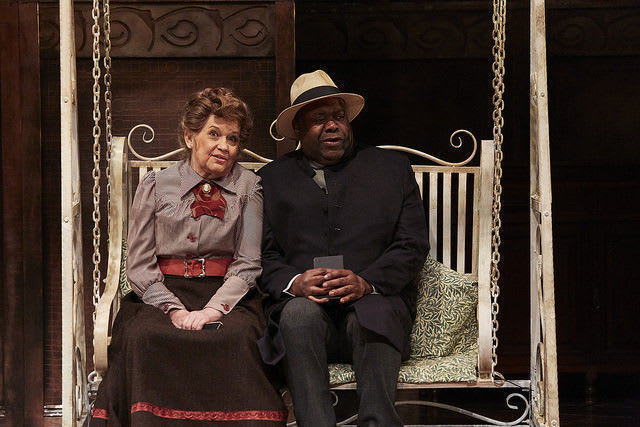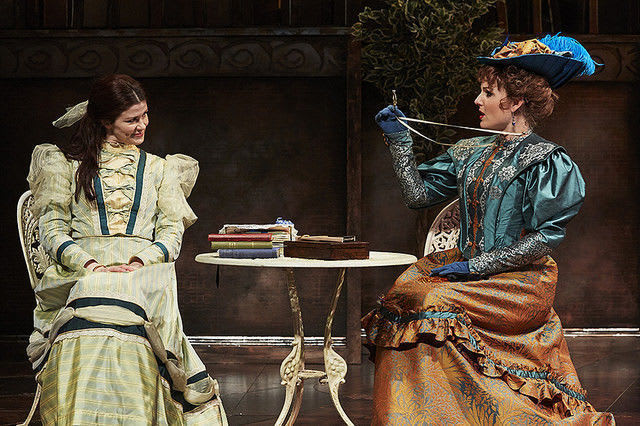 Oscar Wilde's perennial acerbic comedy is perfection and The Original Theatre Company's touring production allows the wonderfully scathing observations and witticisms to shine.
Alistair Whatley sets a punchy pace and well-worn lines are delivered breezily and convincingly rather than becoming bogged down in set-piece posturing as is, alas, oft the way with Wilde's funny and thought-provoking masterpiece.
Gabriella Slade has created a ubiquitous bronze structure as backdrop to city apartment, manor library and country garden, and provides a variety of seating for Algernon to drape himself upon and the rest to play musical chairs as romance, devilment and absurdity unfolds. Her light touch costuming does not detract (other than Lady B's rather enormous bustle) but is bang on-point with feathered hats, country tweeds, funereal black, stocks and smoking jackets.
Wilde's tour de force Lady Bracknell is disappointing. Whatley chooses a rather benign portrayal of the ruthless and bigoted social climber. Instead of the memorable opinionated harridan exuding arrogance and epigrams, and around whom the youngsters orbit, Gwen Taylor (Ann Foster in Corrie, Heartbeat's Peg, Barbara in the three-series eponymous TV series and so much more) is a tad vapid and rather less relentless than predicted. Some difficulties with lines and unsatisfactory delivery in the first act on press night allowed the youngsters to eclipse the usually authoritarian leading lady and many cutting observations on class, money, death and respect were unfortunately dampened or lost.
Thomas Howes delights as a flamboyant, Hooray Henryish Algernon, languid, hedonistic and muffin / Bunbury-loving, beautifully counterpointing the rather uptight Jack Worthing (Peter Sandys-Clarke) who desperately needs to lay to rest his outrageous city-dwelling brother and get his girl.
Fast and loose word play, bunfight and sharp polemics upon the state of marriage, women and societal tyranny is believable as the double act enchants and amuses with many laugh-out loud moments both from Wilde's wry wisdom and the duo's easy interaction.
Louise Coulthard is a convincingly precocious Cecily moving between repressive scholarly texts and flights of romantic fancy without missing a beat, combining teenage naïvety and silliness with an interestingly incisive grasp of the battle of the sexes for one so closeted deep in the countryside.
Her sometime 'sister', sometime adversary, the sophisticated and pretentious fashionista Gwendoline (acclaimed leading lady of West End and Broadway musicals Kerry Ellis) is expert in the ways of taste and morality, is most certainly her mother's daughter and is foot-stampingly certain she too will marry only a man named Ernest.
The oddball couple excel as a grotesque conduit for moral and religious satire: Emmerdale's Jean Hope, Susan Penhaligon, is strangely endearing as puritan dipsomaniac Miss Prism whose overblown clichés are carefully underplayed and immoral feelings for the ethics and religion for the masses-spouting, lusty Rev Canon Chasuble (Geoff Aymer) are humorously vented on a swinging sofa.
A breath of fresh air and highly entertaining.
Reviewer: Karen Bussell