The Importance of Being Earnest
Oscar Wilde
The Watermill Theatre Company
Watermill Theatre Newbury
–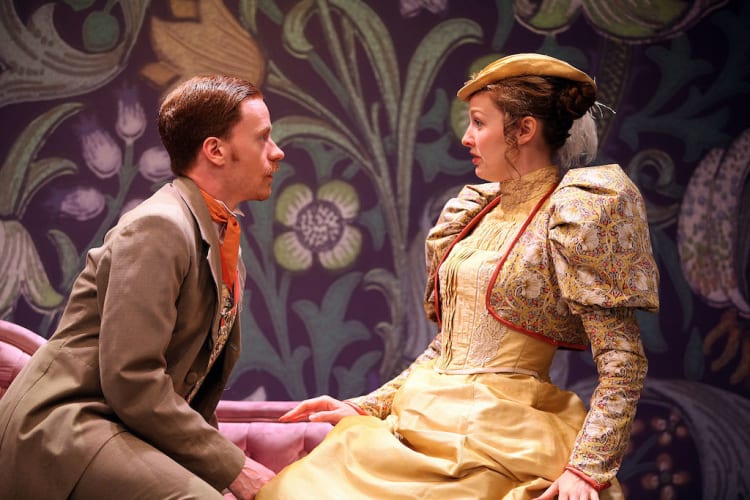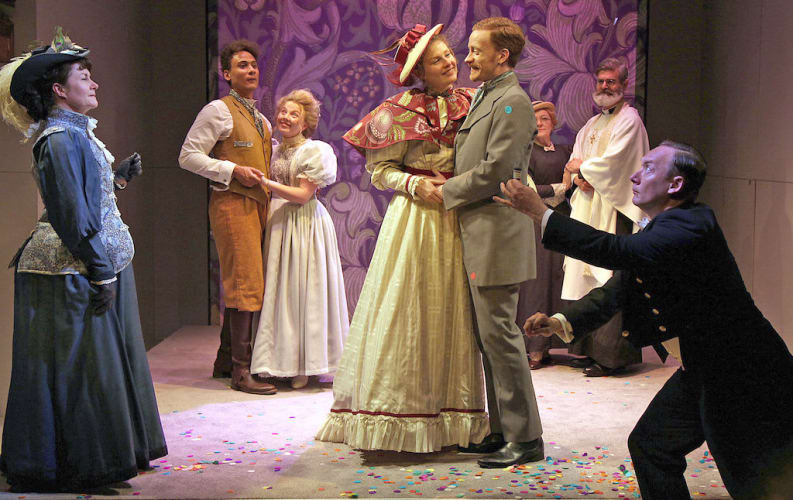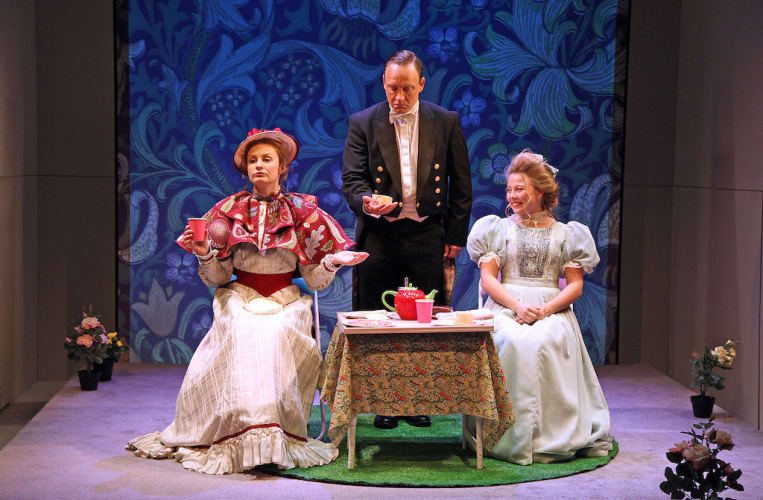 Oscar Wilde's witty play The importance of Being Earnest is given a refreshing new and modern staging at the Watermill that fizzes with comic invention and humour.
Kate Budgen directs with panache and originality and the strong cast are a joy to watch in this fast paced production with impressive movement work by Lucy Cullingford.
The set designed by Amy Jane Cook is minimalistic, painted in non-descript beige with many hidden doors that are used to great effect and the stage is dominated by a huge William Morris wallpaper print at the back.
Gone was the opulence of a Victorian drawing room which gave the actors the opportunity to explore the vibrant text with fluidity and imagination.
Morgan Philpot is simply splendid as the dead pan butler who with split second timing manages to provide all the props and change the scenes with apparent consummate ease. A tour de force performance.
Benedict Salter is striking as the playboy Jack Worthing who lives a double life with his house in London and one in the country where he goes to look after his non-existent brother Ernest and his ward Cecily, a delightfully feisty performance by Charlotte Beaumont.
Peter Bray perfectly captures the naivety and energy of Algernon who has invented 'bunburying' to escape from social engagements.
The women, in contrast to the men, are powerful in Wilde's play. Claudia Jolly's Gwendolen is strong minded and pretentious and in love with Jack.
Her meeting with Cecily when they become friends then vehemently fall out is hilarious.
Connie Walker brings a new interpretation to the role of Lady Bracknell, the arrogant, ruthless social climber and deals with perhaps the most quoted line "a handbag," when it is discovered that Jack was found in one at the lost property office at Victoria Station, perfectly.
Wendy Nottingham plays the strict incorruptible Miss Prism who has a dark secret that is revealed towards the end. Her prim and proper ways begins to melt when she meets Dr Chasuble (Jim Creighton) and their walk in the garden leads to love.
Beautifully costumed this highly entertaining play about manners and Victorian society shines. Highly recommended.
Reviewer: Robin Strapp