The Infamous Brothers Davenport and their spectacular stage séance
Story by Candice Edmunds, Jamie Harrison and Peter Arnott, script by Peter Arnott
Vox Motus and Royal Lyceum Theatre, Edinburgh
Royal Lyceum Theatre, Edinburgh
–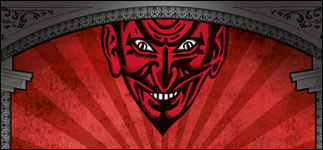 The sensational Davenport brothers are in town, with a truly remarkable show. I was there at the first public séance in Edinburgh and it proved quite an experience for both myself and the other members of the audience. There were startling sights and sounds to confound the senses.
To ensure there was no trickery, members of the audience were allowed on stage beforehand to inspect the famous cabinet. I myself ventured up and walked around the stage. Four gentlemen and a lady from the audience remained on stage to further reassure us that no trickery was afoot.
A really perfect recreation of a Victorian spiritualist event, the Lyceum as usual going to great lengths with the set, but with the added bonus that their existing theatre is already the perfect backdrop. Indeed, even the ushers, stage hands and audience volunteers were decked out in appropriate costumes.
The central piece the Davenports' cabinet is a replica of the cabinet the Davenports, a real pair of brothers from America who toured America and England in the 1850s and 60s, used. Through the cabinet, we not only witness recreations of the strange events of the Davenports' séances, such as musical instruments playing from inside the cabinet despite both the brothers being tied down to chairs inside, but also the cabinet unfolds to show scenes of their earlier life.
Willie and Ira Davenport are played by real life brothers Scott and Ryan Fletcher (respectively). Scott as Willie is both vulnerable as the younger more spiritual brother and also quite disturbing when possessed by his sister and also a baby. Ira meanwhile is the practical one, and the two portray the constant struggle between them very well.
Gavin Mitchell gives sinister turns as both Mr Fay, the brothers' current manager and MC, and their original manager, their father. While their father in the flashbacks to their upbringing is obviously a horrible man, Mr Fay with his Tim Curry-like grin and constant toadying to the audience is perhaps even more repellent.
A fantastic performance for those that love things Victorian or for those who just like a jolly good show.
Reviewer: Seth Ewin